#BigLipstickEnergy: The 3 Lip Products I'm Obsessed With Right Now
"What lip is that?" A professional lipstick critic reveals all.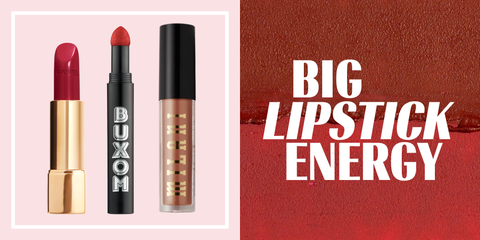 Design By Morgan McMullen
I'm a serial lipstick dater. So many lip products slide onto my desk. Some I double-tap and have all the heart eyes for. Others I ghost and leave on seen. This is #BigLipstickEnergy, an honest breakdown of how I feel about the latest lip launches. Read on for the three lipstick flings I'm keeping in rotation for now. Next week, I'll have a new roster.

A Date Night Red
PillowPout Creamy Plumping Lip Powder in Turn Me On
Buxom
nordstrom.com
$16.50
THE DETAILS:
You might get distracted by how good this plush sponge feels gliding on your lips, but you'll be even more impressed by the vibrant red color it dispenses. It's a semi-matte texture that leaves behind a soft stain. The color isn't intensely bold; it's a blotted finish with that just-enough effect. I saved the best fact for last: It has lip plumping powers. Yep, the plumping powder in the sponge will help your lips seem supple and full.
WHY I'M OBSESSED:
I'm not going to act like I wasn't intrigued by the name of this sultry red shade: "turn me on." I'm super down to be turned onto a new lipstick. This fiery hue is fueling my obsession with blue-based reds even more. Also, the velvety matte feel of this lipstick makes it super wearable. And you don't have to worry about it transferring or annoyingly ending up on your front teeth. It's easy, so I'll definitely be wearing this for my next date night.

A Down-for-Whatever Gloss
Ludicrous Lip Gloss in Whatever
Milani
milanicosmetics.com
$8.99
THE DETAILS:
Shine blinding gloss is a given with this formula. If low-key gloss is your thing, skip to the next lipstick. This 100-percent vegan formula will give your lips all the volume and luster you could ever want. Don't worry, though, just because it's shiny doesn't mean it's sticky; it feels really comfortable and silky.
WHY I'M OBSESSED:
With holiday season officially here, my schedule is unpredictable. Crazy times call for a handy dandy gloss I can use whenever for whatever, which is exactly this. Since we've met, it hasn't left my bag. I love this neutral hue because it's a pearlescent, champagne that complements warm undertones. To amp it up a bit, I've been wearing this gloss with a chocolate brown lip liner from Victoria Beckham Beauty in shade 06 ($24).

A Rich Red
Rouge Allure Luminous Intense Lip Colour in Majestueux
Chanel
nordstrom.com
$45.00
THE DETAILS:
Your red lipstick collection isn't complete until it includes one of Chanel's six limited-edition holiday shades—all true reds. This plum is the most divine of them all. Enclosed within the luxurious black and gold packaging is a rich satin shade that'll douse your lips in color and comfort thanks to its almond oil, green tea, and sappan wood.
WHY I'M OBSESSED:
This red shade makes me feel so confident. I don't even need to hydrate my lips before applying because of how moisturizing the balmy satin finish feels. And gifting yourself with a Chanel lipstick feels like a very grown woman thing to do, right? You know it's not going to disappoint, and they're like collectibles. What I really want you to take away from this is: Get yourself a new Chanel lipstick. You deserve it. Period.
•••
For more stories like this, including celebrity news, beauty and fashion advice, savvy political commentary, and fascinating features, sign up for the Marie Claire newsletter.
This content is created and maintained by a third party, and imported onto this page to help users provide their email addresses. You may be able to find more information about this and similar content at piano.io