#BigLipstickEnergy: The 3 Lipsticks I'm Obsessed With Right Now
"What lip is that?" A professional lipstick critic reveals all.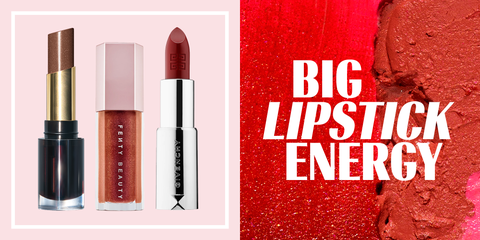 Design By Morgan McMullen
I'm a serial lipstick dater. So many lip products slide onto my desk. Some I double-tap and have all the heart eyes for. Others I ghost and leave on seen. This is #BigLipstickEnergy, an honest breakdown of how I feel about the latest lip launches. Read on for the three lipstick flings I'm keeping in rotation for now. Next week, I'll have a new roster.

This Cool Texture
Super Lustrous Glass Shine Lipstick in Sparkling Honey
THE DETAILS:
Step up your lip's shine game with Revlon's latest. If glass skin, a huge makeup trend courtesy of K-beauty, is your thing, you'll love glass lips. For $10, this lipstick bestows upon you a multidimensional glistening effect with a sheer tint of color. High-shine emollients put this light-reflecting formula in a league of its own. Bonus: Its plush, cushiony texture is ultra-moisturizing.
WHY I'M OBSESSED:
Balmy, skin-hugging textures like this have become my best friends during the brutal winter. The waxy formula has a melt-on-your-mouth effect that sinks into lips like butter (except it ain't edible). I'm grateful for the hydrating texture alone, but I absolutely love this shade too. It's a rich nude on my deep complexion and, even though the bullet is glittery, the finish isn't, which I prefer when I'm looking for an easy neutral.

This Gorgeous Packaging
Le Rouge Valentine's Day Lipstick in L'Interdit
Givenchy
sephora.com
$38.00
THE DETAILS:
I hate to state the obvious, but here goes: This bullet is ridiculously beautiful. A huge part of putting on lipstick for me is wanting to reach for the tube, and how could you ever turn down this chic packaging? Beyond that, this true red is timeless. It's on the deeper spectrum of the red shade range, which feels appropriate for any occasion. It may be V-day themed, but I plan on wearing this all-year long.
WHY I'M OBSESSED:
This good-looking lipstick had me at hello. I'm easily wooed when it comes to pretty packaging, so you can imagine how happy I was when this came across my desk. The high-fashion brand sure does know how to dress-up a lipstick bullet. Once I tried the lipstick, I was equally impressed by the quality of the texture, which is smooth and velvety. This, ladies, is what I'm calling makeup couture.

This New Shade
Gloss Bomb Universal Lip Luminizer in Hot Chocolit
FENTY BEAUTY by Rihanna
sephora.com
$25.00
THE DETAILS:
If you haven't tried Fenty Beauty Gloss Bomb yet, stop reading this and go cop it right now. I'd hate for you to miss out on this all-star of a lip gloss. It's creamy not sticky, hydrating not drying, long-lasting not short-lived—the list goes on. Riri was kind enough to extend the line with new, cool shades. Now, you can choose from a lineup of clear, soft pink, rich brown, pearl, and more. As for the finish, it's lustrous and shiny. In the words of Rihanna: "I made it because I wanted the girls to get kissed more." There you go.
WHY I'M OBSESSED:
Rihanna is always looking out for brown-skinned beauties. This chocolate hue has a my-lips-but-better look, elevating the tone of my natural lip color and making them feel so soft. I'm also obsessed with how good it smells. Everything about it is bomb (hence the name) and I'm forever grateful for more colors to choose from.
•••
For more stories like this, including celebrity news, beauty and fashion advice, savvy political commentary, and fascinating features, sign up for the Marie Claire newsletter.
This content is created and maintained by a third party, and imported onto this page to help users provide their email addresses. You may be able to find more information about this and similar content at piano.io