#BigLipstickEnergy: Mood-Boosting Colors to Take Your Mind Off Things
Lean into "stay home makeup" even more.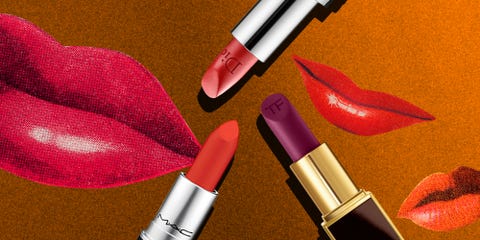 Design By Morgan McMullen/Hanna Varady
I'm a serial lipstick dater. So many lip products slide onto my desk. Some I double-tap and have all the heart eyes for. Others I ghost and leave on seen. This is #BigLipstickEnergy, an honest breakdown of how I feel about the latest lip launches. Read on for the three lipstick flings I'm keeping in rotation for now. Next week, I'll have a new roster.

Rouge Dior Lipstick in 999
THE DETAILS:
You're looking at an iconic red with a rich history dating back to 1953. That was the year Christian Dior created two runway red shades, "9" and "99," for his models. (The number "9" was credited as his lucky number.) Years later, the two shades were melded into one: Dior 999, which is widely regarded as the "perfect red" and available in glossy, metallic, and this matte texture.
WHY IT'S MOOD-BOOSTING:
During these trying times, you can do your makeup however makes you feel good—whether that's going natural or wearing a full face. But don't underestimate the power of lipstick. "I love red; it is the color of life," Dior once said, and I couldn't agree more. Some reds—like this one—just can't be rivaled. The shade is far from basic because it looks different on everyone. I promise: One swipe will instantly brighten your day.

MAC Matte Lipstick in Lady Danger
Mac Cosmetics
nordstrom.com
$14.25
THE DETAILS:
Meet one of MAC's best-selling lip shades of all time: Lady Danger. It's a vibrant coral red that brings the heat. Known for its power to liven up any makeup lewk, it's a shade that'll singlehandedly transform your face—no lie. You won't really need much else makeup-wise with this attention-stealing shade on. Its hydrating matte texture is a bit unforgiving, though, if you tend to have dry lips, so be sure to moisturize thoroughly first for the best full-coverage finish.
WHY IT'S MOOD-BOOSTING:
Lady Danger reminds me of summer boozy brunches and college day parties. I was 18 or 19 when I first purchased this and it held a permanent spot on my dorm room's vanity for years to follow. It's one of the first shades that showed me what a bold lipstick can do for my confidence, so I've picked it up again recently to brighten my spirits during quarantine. It's straight-up fire, in all aspects, and I can't wait to pass it down to my future daughter so she, too, can feel fire wearing it.

Lip Color in Bruised Plum
Tom Ford
neimanmarcus.com
$55.00
THE DETAILS:
The weighty black and gold case, the murumuru butter and chamomilla flower oil–packed formula, the seductively glossy finish: So many aspects of this lipstick make it a special collector's item. But the color alone makes it worth adding to your own vanity. Plum, fuchsia, and ruby collide to create this shiny shade. The depth of this hue depends on how much you build and layer. One swipe offers a sheer, semi-opaque look; a few more swipes leaves behind a daring berry shade.
WHY IT'S MOOD-BOOSTING:
The real question is: What can't a Tom Ford lipstick do for your mood? What I love most about this lipstick is that, during my early 20s when I discovered it, it made me feel more sophisticated, put-together, and grown-up than I actually was. Owning a Tom Ford lipstick was a big deal for a college girl, and even now, its refined aesthetic has the same effect on my mood. Putting on lipstick has felt more like fun than anything else during this crisis, and this sultry shade makes me miss date nights the most.
...
For more stories like this, including celebrity news, beauty and fashion advice, savvy political commentary, and fascinating features, sign up for the Marie Claire newsletter.
This content is created and maintained by a third party, and imported onto this page to help users provide their email addresses. You may be able to find more information about this and similar content at piano.io