#BigLipstickEnergy: The Best Lip Plumpers to Breathe Life Back Into Your Lips
Even in quarantine, your lips can still live a full life with these plumpers.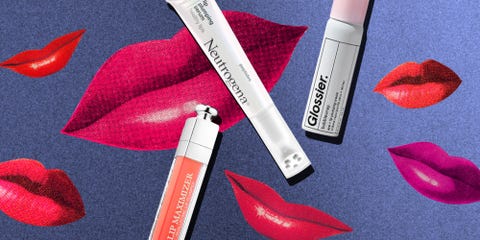 I'm a serial lipstick dater. So many lip products slide onto my desk. Some I double-tap and have all the heart eyes for. Others I ghost and leave on seen. This is #BigLipstickEnergy, an honest breakdown of how I feel about the latest lip launches. Read on for the three lipstick flings I'm keeping in rotation for now. Next week, I'll have a new roster.

Dior Addict Lip Maximizer Plumping Gloss in Coral
THE DETAILS:
This is one of Dior's most-used products backstage at fashion shows for a reason. It plumps your lips quickly, minus the aggravating side effects, like stinging and burning, that lesser formulas carry. This tinted gloss, which is available in various vibrant and neutral tones, boasts a unique type of hyaluronic acid with volumizing spheres which do the heavy lifting in the plumping department. Get ready for an unabashedly glossy finish with full lips to go with it.

WHY I'M OBSESSED:
Although I have naturally full lips, I'm not opposed to accentuating them even more. What I love most about this gloss is that I can see a noticeable difference in fullness moments after I apply it. Looking in the mirror and watching this gloss go to work is like witnessing a magic trick: beautifully plumped lips in seconds topped by a soft tint that's achieved in a few strokes. Plus, if you're also a sucker for good scents, this one is minty and the texture feels cooling to the touch. I'm counting it as a summer staple.

Healthy Lips Plumping Serum with Peptides
THE DETAILS:
If you haven't tried a serum made specifically for your lips, you are missing out. Packed with peptides and antioxidants, this serum has benefits that go well beyond basic plumping. When applied topically, peptides support skin repair and help minimize fine lines. Use this to prep your fullest-looking pout yet—before lipstick or lipgloss for the best results.

WHY I'M OBSESSED:
Besides doing a lip scrub every week (when I remember) I rarely treat my lips with anything other than balm. This serum changed everything. I use it as a pre-lipstick treatment when I'm taking lots of photos and want my lips to steal the show. The antioxidant-rich formula smoothes over any rough or dry patches and help visibly plump. I wait five minutes after applying this to slick on some lipstick, and am always amazed at how luscious my lips look.

Bubblewrap Eye + Lip Plumping Cream
THE DETAILS:
It's not often that you get a lip and eye plumper for the price of one. Leave it to Glossier to create a moisture-boosting formula full of hyaluronic acid, peptides, avocado oil, squalene, vegetable protein and blueberry fruit extract (the list goes on) that treats the sensitive skin on both areas...for $26. It doesn't tingle like typical lip plumpers, but instead acts as a no-rinse mask that primes your lips and prolongs hydration throughout the day.

WHY I'M OBSESSED:
I've waxed poetic about this eye and lip duo before, but it's worth raving about again if you constantly deal with tired eyes and dry lips (it me!). The cream is fast-absorbing AF and is on the more subtle end of the spectrum when it comes to plumping. Don't get me wrong, it works, but the water-in-oil texture gives your lips more of a bouncy, fresh finish. I layer this on at night before bed, followed by a balm, and wake up with the most moisturized lips.
•••
For more stories like this, including celebrity news, beauty and fashion advice, savvy political commentary, and fascinating features, sign up for the Marie Claire newsletter.
This content is created and maintained by a third party, and imported onto this page to help users provide their email addresses. You may be able to find more information about this and similar content at piano.io