#BigLipstickEnergy: Bright Shades to Finish Off Your Hot Girl Summer
New purple, pink, and red lipsticks to wear because why not?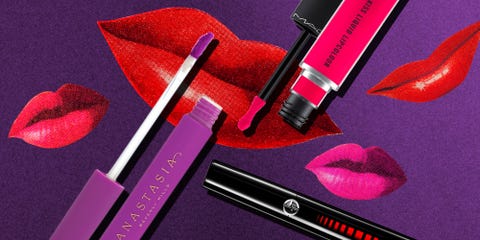 I'm a serial lipstick dater. So many lip products slide onto my desk. Some I double-tap and have all the heart eyes for. Others I ghost and leave on seen. This is #BigLipstickEnergy, an honest breakdown of how I feel about the latest lip launches. Read on for the three lipstick flings I'm keeping in rotation for now.

Powder Kiss Liquid Lipcolour in Billion $ Smile
THE DETAILS:
Typical liquid lipsticks get a bad rap. They're often described as drying because they glide on wet, sink in in seconds, and then proceed to suck the life out of your lips. This one, however, is a smooth departure because of its powdery, mousse-like texture. The formula is full of emollients and provides a cushiony, hydrated veil of color that comes across as a soft focus finish. Don't worry, you'll still receive the bold burst of color MAC is known for—especially with this bright pink hue.
WHY I'M OBSESSED:
When I wear popping pinks, I'm usually blotting nonstop to tone down the color a bit. There's a certain way I like bright lipsticks to look on my dark skin tone, which means I usually have to alter the shade to some degree. But not with this powdery texture, which creates a hazy matte finish that looks less harsh and more effortless—there's no blotting necessary. I don't even have to build much, two coats is enough for this color to make a statement. Plus, it's incredibly hydrating and never leaves my lips with a dry, chapped feeling.

Anastasia Beverly Hills
$18.00
THE DETAILS:
File this long-wear stain under a low-maintenance lipstick that last all day. Like, all day. It feels practically weightless on your lips, yet offers a full-coverage finish of color that does not fade or feather throughout the day. The moisture-packed pigment is there to stay. Unlike other tints, you won't have to tend to this shade with re-applications every few hours. The bright orchid hue does all of the heavy lifting.
WHY I'M OBSESSED:
It's hard to do purple lipstick right. When done wrong, it can look more juvenile and less grown woman, and I'm always leaning towards the latter. This saturated shade serves up chic, fun, and carefree vibes. It's a purple tint that practically begs for compliments, even if it's over FaceTime since most of us are still quarantined. Although, I'd be lying if I said this shade doesn't make me miss social gatherings. It's one of those colors that'll make everyone come up to you and ask: "What lip color are you wearing?" For now, posting a selfie in this shade does the trick.

Ecstasy Mirror Shine Lacquer
THE DETAILS:
If we're talking packaging, this sexy, sleek tube wins. Beyond its cool black and silver exterior, it encapsulates a glossy, high-impact lip lacquer that lives up to its curb appeal. It's somewhat of a hybrid between a gloss and a lipstick, delivering a stunning dose of color and super-shiny finish a stranger can spot from a mile away. It's made to feel like a long-wear stain with loads of hydration. The collection comes in ten shades, from neutrals to rich reds, and deep berries.
WHY I'M OBSESSED:
When I want to wear a red, I don't want it to look barely there, it needs to really show up, which has always been an issue with glossy reds on my complexion. I crave bold color in gloss form, and this gem does just that. It's one of those reds you wear when you really want your lips to do all the talking. Whether it's a Zoom date or a special occasion, you'll feel like your most fierce self. The pointed tip makes for a precise and easy application. You've been warned: this is a not a mask-friendly shade, so save it for indoors only.
This content is created and maintained by a third party, and imported onto this page to help users provide their email addresses. You may be able to find more information about this and similar content at piano.io