Weekend Escapes: Exactly What to Pack for 6 Different Cities
Traveling must-haves to keep your skin, hair, and nails vacation-ready.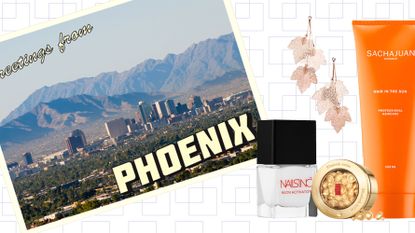 (Image credit: Rights Unknown)
Marie Claire Newsletter
Celebrity news, beauty, fashion advice, and fascinating features, delivered straight to your inbox!
Thank you for signing up to Marie Claire. You will receive a verification email shortly.
There was a problem. Please refresh the page and try again.
The most stressful part of vacation? Packing. But it shouldn't be! We've put together a city-by-city guide of exactly what you need to stash in your duffle bag to keep your hair, skin, and nails looking gorgeous from the moment you land to the moment you leave.
Los Angeles, California
1. Herbivore Coconut + Sea Salt Beach Wave, $20
WHY: Nothing says California girl like windblown, beachy texture. Fake those insta-waves as soon as your feet hit the jet bridge with this salt-water spray.
2. Formula X Atlantic-Pacific Edition in Pacific Haze, $12.50
WHY: The secret to this West Coast city's effortless, undone vibe lies in the details. A coat of this subtle, soft gray—named after Angelinos' favorite body of water—shows you're paying attention.
3. Jennifer Zeuner Zahara Golden Choker Necklace with White Sapphires, $286
WHY: Add a touch of rocker chic with a thin gold choker—it brings sophistication to a jeans-and-T-shirt combo and easily transitions to a night out.
4. PREVAGE City Smart Broad Spectrum SPF 50 Hydrating Shield, $68
WHY: The downfall of LaLa Land's enviable forecast? Bright sun rays and elevated pollution levels. This broad-spectrum, mineral-based multitasker (it acts as a sunscreen and tinted moisturizer!) protects your skin with powerful antioxidants (like idebenone, green tea, and ferulic acid) that ward off the environmental damage that can lead to premature aging. It's also lightweight and hydrating—so you'll look like you just came from the spa, even if you didn't.
Jackson Hole, Wyoming
1. Elizabeth Arden SUPERSTART Skin Renewal Booster, $65
WHY: A day spent soaking up the atmosphere of this mountain town means you won't be heading back to the hotel until nightfall. Max out the benefits of your skincare routine—antioxidants, moisturizer, and sunscreen—with this ultra-thin, skincare booster that preps skin and helps boost the effectiveness of your products. Which could be crucial, especially when it comes to getting extra moisture out of your face cream when facing frigid temperatures.
2. Ray Ban Clubround sunglasses, $160
WHY: High elevation and snow-tipped mountains result in a strong glare that can not only harm eyes (yes, your eyes can get sunburned) but also lead to constant squinting (aka fine lines). Avert both with a chic pair of specs.
3. PREVAGE Anti-Aging Foundation Broad Spectrum Sunscreen SPF 30, $65
WHY: Halt sun damage with with a foundation that keeps skin looking smooth, firm and naturally radiant while helping skin retain moisture.
Miami, Florida
1. Drybar The Warden Maximum Hold Hairspray, $27
WHY: Keep flyaways and frizz from high humidity at bay with this mega-hold hairspray, which blocks moisture in the air from entering strands and causing that just-zapped look.
2. Beautyblender Botterazzi Pro, $20
WHY: Tropical heat can leave your complexion—and makeup—looking far from perfect. Blot away excess oil without piling on powder with this compact, absorbent sponge.
3. Elizabeth Arden Skin Illuminating Brightening Day Serum, $79.50
WHY: The Sunshine State gets its name for good reason, but damage from all those rays can lead to excess pigment and uneven skin tone. Help brighten skin and even out skin tone while minimizing dark spots and excess pigmentation with the concentrated serum's potent blend of encapsulated niacinamide and vitamin C (a proven skin brightener).
4. Eugenia Kim Bianca Wool Felt Fedora Hat in Midnight, $395
WHY: Transition your outfit into the Florida version of fall with a wool, wide-brimmed hat. Bonus: extra sun protection.
New York, New York
1. Bb. Hairdresser's Invisible Oil Dry Oil Finishing Spray, $34
WHY: The definition of NYC power hair? A polished, professional blow-out. Keep yours intact (or get help for a DIY) with this superfine oil mist that instantly tames flyaways, adds shine, and makes hair look Fifth Avenue-worthy.
2. Elizabeth Arden Eight Hour Cream Skin Protectant Nighttime Miracle Moisturizer, $39
WHY: When fall and winter strike NYC, skin needs all the moisture it can get. The cool outdoor temperatures paired with roaring indoor heat can lead to dehydrated, chapped skin—never a good look. Slather this treatment on overnight; its combination of shea butter, salicylic acid , vitamin E, and petrolatum means you'll wake up with supple, smoother, intensely hydrated skin that can withstand the elements while you hit the city streets. Plus, its lavender scents help to calm skin and soothe the senses.
3. Cluse La Boheme Mesh Strap Watch, $99
WHY: Nothing distracts from a lunch date or drinks like constantly checking your smartphone to keep tabs on the time. This watch is far more subtle—and more chic.
4. PREVAGE City Smart Broad Spectrum SPF 50 Hydrating Shield, $68
WHY: You might spend all daylight hours indoors, but you still need to protect your skin from through-window sunlight. Protect your face with this tinted daily invisible shield, which also helps block pollution that can age skin and keeps skin look younger, longer.
Phoenix, Arizona
1. H&M Long Earrings, $9.99
WHY: When temperatures skyrocket to 100 degrees, top knots become a means for survival. Take the look from casual to commanding with bold drop earrings like this rose gold leaf set.
2. Elizabeth Arden Ceramide Capsules Daily Youth Restoring Serum, $76
WHY: The arid climate can make skin feel as dry as the desert surroundings. These tiny-yet-powerful capsules infuse ceramides into the skin to strengthen, support and firm the look of skin (they quickly get absorbed—nothing is worse than slathering on cream only to look like an oil slick). Plus, you can pop a few in your carry-on and slip through TSA without a glitch.
3. Nails Inc. Neon Activator Base Coat, $8
WHY: Electric hues accentuate a bronze glow. But before reaching for an ultra-bright shade, apply this intensely white base coat to keep your mani guarded from dulling UV light and boost the vivid, just-painted effect.
4. Sachajuan Hair In The Sun, $32
WHY: Sun-drenched strands stay fresh and soft with this UVQ-laced leave-in treatment and styling cream (think SPF for hair).
Seattle, Washington
1. Wander Beauty Carryon Lip and Cheek Gel, $22
WHY: Even if the sun is hiding in the Emerald City, you can still achieve a luminous complexion with this skin-brightening berry shade.
2. Rebecca Minkoff Darren Messenger Satchel, $345
WHY: An oversized hobo is bad news for your back and shoulders when filled with all your daily trip essentials. This compact bag fits everything you need—promise.
3. Dyson Supersonic Hair Dryer, $399
WHY: A damp climate doesn't mean resigning yourself to wet or frizz-prone tresses. You can perform a pro-level blowout in minutes with this carry-on friendly tool.
4. Elizabeth Arden SUPERSTART Skin Renewal Booster, $79.50
WHY: Rain and mist may feel fresh on your face, but they can wreak havoc, too. Increased moisture in the air ups the number of pollutant particles floating around, waiting for skin to absorb them. Apply this, product booster after cleansing and under your moisturizer-sunscreen to help strengthen skin's natural defenses with a cocktail that contains probiotics, botanical glasswort, flaxseed and sea fennel extracts.
Celebrity news, beauty, fashion advice, and fascinating features, delivered straight to your inbox!
Nicole Catanese is a beauty and wellness editor.