5-Minute Faces
These quick and easy looks give you pretty, polished results with just a few products.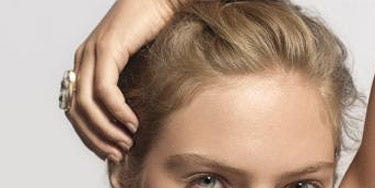 Bonus: Spend the time you save on a great manicure.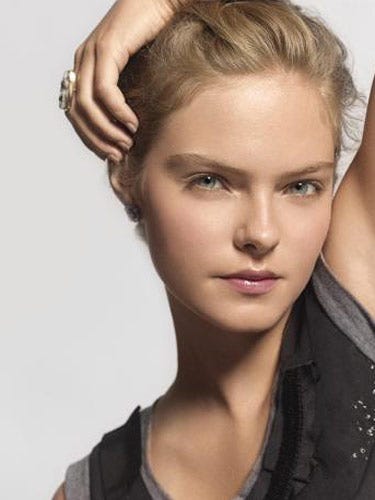 Quick & Easy Makeup Tricks
Sheer Genius
The bare necessities for this "no makeup" look? Rosy-pink blush and lip balm. For a dewy glow, makeup artist Maxine Leonard dabbed Jo Malone Vitamin E lip balm on cheekbones, inner eye corners--and lips, of course. Then she carefully filled out the brows and brushed them up. "With a fresh, natural look, it's important to have groomed brows. They frame the face and add definition," she says.
MC RECOMMENDS: Victoria's Secret Very Sexy Blush/Highlighter Duo in Runway, Benefit Instant Brow pencil in Light to Medium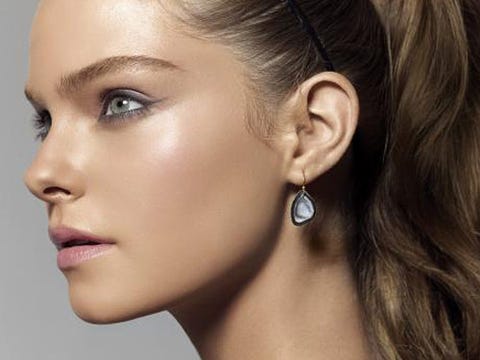 Quick & Easy Makeup Tricks
Gray's Anatomy
Black cat-eye liner can look like Amy Winehouse on a bad day, so Leonard prefers more wearable gray hues instead. With surgical precision, she filled in the upper lashes with gray pencil and dragged out the line at the outer corners of the eye to create a slightly winged shape. Then she smudged a bit of gray shadow along the lower lashline "to make it a little sexier. You don't even need mascara." Call it smoky lite.
MC RECOMMENDS: Estee Lauder Artist's Eye Pencil in Slate Writer, Clinique Colour Surge Eye Shadow Stay Matte in Slate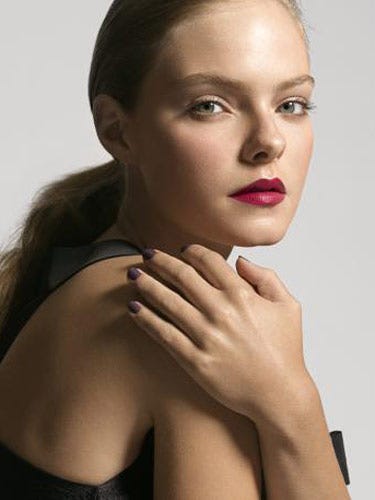 Quick & Easy Makeup Tricks
Pinkberry
"Fuchsia lipstick is more fun and playful than the classic red," according to Leonard, who first lined the model's lips with MAC Lip Pencil in Magenta to prevent color bleeding. "It's a versatile shade that suits girls with fair or dark hair." To balance the bold look, she suggests a clean swipe of lengthening - not thickening - mascara. "With a bright lip, you don't want heavy black lashes."
MC RECOMMENDS: Revlon Beyond Natural Defining Mascara, Vincent Longo Lip Vinyl in Carmen, OPI Nail Lacquer in Parlez-Vous OPI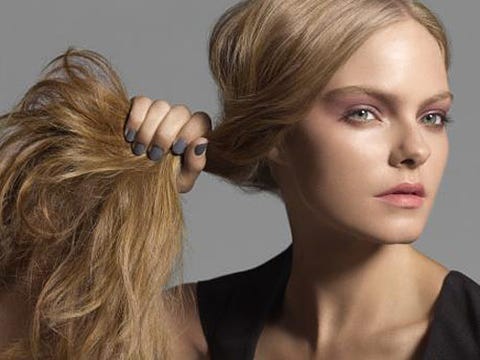 Quick & Easy Makeup Tricks
Violet Femme
To warm up the purple eyeshadow, Leonard blended peach blush with a hint of shimmer high on the cheekbone and up to the lids. "Too much powder can look dated. A touch of iridescence gives skin a youthful luminosity," she says. Salmon lips have more attitude than nude but still look soft.
MC RECOMMENDS: Sonia Kashuk Enhance Eye Shadow in Purple Velvet, CoverGirl TruCheeks Blush 3, Sally Hansen Natural Beauty Inspired by Carmindy Color Comfort Lip Color in Sunburst, Rescue Beauty Lounge Nail Polish in Stormy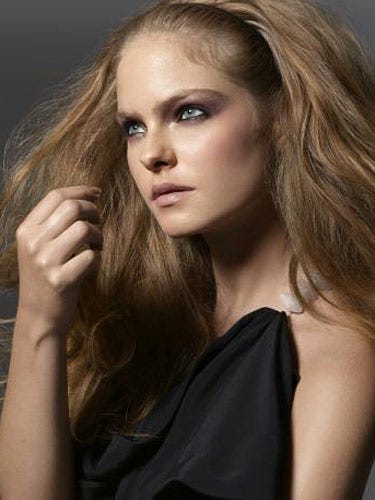 Quick & Easy Makeup Tricks
Gold Rush
For a fast smoky eye, Leonard dotted black pencil between the lashes and lined the lower inner rims. Then she blended the liner with a slick black gloss for extra sex appeal. As a final touch, she mixed a dab of lip balm with gold shadow and gilded the inner eye corners. "Highlighting the eyes opens up the face," she says.
MC RECOMMENDS: L'Oreal Le Kohl Pencil in Carbon Black, Lancôme Color Fever Lip Gloss in Piha Black, Make Up For Ever Star Powder in Yellow Gold, Chanel Facettes d'Or Nail Colour in Gold Fiction
This content is created and maintained by a third party, and imported onto this page to help users provide their email addresses. You may be able to find more information about this and similar content at piano.io