Art Inspired Makeup
Pretty as a picture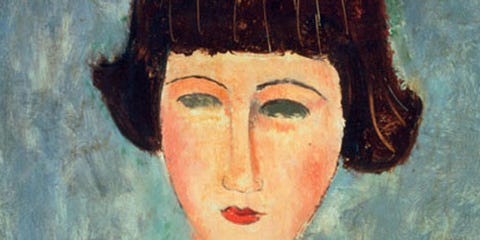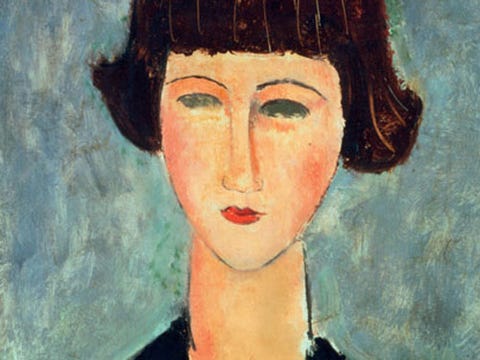 beauty-art-0307j
Graphic Fringe THE INSPIRATION: Amedeo Modigliani, Young Brunette, 1917.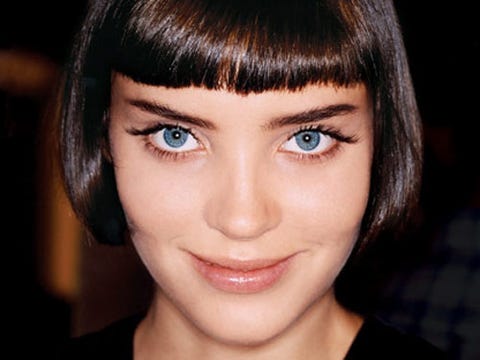 Art Beauty 0307
Graphic Fringe SEEN AT: Sportmax, Dolce & Gabbana. GET IT: The bold, blunt bangs-which often accompany short bobs-were all the rage in the '20s, when silent-movie star Louise Brooks wore them. Orlando Pita, who whipped locks into shape at Marni and Vera Wang, saw many models at the shows sporting them, but acknowledges that they were frequently hairpieces-as the real thing comes with a downside: "Some face shapes can't take severe bangs, and unless you're going to be trimming constantly, they can be hard to grow out."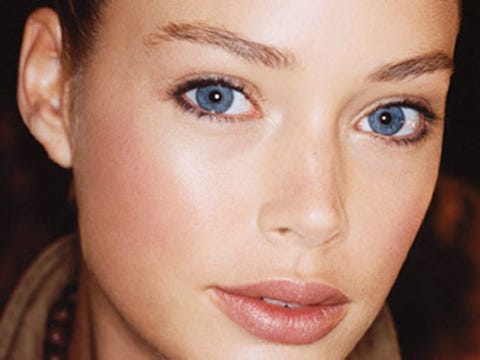 Art Beauty 0307
Romantic Rosy Cheeks SEEN AT: Michael Kors, Oscar de la Renta. GET IT: Instead of looking like a product of the sunbed, "cheeks on the runways appear just out of the bath-healthy and rejuvenated," says Bianca Alexander, director of makeup artistry for MAC, who worked on spring shows for Zac Posen and Narciso Rodriguez. Get a rosy glow by double-dipping: First layer on a rosy cream blush, then top with a brighter-than-you-usually-choose pink powder blush. Concentrate the color on the apples of your cheeks.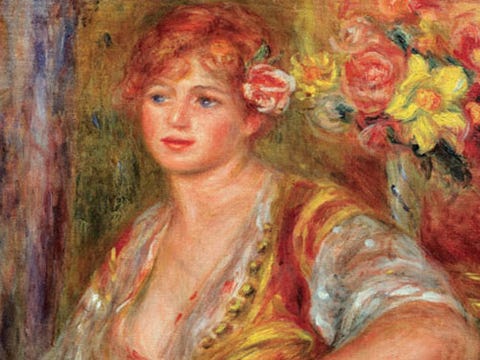 beauty-art-0307l
Romantic Rosy Cheeks THE INSPIRATION: Pierre-Auguste Renoir, Blonde Woman With a Rose, circa 1915.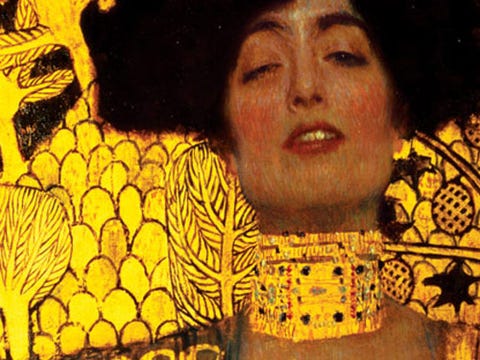 beauty-art-0307m
Nouveau Metallic Eyeshadow THE INSPIRATION: Gustav Klimt, Judith I, 1901.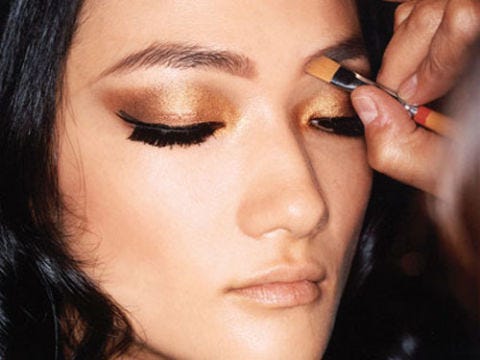 Art Beauty 0307
Nouveau Metallic Eyeshadow SEEN AT: Donna Karan Collection, Versace, Missoni. GET IT: "Today's metallic tones are more earthy than flashy, which means they're flattering to a wider array of skin tones," says Alexander, ho recommends matching your metallic shadow to your accessories for a statement-making outcome. "We always ask the designers whether their models will be sporting silver or gold, then do the eyes accordingly." For the prettiest effect, pick cream shadow if your skin is dry and powder if it's normal, and keep the color most intense at your lashline, diffusing it with your finger or a makeup brush as you spread it over the crease.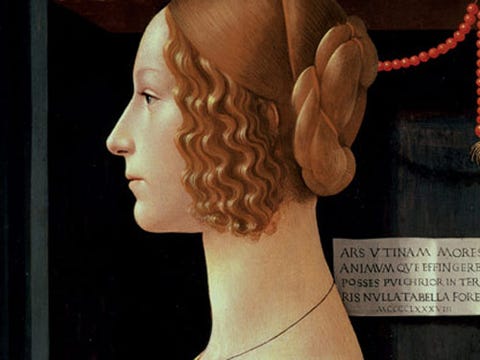 beauty-art-0307k
Renaissance Pinups THE INSPIRATION: Domenico Ghirlandaio, Portrait of Giovanna Tornabuoni, 1488.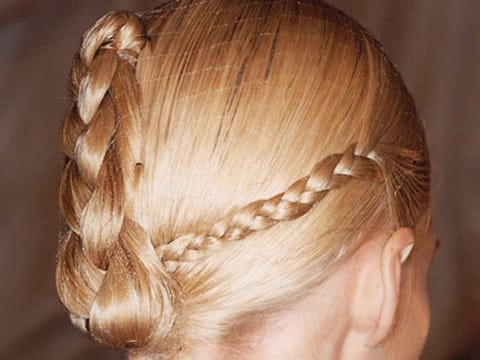 Art Beauty 0307
Renaissance Pinups SEEN AT: Donna Karan Collection, Stella McCartney, Zac Posen, Sonia Rykiel. GET IT: "I really want to encourage women to bust out of their straight-hair rut," says Murenu, who predicts that spring 2007's buns, braids, and twists will be as big as the ponytails of seasons past. "A lot of the designers were asking for them," says Pita. "They were fed up with long, nothing hair!" Don't worry if you're not a hair pro. Done in an amateur fashion, these styles look more modern.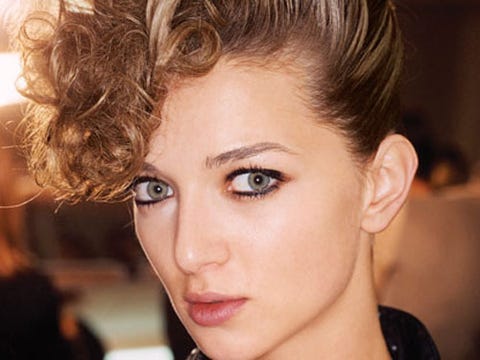 Art Beauty 0307
Expressionist Bouffant THE INSPIRATION: Egon Scheile, Seated Woman with Bent Knee, 1917. SEEN AT: Yves Saint Laurent. GET IT: "Hair is going in a new direction," says Luigi Murenu of Kerastase, who coiffed the catwalkers at Yves Saint Laurent, Viktor & Rolf, Ungaro, and Roberto Cavalli. "The styles are more dramatic." To copy this look, gather hair into a twist in back, then saturate roots of your crown with volumizing spray (we like Redken Workforce 09 Flexible Volumizing Spray). Blowdry while lifting hair straight up with your brush. Finish by using a curling iron on the loose ends.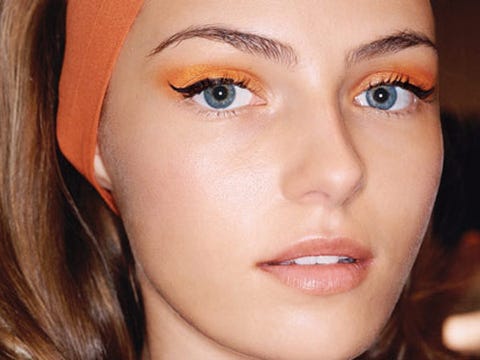 Art Beauty 0307
Pop Art-Colored Eyes THE INSPIRATION: Andy Warhol, Marilyn, 1967. SEEN AT: D&G. GET IT: Cartoonish shadow shades were spotted all over the spring runways, and they're more wearable than you think. "Apply them as accents rather than covering your entire lide," says Nicolas Degennes, who created Givenchy's spring makeup collection. Adds Tom Pecheux of Shiseido, who worked at Derek Lam and Doo.Ri: "Keep the rest of your makeup minimal."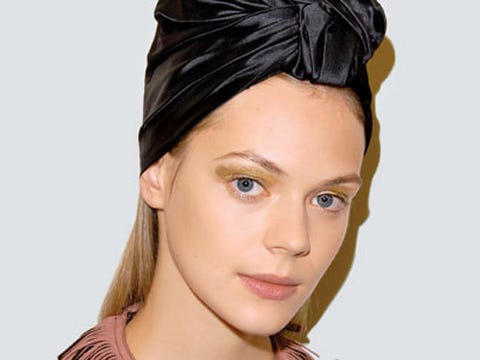 Art Beauty 0307
Vintage Hairwear. THE INSPIRATION: Johannes Vermeer, Girl with a Pearl Earring, circa 1665. SEEN AT: Prada, Marc by Marc Jacobs, Valentino. GET IT: Vintage-style headgear perked up otherwise understated hair, reports Guido Palau, who created the looks at Marc by Marc Jacobs, Louis Vuitton, and Versace. Accessories are extremely practical in general, adds Pita: "They are a great way to grow out a haircut and can balance your facial features." Example: If you think your ears stick out, pull hair back into a pretty comb but let a few loose pieces cover up part of your ears. Aim for imperfection; disheveled is sexy.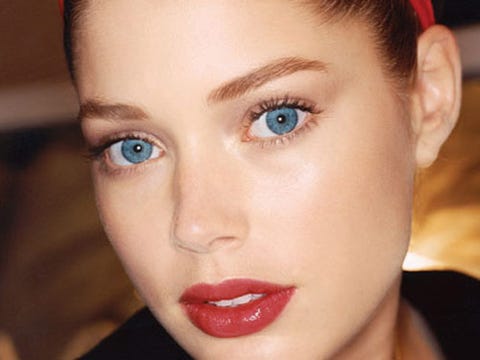 Art Beauty 0307
Modernist Red Lips THE INSPIRATION: James Rosenquist, Study for Marilyn, 1962. SEEN AT: Valentino, Anna Sui. GET IT: "Wear red lipstick, and people will listen to you!" says Degennes. For real read-my-lips intensity, Degennes recommends experimenting with a range of shades and finishes rather than trying to find the one that perfectly matches your skin tone-because let's face it, red is never going to be the most natural look. The proper application? "Line first with the same color, then dab on lipstick with your fingertips."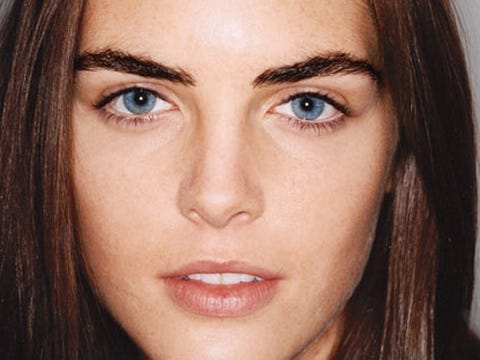 Art Beauty 0307
Baroque Brows THE INSPIRATION: El Greco, A Lady in a Fur Wrap, circa 1577 . SEEN AT: Dolce & Gabbana, Fendi, DSquared2 GET IT: "Big, dark brows are back," says Alexander, who gives much of the credit to model-on-the-rise Hilary Rhoda, seen here and in recent Ralph Lauren and Blumarine ads. (Still, Brooke Shields will always be our highbrow icon!) Bushing yours up is easy: Only pluck the hairs that fall way below your natural browline, then apply a generous coating of eyebrow wax, which makes hair appear fuller when topped with brow powder.
This content is created and maintained by a third party, and imported onto this page to help users provide their email addresses. You may be able to find more information about this and similar content at piano.io