Diva Beauty Must-Haves
Who's got it going on like fashion designer and hip-hop scene-maker Rachel Roy? Here's how she cuts it in two worlds without breaking a sweat.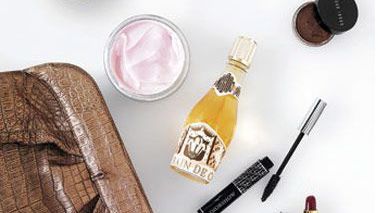 (Image credit: Jeff Harris)
After six years at urban clothing line Rocawear — she's now married to its cofounder, music mogul Damon Dash — designer Rachel Roy launched her own high-end label inspired by her full-bodied fashion idols Ava Gardner and Marilyn Monroe. The line was instantly coveted by strong, curvy women like Jessica Biel and Oprah, and Roy is now promoting it 24/7. Here, the beauty ammo that gets her from day to night.
OLD SCHOOL: Nivea Creme
"I bypass hair products altogether — they are just too drying — and use this rich body cream to tame my locks."
HOLD EVERYTHING: Nancy Gonzalez Handbag
"Most of my bags can multitask and make the switch from day to evening. I'm loving a lot from Nancy Gonzalez's new collection. They're classic with a twist, just like me."
PIN UP: Goody Bobby Pins
"When I'm going out, I like my hair up in a bun, and these do the trick."
XXLUXE: Carolina Herrera Body Lotion
"If I want to take my scent up a notch for evening, I slather this on."
ROYAL FLUSH: Bobbi Brown Pot Rouge in Milk Chocolate
"I apply this with my fingers — it's impossible to mess up and always looks fresh."
MAIS OUI: Royal Bain de Caron Fragrance
"My mom wore Chanel No. 5, which I'll always associate with her. I gravitate toward lighter, 'baby' scents, like this one."
P.M. POUT: Chanel Hydrabase Creme Lipstick in Lotus Rouge
"I go for burgundy lipstick — evening only. During the day, it's too high-maintenance."
WINK WINK: Dior DiorShow Mascara in Black
"Because of my dark coloring, black mascara is best on me — I never head out without it."
GOLDEN GIRL: Iman Pressed Powder in Clay Medium
"This takes away shine and is the perfect color."
SO SULTRY: Shu Uemura False Lashes
"The added fringe is great for photographs."