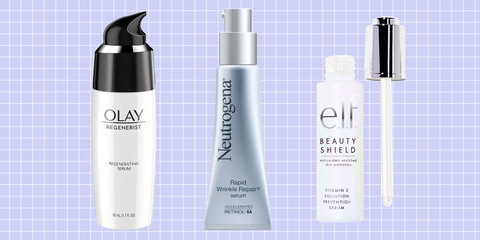 Design by Morgan McMullen
Yes, you need a face serum, no it's not a gimmick, and yes, they really do work. Did we answer all of your questions? Basically, serums are the result of blending the world's best skin-care ingredients together and compressing them into tiny drops of liquid gold, giving you the power to tighten wrinkles, soften lines, lighten dark spots, and basically give you the skin you want, all at once.
And though some formulas can get a little pricey, you don't actually need to shell out a hundred bucks to reap the benefits, as long as you know where to look (hint: right here). And to help you out, we broke down the ten very best drugstore serums, ahead, to start adding to your routine today.
1
Brightening Glowing Serum
What it does: The vegan formula (which is also USDA-certified organic) uses a mix of ultra-hydrating argan oil and anti-inflammatory borage oil to sooth irritated, acne-prone skin, while the added antioxidant-rich cranberry helps brighten dark spots and discoloration.
When to use it: Morning and/or night, after your other essences, serums, and lightweight moisturizers.
2
Rapid Wrinkle Repair Serum
Neutrogena
Amazon
$195.04
What it does: This silky serum is filled with retinol—AKA the big kahuna of anti-aging ingredients—and glycerin to rev up collagen production and smooth out wrinkles, all without feeling drying out your skin.
When to use it: On clean, dry skin, at night only. Make sure to follow with a rich moisturizer, if you have dry or sensitive skin.
3
Age Perfect Hydra Nutrition Daily Repair Face Serum
L'Oreal Paris
Amazon
$12.69
What it does: Repeat after us: hydrolyzed soy protein and hydroxypalmitoyl sphinganine. Okay, fine, don't repeat after us, but those two tongue-twisters are the major players in this skin-strengthening and moisturizing serum, giving it the ability to truly amp up your skin's elasticity, tone, and brightness over time.
When to use it: On clean, dry skin, morning or night, before your moisturizer.
4
Beauty Shield Vitamin C Pollution Prevention Serum
e.l.f. Cosmetics
Ulta
$16.00
What it does: You've definitely heard a trillion times before that you're "supposed" to be using vitamin C on your skin, and it's for good reason: The all-star ingredient is a powerful antioxidant that neutralizes skin-damaging free radicals (yes, those are real, scientific things) and brightens dark spots and discoloration.
When to use it: In the morning (it acts as an all-day shield against free radicals) before your moisturizer.
5
Regenerist Regenerating Serum
What it does: Everything it's supposed to, and nothing more. And we mean that in the best of ways, because unlike many cheap-thrills skin potions, which are filled with 70-percent trendy, blah ingredients, this airtight pump contains all of the collagen-building peptides and skin-protecting antioxidants you want in an anti-aging serum.
When to use it: Morning or night, on clean, dry skin. Layer on a moisturizer if you have ultra-dry skin.
6
Lift & Luminate Triple Action Serum
What it does: This product has three promises: softening lines/wrinkles, firming skin, and evening out skin tone, and nails all three with its ingredients, including Matrixyl 3000 Plus, No7's most effective anti-wrinkle peptide technology as well as Hyaluronic Acid & Hibiscus.
When to use it: Morning and night, before your moisturizer.
7
Hydroboost Hydrating Serum
What it does: This serum is meant for those of us whose skin dying of thirst. Its main ingredient is purified hyaluronic acid, a hydrating compound that is naturally found in skin and can absorb up to 1000 times its weight in water.
When to use it: Morning or night, on clean, dry skin.
8
Retinol Correxion Deep Wrinkle Anti-Aging Retinol Night Cream, Oil-Free and Non-Comedogenic,
What it does: This anti-aging serum has retinol (a fancy Vitamin A that also fights wrinkles), and skin-renewing minerals like magnesium, zinc, and copper to stimulate collagen production in the skin and reduce fine lines and wrinkles.
When to use it: This is the rare retinol that you can use during the day, and was designed to be worn under makeup. So morning or night, once or twice a day.

What it does: This serum does all the work while you're sleeping —using 10% glycolic acid & arginine, this serum works hard at reducing fine lines and aging while also brightening the skin to make sure you wake up looking gorgeous.
When to use it: In the evening, followed up with a sunscreen in the morning.
10
MaxGlow Serum + Primer
What it does: This product will make you glow like you just came back from a tropical vacation. Ingredients like soy and kiwi complex enhance skin's natural radiance, and you'll have that "lit from within" look you thought only came from expensive products.
When to use it: Use as final step in your face care routine or primer before applying makeup.