Victoria's Secret Angels Dish on How They Stay So Skinny
Find out how Victoria's Secret models Candice Swanepoel, Adriana Lima, Lily Aldridge, and Erin Heatherton keep their iconic figures in perfect shape.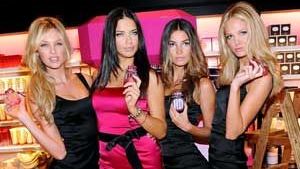 (Image credit: )
Things got celestial in Soho last Friday when (from left to right) Candice Swanepoel, Adriana Lima, Lily Aldridge, and Erin Heatherton descended upon one of the company's downtown outposts to launch the new Victoria's Secret Bombshell perfume. While I feel badly for the window washer tasked with removing nose smudges (so many gawking guys!), I couldn't help but ask the ladies how they keep their iconic figures in shape for their many lingerie-clad photoshoots and fashion shows. Here's what they said:
Candice: I love to box regularly, but I really step it up at the gym before a shoot. Sometimes I'll work out the morning before a job so my muscles are active and more toned. That, plus a nice, healthy breakfast keeps my energy up for the rest of the day.
Adriana: Jumping rope is the quickest way for me to tone—ten minutes equals fourty-five minutes of running! I like to do squats in between intervals to make it a whole body workout.
Lily: I always take working out seriously, but before a shoot I do extra sit ups and squats. I also eat more vegetables and drink a ton of water, because it really helps my skin glow.
Erin: I recently started cleaning my apartment in heels. It really tones my glutes!
From uppercuts to slimming via Swifter, these bombshells' bodies are decidedly hard-earned. How do the rest of you mere mortals slim down in a hurry?