Watch This Video of an 11-Year-Old Meghan Markle Arguing Against Sexism
What a woman.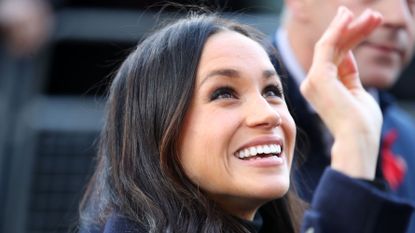 (Image credit: Archives)
One of the many adorable things Prince Harry said about his wife-to-be Meghan Markle during their engagement interview (opens in new tab) earlier this week was how he had no doubt she'd be "unbelievably good" at the job side of being a royal.
RELATED STORY
When agreeing to marry Prince Harry, Meghan also agreed to give up her career as an actress in exchange for a life making official royal visits to charities and being a spokesperson for important causes. But it seems that's always come naturally to Meghan, as a newly unearthed video reveals.
Inside Edition (opens in new tab) discovered the 1993 interview that was originally aired on Nickelodeon. In it, Meghan can be seen objecting to the fact that a dishwasher advert made a very blatant assumption that it was only the females of the household who did any cleaning.
"Women are fighting greasy pots and pans," the advert voiceover said. But a young Meghan staunchly disagreed with the company's choice of words.

"I don't think it's right for kids to grow up thinking these things, that just Mom does everything," Meghan, then aged just 11, said to the camera. "It's always Mom does this, and Mom does that."
"I said, wait a minute, how could somebody say that?" the future royal said. "Just about one out of every three commercials is going to say something that's going to hurt somebody's feelings."
Meghan didn't just talk about her objections to the advert, she actually went to the lengths of writing a letter to the company requesting they swap out the word "women" for the word "people." And it actually worked. Proctor & Gamble, who owned the dishwasher company, agreed to change the words used in their commercial.
So it seems Meghan, who has previously been an activist and spokesperson for women's rights, among other causes, has always had the kind of spirit that makes her speak out in a bid to make a difference.
She even spoke about her one-woman campaign to change the advert over 20 years later, when she delivered a speech at the U.N. on International Women's Day in 2015. "I remember feeling shocked and angry and also just feeling so hurt," she said. "It just wasn't right and something needed to be done."
We have absolutely no doubt she'll ace the royal family role.
Cat is Cosmopolitan UK's features editor covering women's issues, health and current affairs. news, features and health. The route to her heart is a simple combination of pasta and cheese (somewhat ironic considering the whole health writing thing), and she finds it difficult to commit to TV series so currently has about 14 different ones on the go.