Update: Cate Blanchett Has *Not* Had Lesbian Relationships
Cate Blanchett Says She's Dated Women Before "Many Times"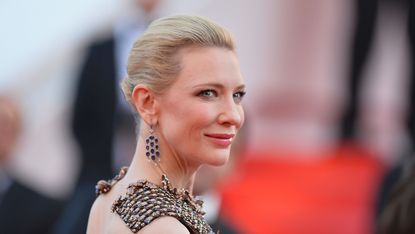 (Image credit: Getty images )
Update, 5/18: Cate Blanchett is setting the record straight—no, she has not had sexual relationships with women. At a Cannes Film Festival press conference for her new film Carol, the actress explained how the reporter mixed up her words:
"From memory, the conversation ran: 'Have you had relationships with women?' And I said: 'Yes, many times. Do you mean have I had sexual relationships with women? Then the answer is no.' But that obviously didn't make it," she said, according to AfterEllen.com. "But in 2015, the point should be: who cares?"
She later addressed today's LGBT climate, saying that people still have a ways to go until everyone can live as their true selves. "We're living in deeply conservative times," she said. "And if we think otherwise we're being very foolish."
Preach, Blanchett. Preach.
Original story, 5/12: Cate Blanchett gave us all a reason to celebrate today when she told Variety that she's dated women before—"many times," in fact. The piece reads:
When asked if this is her first turn as a lesbian, Blanchett curls her lips into a smile. "On film—or in real life?" she asks coyly. Pressed for details about whether she's had past relationships with women, she responds: "Yes. Many times," but doesn't elaborate.
The quote was said in passing while promoting her new film about a lesbian romance, Carol, which is premiering at Cannes Film Festival on May 17.
It's been a huge month for fluid sexuality mentions. Last week, Miley Cyrus said she's not straight and doesn't want to be labeled, and now Blanchett (who is currently married to filmmaker Andrew Upton) says she's dated women lots of times.
It's becoming a better world every day.