How Jennifer Aniston *Really* Feels About Injectibles and Plastic Surgery
Self love, people. Self love.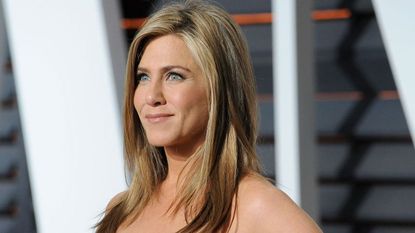 (Image credit: Archives)
Don't be shocked to see a (gasp) wrinkle or two on Jennifer Aniston's face. The ridiculously gorgeous 46-year-old told Yahoo! Beauty (opens in new tab) that Hollywood's pressure to fill your face with injectables is hurting women—and she doesn't plan to get them.
She had told makeup artist Bobbi Brown in a December 2014 interview (opens in new tab) that "I am not injecting shit into my face" because of pressure to look ageless, and the comments went viral. Now she seems to be doubling down (opens in new tab) on her original statement. "Not only is it OK, it's better [to skip them]. It just doesn't help," she told Brown in a new interview. "It's a slippery, slippery slope. [Some women] just start to lose perspective, it's their new normal, so it's a hard one to come back from."
Aniston said her self-esteem has blossomed since her Friends days, and that's helped her deal with outside beauty pressure. "I don't feel much different than I felt in my 20s, except I feel physically better," she said. "I also love myself more. That's the most beautiful thing that reflects out is inner confidence and inner sort of love."
Megan Friedman is the former managing editor of the Newsroom at Hearst. She's worked at NBC and Time, and is a graduate of Northwestern's Medill School of Journalism.