People Are Pissed About the Question Miss Hawaii Was Asked During the Miss USA Pageant
Not okay.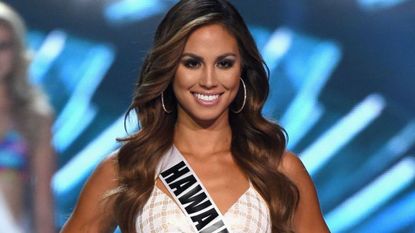 (Image credit: Getty Images)
While Miss District of Columbia, Deshauna Barber, has officially been crowned the 2016 Miss USA, pageant fans and casual viewers alike are still stewing over a very inappropriate question asked of runner-up Miss Hawaii during the Q&A round.
Along with her other questions, Miss Hawaii, a.k.a. Chelsea Hardin, was asked by judge Laura Brown, "If the election were held tomorrow, would you vote Hillary Clinton or Donald Trump for president, and why would you choose one over the other?"
Rather than give a direct answer, Miss Hawaii responded by saying, "It doesn't matter what gender, what we need in the United States is someone who represents those of us who don't feel like we have a voice, those of us who want our voices heard. We need a president to push for what is right, and push for what America really needs."
Even though everyone seemed to agree that Miss Hawaii answered the question as well as she possibly could given the circumstance, many took to Twitter in an outrage, claiming that it was inappropriate to so publicly ask someone to reveal who they're voting for at all.
Miss Hawaii's question was completely uncalled for, but she answered it with class. #MissUSAJune 6, 2016
See more
I'm embarrassed for the entire #MissUSA organization. Asking a contestant who they would vote for is absolutely inappropriate.June 6, 2016
See more
The question to Miss Hawaii should never have been asked! #MissUSAJune 6, 2016
See more
When you vote for president, your ballot is secret. Completely inappropriate #MissUSA question, but #MissHawaii answered gracefullyJune 6, 2016
See more
In fact, quite a few people believe that the reason Miss Hawaii didn't win the crown was precisely because of the Q&A round, and the fact that she was given such an unfair question.
In particular, a lot of people criticized Laura Brown for posing it in the first place, arguing that even if she hadn't written the question herself, she should have rejected it immediately.
I applaud Miss Hawaii for her answer. That judge shouldn't have asked her that question 'cause it's nobody's business but her own #MissUSAJune 6, 2016
See more
However, the judge has since responded on Twitter, clarifying that she did not come up with the question, but simply asked Miss Hawaii what she had been given.
Hi guys. I asked the question I was given and Miss Hawaii answered beautifully. @MissUSA ❤️June 6, 2016
See more
Follow Marie Claire on Facebook for the latest celeb news, beauty tips, fascinating reads, livestream video, and more.
Gina Mei is a writer and editor based out of Los Angeles. When she isn't writing, reading, and lost in an Internet vortex, she can usually be found petting the nearest dog.