19 Celebrities on Losing Their Virginity
Because even for perfect people, it's not always a perfect moment.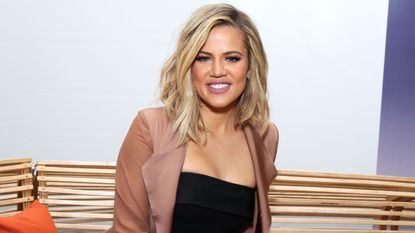 (Image credit: Getty)
1. Khloé Kardashian2. Daniel Radcliffe3. Lena Dunham4. Ansel Elgort5. Angelina Jolie6. Kim Kardashian7. Snooki8. Shia LaBeouf9. Megan Fox10. Ashton Kutcher11. Joe Jonas12. Krysten Ritter13. Robin Thicke14. Chris Evans15. Celine Dion16. Lil Wayne17. Sarah Silverman18. Jessica Alba19. Dwayne "The Rock" Johnson
Your first time probably wasn't what a lifetime of teen movies cracked it up to be. It might have been awkward, painful, or funny— not exactly the romantic, beautiful moment you were hoping for. Celebrities might lead seemingly perfect lives, but when it comes to losing their virginities, they're ~just like us~. Here are their stories.
1. Khloé Kardashian
"My situation was not a good situation. I was 14 years old and dating an 18-year-old boy, which now I look back and think it's disgusting, but then I thought I was really cool...Basically, I got pressured into having sex. I wasn't ready. I barely knew my own body…
"I felt like if I didn't, I wouldn't be cool or this guy wouldn't want to talk to me anymore…I didn't have sex for the next three years, just because I didn't feel comfortable with my body and I didn't feel like I knew myself. And then being out of that environment, I knew I did the wrong thing and I was kind of forced to have sex." —HLN, December 2012
2. Daniel Radcliffe
"I'm one of the few people who seem to have had a really good first time…It was with somebody I'd gotten to know well. I'm happy to say I've had a lot better sex since then, but it wasn't as horrendously embarrassing as a lot of other people's were—like my friend who got drunk and did it with a stranger under a bridge." —Elle, July 2014
3. Lena Dunham
"[My best friend] Audrey headed back to my room hopeful for a sleepover. She was sobbing, and disoriented, and also pretty sure I was alone finishing the cheese, so she flung my door open without knocking. There she found [the guy I was losing my virginity to] Jonah on top of me doing what grownups do. She understood the magnitude of the occasion and through her tears shouted, 'Mazel tov!'
"I didn't tell him I was a virgin, just that I hadn't done it 'that much.' It hurt a little more than I'd expected but in a different way, and he was nervous too and he never came. Afterwards we lay there and talked, and I could tell he was a really nice person. I commended myself for making a healthy, albeit hasty, partner choice. I really couldn't wait to tell my mom." —Rookie, March 2012
4. Ansel Elgort
—Elle, February 2015
5. Angelina Jolie
"I had started having sex with my boyfriend and the sex and the emotions didn't feel enough. I was no longer a little girl. In a moment of wanting to feel closer to my boyfriend I grabbed a knife and cut him. He cut me back. We had an exchange of something and we were covered in blood, my heart was racing." —OK!, April 2007
6. Kim Kardashian
"'When I did want to have sex the first time I was almost 15...I was like, 'I think I'm going to, or I want to,' and she [Kris] was like, 'Okay, so this is what we're going to do, we're going to put you on birth control,' and she was, like, really open and honest with me." —the Oprah Winfrey Show, December 2012
7. Snooki
"I was 14. I mean, in upstate New York there's really nothing to do up there but experiment. He was a senior, and I thought he liked me but turned out he was just a jerk. So, it was terrible." —YourTango, April 2013
8. Shia LaBeouf
"For some reason, I was trying to portray myself as a man who had [had sex] many times in the past. I didn't tell the girl I was a virgin. I was all, 'Don't worry, babe. I'm gonna handle it tonight.' And meanwhile I was shaking in my boots. Getting naked was very strange. It was the first time I'd been naked in the light, in front of a girl, with no hiding place. I remember putting a pillow underneath her because I had seen that in a porn movie…[It] put her at a weird angle, where I couldn't get in correctly. I'm not extremely well-endowed…and clearly this wasn't the move." —Playboy, May 2009
9. Megan Fox
—Cosmopolitan, January 2010
10. Ashton Kutcher
"I was 15. It was out in the woods with a girl I had just met who my buddy set me up with. The whole thing lasted two seconds. It was really awkward. Two years later, I had sex with her again just to show her the first performance was a fluke and I'd gotten better." —The Frisky, April 2008
11. Joe Jonas
"I did other stuff before then, but I was sexually active at 20. I'm glad I waited for the right person, because you look back and you go, 'That girl was batshit crazy. I'm glad I didn't go there.'" —Vulture, December 2013
12. Krysten Ritter
"He was a real bad boy. He gave me a school picture that year that said, 'Okay, Krysten, I love you. You give me a boner.' That's how we started dating. His name was Damian, but my parents called him 'Demon.' Our first time was in his parents' van before basketball practice. I don't remember it being very pleasant." —Playboy, October 2012
13. Robin Thicke
When a reporter asked what he wished he could change about losing his virginity at 13, Robin responded, "Make it last longer than 30 seconds." —Elle, October 2013
14. Chris Evans
—Details, May 2012
15. Celine Dion
"It was in Dublin, on that unforgettable day of April 30, 1988, the evening of the Eurovision competition. He went back to my room with me...I was seated at the head of the bed, legs folded under the covers. I was happy about being alone with the man I loved. And I had a very precise plan." —Dion's autobiography My Story, My Dream, October 2012
16. Lil Wayne
"I was 11 and the girl was 13. She had every board game you could imagine. I liked board games. We was playing Win Lose or Draw and on the board she wrote, 'Fuck me.' Now I was 11, and I didn't even know it meant 'intercourse.' I just knew it was a cuss word, so I was like, 'Why is she cussing herself out?'
"She said, 'Do you want to play Press Your Luck? Well, the game is in my closet.' She had a walk-in closet, so she said, 'Go get it, it's right to the right…' When I walk to the closet she came in and cut the lights off and took off my pants, and I remember my ass was cold up against the wall. I was like, 'What the hell!?' When I tried to push her off me, I felt that she was naked also, so I just stepped back and let her do what she do." —Playboy, April 2009
17. Sarah Silverman
"He led me to his bedroom—a bed, a dresser, and an ashtray. He kissed me while he laid me back in his bed.
"'Have you ever had sex before?'
"'Yes, I've had sex before,' I said, insulted.
"Here's the thing. I thought I had had sex. My senior year of high school I visited my sister Laura at Boston University, and she fixed me up with a friend who was from all accounts very good-looking. I knew he was the kind of guy girls in my school would think was really hot. He was in college; he was tall and lean and had long hair and a long beard—like a sexy Jesus. We sat on my sister's tiny living room couch and watched Dead Ringers, a creepy Jeremy-Irons-as-twin-gynecologists thriller, and fell asleep before anything really serious happened. The next morning my sister and her roommate left early for the AIDS Walk, and this guy and I—yipes, I can't remember his name, maybe Brooks or something like that—moved into my sister's bedroom. He put on a condom and pushed against me, but there was honestly no hole there. I figured that was it. The guy just pokes hard between your legs for a while. Sex. When he finally gave up, he said, 'It's not like it is in the movies, Sarah. Is that what you thought?'
"So when Kevin asked me if I was a virgin, I answered honestly: no. Somehow I think he knew better than me, because he pretty much instructed me through the whole process. He talked me through my first blow job (that, I admitted I had never done before), what to do with my tongue, what not to do with my teeth, and so on. And then, slowly at first, he pushed inside me. All the way inside. And all I could think was, 'Holy shit, THIS is sex, dummy.'
"He sat up on the side of the bed to smoke another Merit Light, carefully ridding the end of any excess ash, molding the red tip of it into a constant point. He put out his cigarette and pulled back the sheets to get up, revealing a Rorschach-like pattern of blood. Like a red butterfly stamp, getting lighter and lighter with each imprint. There was a long moment of silence before I worked up the moxie to say, 'That came out of you.'
"'Um. No, it didn't.'
"Another long pause, broken by him: 'It's okay. Just buy me new sheets.'" —Rookie, March 2012
18. Jessica Alba
"I didn't really [seriously] go out with any guys until I was 18 and met my ex-fiancé, Michael Weatherly…It just didn't work out. I was so young, 18, when I started dating him. I was a virgin. I knew I wanted to be in love with the first person I slept with, because for almost everyone I knew, the first experience made them feel like shit. So I wanted to be really careful that he was going to be in love with me and wasn't just going to leave me." —Cosmopolitan, October 2005
19. Dwayne "The Rock" Johnson
"We shouldn't have been in the park in the first place. All of a sudden, a big spotlight came on us. Bang. You hear the cop roll down the window and say, 'Ma'am, are you okay? Will you come to the car?' She gets dressed, comes to the car. They say, "Are you being attacked?' She says, 'No, that's my boyfriend.' It was a complete nightmare. [Laughs] Some stories are beautiful, but mine was not." —Elle, May 2017
And one celeb still waving their V-Card, because that's fine too: Tim Tebow.
Asked if he was saving himself for marriage: "Yes, I am. I think you're stunned right now. You can't even ask a question…I was ready for that question, but I don't think y'all were." —Christian Post, April 2012
Follow Marie Claire on Facebook for the latest celeb news, beauty tips, fascinating reads, livestream video, and more.
Celebrity news, beauty, fashion advice, and fascinating features, delivered straight to your inbox!