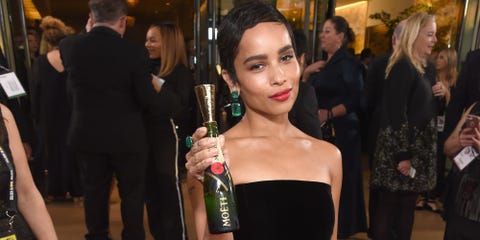 Perhaps the best part of award shows for celebrities (aside from being celebrated for your life's work)? Gift bags. Let's be honest, it's the real reason we attend any party. Here, shop the goodies Golden Globes actresses are reportedly taking home from the evening. Bonus: You can now say you own the same lipstick as Reese Witherspoon.
L'Oreal, $11
The next time you lose your mascara, try this one that's known for it's volume and length. Certified smudge-free, too. 🙌
2
A Damaged-Hair Solution
Olaplex, $28
Everyone from the Kardashians to J. Lo use the product, which is reason enough to give it a go.
Olga Lorencin, $105
The shea butter and jojoba oil will give your skin the extra glow it deserves. You can *technically* say you got a red-carpet facial.
Kosas Cosmetics, $28
Chic, elegant. If you have too many red lips in your vanity, there's seven other colors to choose from.
Kate Spade, $328
You and your new BFF Emma Stone can match on your way to dinner.
6
A 3-in-1 Facial Cleanser
Caolion, $25
Triple! Action! The hydrating foam makeup remover to swap your makeup wipes with.
7
A Hydrating Sheet Mask for Your Eyes
Karuna, $10
Perfect for in-flight naps, this sheet mask gets rid of dark circles and puffiness while hydrating the skin.
8
The Ultimate Face Moisturizer
Murad, $78
Winter skin is no fun (especially when you can't feel your face...thanks, bomb cyclone). No sulfates or parabens in this moisturizer either, which 💯.