The Best Romantic Comedies That Came Out in 2018
Sometimes you just want to watch two people fall in love. Here are the best romantic comedies that came in 2018.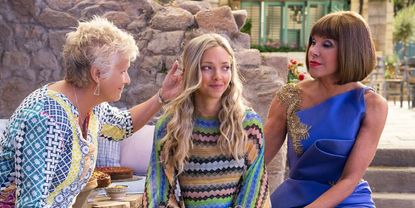 (Image credit: Universal)
Marie Claire newsletter
Celebrity news, beauty, fashion advice, and fascinating features, delivered straight to your inbox!
Thank you for signing up to . You will receive a verification email shortly.
There was a problem. Please refresh the page and try again.
You know that feeling when you get home from work on a Thursday night and are like, What should I do? Stay in with my significant other, a.k.a. this bottle of wine, or go out to a movie with friends? The answer is go out to a movie with friends—while drinking that wine in the theater. And, if you want to laugh/cry/swoon, see a romantic comedy. Here are the best, funniest, loviest romcoms coming out in 2018.
1. 'The Competition'
Release date: January 26, 2018
Starring: Thora Birch, Chris Klein, Claire Coffee, David Blue, Jason Tobias, Gabrielle Stone, Tiffany Fallon, and Michael Draper
The Premise: Thora Birch stars as Lauren Mauldin, a woman who believes in ending relationships after six months to avoid having her heart broken by infidelity. Enter Chris Klein as Calvin Chesney, who sets out to prove her wrong by inviting her to tempt his happily coupled friends into cheating. It's like if How to Lose a Guy in 10 Days involved messing with other people's lives.
2. 'Basmati Blues'
Release date: February 9, 2018
Starring: Brie Larson, Scott Bakula, Donald Sutherland, and Tyne Daly
The Premise: Brie Larson plays a scientist who is sent to India to sell her genetically modified rice to rural farmers. Along the way, she finds love and music—because this is a musical rom-com. That said, shouldn't the "white girl visits other culture and appropriates it while falling in love" genre have died out by now?
3. 'Permission'
Release date: February 9, 2018
Starring: Rebecca Hall, Dan Stevens, David Joseph Craig, and Morgan Spector
The Premise: A couple on the verge of marriage decide to sleep with other people before getting engaged. What could possibly go wrong?
4. 'Half Magic'
Release date: February 23, 2018
Starring: Heather Graham, Stephanie Beatriz, Jason Lewis, Molly Shannon, Luke Arnold, Thomas Lennon, and Angela Kinsey
The Premise: Three women unhappy with their romantic lives decide to take control and find love on their own terms. Bonus: Graham also wrote and directed the film.
5. 'Love, Simon'
Release date: March 16, 2018
Starring: Nick Robinson, Katherine Langford, Alexandra Shipp, Jorge Lendeborg Jr., Miles Heizer, Keiynan Lonsdale, Logan Miller, Jennifer Garner, Josh Duhamel, and Tony Hale
The Premise: Simon is a closeted gay teen, looking to come out on his own terms. When secret emails to his romantic pen pal fall into the wrong hands, however, he ends up blackmailed. It's from the people who brought us The Fault in Our Stars, so expect some drama with the comedy.
6. 'I Feel Pretty'
Release date: April 20, 2018
Starring: Amy Schumer, Rory Scovel, Michelle Williams
The Premise: Renee Bennett has always struggled with insecurities about her image, but a freak accident in a soul cycling class makes her into a new woman...kinda.
7. 'Overboard'
Release date: April 20, 2018
Starring: Anna Faris, Eugenio Derbez, Eva Longoria, John Hannah, and Swoosie Kurtz
The Premise: This movie is a remake of the Goldie Hawn film from 1987, so expectations are high. The plot? A wealthy jerk gets amnesia after falling overboard on his yacht and a single mom (Faris) convinces him they're married and puts him to work.
8. 'Love Per Square Foot'
Release date: April 20, 2018 (on Netflix!)
Starring: Angira Dhar, Vicky Kaushal
The Premise: In the crowded city of Mumbai, finding housing isn't easy—Sanjay wants to own his own place but can't afford it, and Karina wants a home but can't sign for one because she's a single woman. The two hatch a wild plan to finesse the housing system, but things get complicated when they develop feelings.
9. 'Book Club'
Release date: May 18, 2018
Starring: Jane Fonda, Diane Keaton, Mary Steenburgen, Candice Bergen, Andy Garcia, Don Johnson, Richard Dreyfuss, Craig T. Nelson
The Premise: The love lives of four best friends in their 60s take a spicy turn when they choose the famous steamy novel Fifty Shades of Grey for their book club read of the month.
10. 'Ibiza'
Release date: May 25, 2018 (on Netflix!)
Starring: Gillian Jacobs, Richard Madden, Vanessa Bayer, and Phoebe Robinson
The Premise: Harper and her friends score the vacation of a lifetime when she gets sent on a work assignment to Barcelona, but a chance meeting with sexy DJ Leo sends her on a detour to the party capital of the world: Ibiza.
11. 'Set It Up'
Release date: June 15, 2018 (on Netflix!)
Starring: Zoey Deutch, Glen Powell, Lucy Liu, Taye Diggs
The Premise: What do you do when your bosses are overbearing, workaholic nightmares? You set them up—and maybe catch some feelings in the process.
12. 'Mamma Mia! Here We Go Again'
Release date: July 20, 2018
Starring: Amanda Seyfried, Lily James, Christine Baranski, Julie Walters, Pierce Brosnan, Colin Firth, Stellan Skarsgård, Dominic Cooper, Andy Garcia, Cher, and Meryl Streep
The Premise: Sophie is now pregnant and doubting her abilities to be a mother, so Donna's best friends tell the story how Donna handled Sophie's birth, complete with flashbacks and big musical numbers.
13. 'Like Father'
Release date: August 3, 2018
Starring: Kristen Bell, Kelsey Grammer, and Seth Rogen
The Premise: A woman is left at the altar and ends up taking her estranged father with her on her honeymoon, where she meets a charming new love interest. Classic rom-com.
14. 'Crazy Rich Asians'
Release date: August 17, 2018
Starring: Constance Wu, Henry Golding, Gemma Chan, Awkwafina, and Michelle Yeoh
The Premise: Wu stars as American-born Rachel Chu, who discovers that her boyfriend comes from wealth when she goes with him to Singapore for his best friend's wedding.
15. 'To All the Boys I've Loved Before'
Release date: August 17, 2018 (on Netflix!)
Starring: Lana Condor, Noah Centineo
The Premise: Two high schoolers enter into a fake contract relationship that quickly develops into something real.
16. 'Juliet, Naked'
Release date: August 17, 2018
Starring: Rose Byrne, Ethan Hawke, and Chris O'Dowd

The Premise: A woman's longtime boyfriend is obsessed with a musician whom she happens to become pen pals with. Romance and comedy ensue.
17. 'Destination Wedding'
Release date: August 24, 2018
Starring: Keanu Reeves and Winona Ryder

The Premise: Two outsiders meet at a destination wedding and bond and fall for each other and such.
18. 'Nappily Ever After'
Release date: September 21, 2018 (on Netflix!)
Starring: Sanaa Lathan, Lyriq Bent, and Ricky Whittle
The Premise: A prim and proper black woman finds her life turned upside down after an alcohol-bender drives her to cut off all of her hair.
Kayleigh Roberts is a freelance writer and editor with more than 10 years of professional experience. Her byline has appeared in Marie Claire, Cosmopolitan, ELLE, Harper's Bazaar, The Atlantic, Allure, Entertainment Weekly, MTV, Bustle, Refinery29, Girls' Life Magazine, Just Jared, and Tiger Beat, among other publications. She's a graduate of the Medill School of Journalism at Northwestern University.