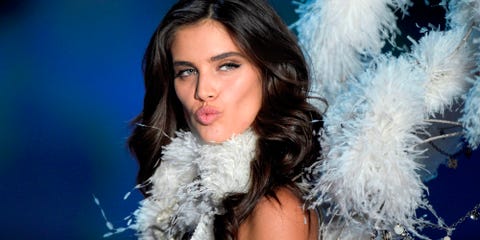 "This year I'll be in Miami shooting with VS, so I think we are having a big group dinner after. Maybe my boyfriend [Oliver Ripley] can surprise me in Miami. 😉"
Sara's Top Valentine's Day Gift Picks:
Victoria's Secret Wicked Bra, $40
Messika Ring, $7,175
Victoria's Secret Angel Lip Kit, $15

A Bouquet of Red Roses, prices vary
"I honestly think it depends on my crazy work schedule. In previous years, I've done anything from getting dressed up for a fancy dinner to staying at home with wine and a home-cooked meal while watching Martha & Snoop's Potluck Dinner Party."
Lais' Top Valentine's Day Gift Picks:
Catch Phrase Game, $18 (A fun game to play with friends, according to Lais.)
Victoria's Secret Lingerie, $58
"I love spending nights at home because I'm always traveling. If I have a moment's rest, I'd definitely say spending a quiet night together [with boyfriend Alexander DeLeon] at home is top on the list."
Josephine's Top Valentine's Day Gift Picks:

Raiders Jersey, $100
Victoria's Secret Love Fragrance and Lotion, $55
A Vanity Projects Mani/Pedi Gift Card, prices vary