The Best Oscars PDA Moments of All Time
Trust us, it's the kind that will make you say aww not ew.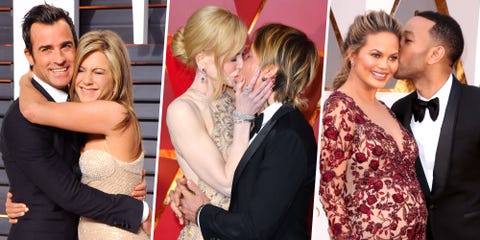 Hollywood's biggest night of the year brings all the hottest celebrity couples together in one room to celebrate their highest achievements, so there's bound to be some mushiness involved. Over the past 88 years, we've seen every kind of kiss, squeeze, and hand-hold in the book. Ahead, our favorite public displays of affection at the Oscars of all time.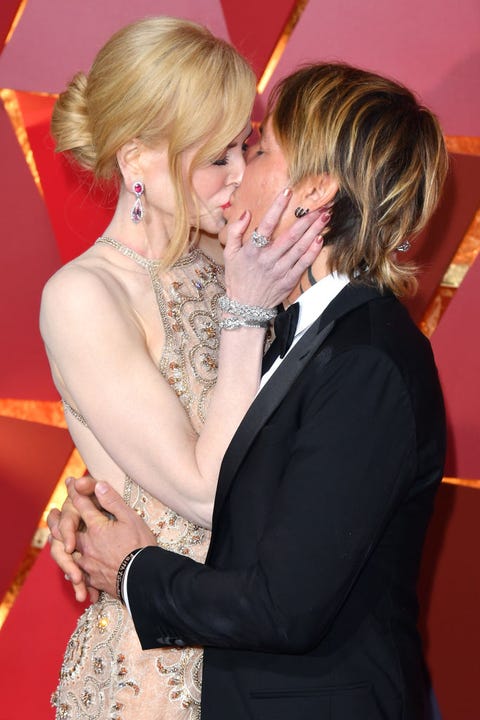 Nicole Kidman and Keith Urban, 2017
Kidman grabbed Urban's face and pulled him in for an intimate kiss on the 2017 Oscars red carpet.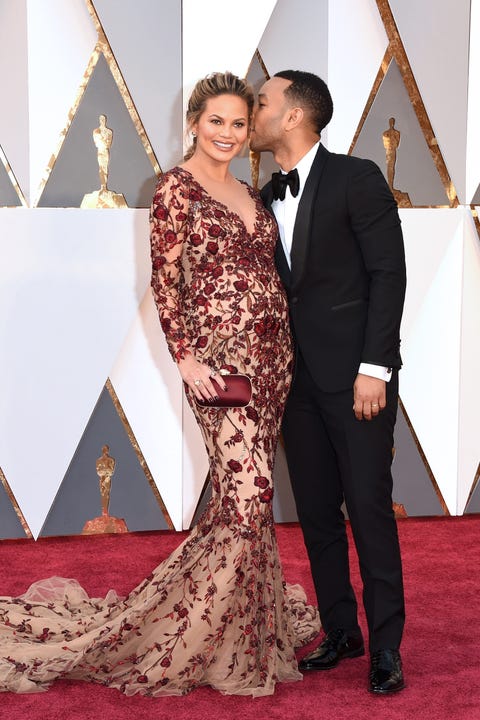 Chrissy Teigen and John Legend, 2016
After helping to fan out Teigen's train on the red carpet, Legend playfully leaned in to kiss her on the cheek. (Husband-of-the-year material right there.)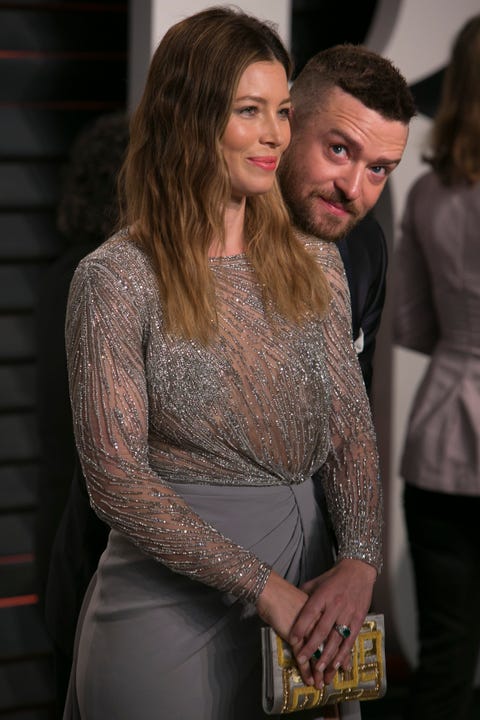 Jessica Biel and Justin Timberlake, 2016
Timberlake is notorious for acting silly on the red carpet—and here, at the 2016 Oscars, he was no different. He sweetly rested his head on Biel's shoulder (she played it off pretty cool), and made puppy dog eyes for the paparazzi.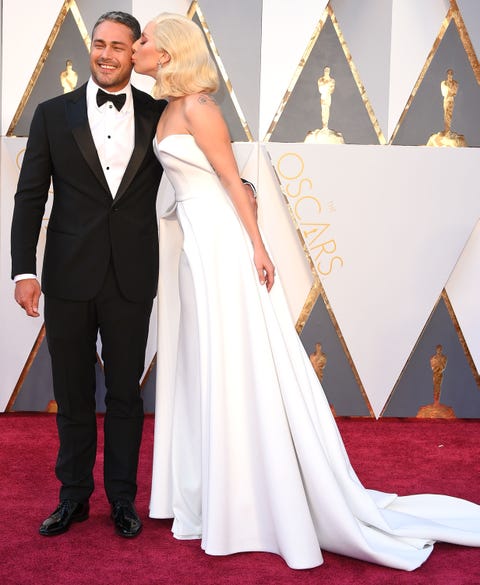 Lady Gaga and Taylor Kinney, 2016
Gaga initiated all the PDA here, leaning over to kiss then-fiancé Kinney on the cheek.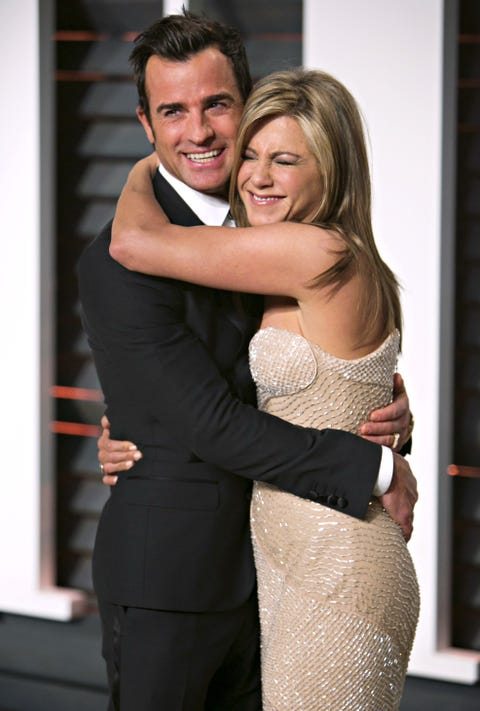 Jennifer Aniston and Justin Theroux, 2015
In 2015, the soon-to-be newlyweds hugged each other tightly on the red carpet. Sadly, we know these PDA moments are no more, now that the couple has filed for divorce.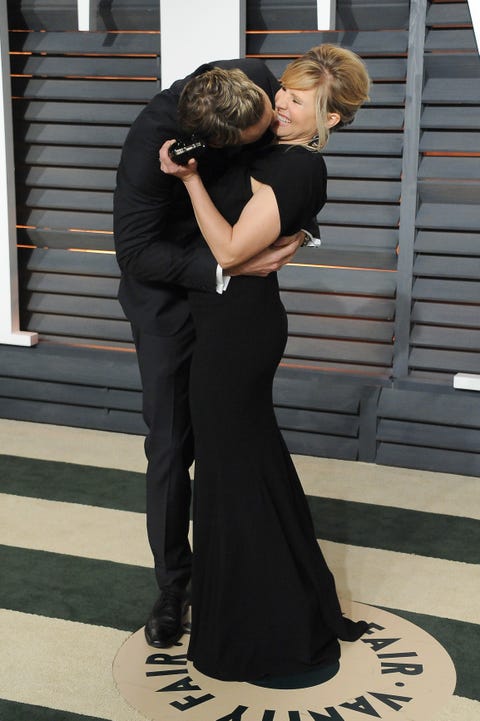 Kristen Bell and Dax Shepard, 2015
A night away from the kids means a little more action, but it seems Shepard took Bell by surprise here.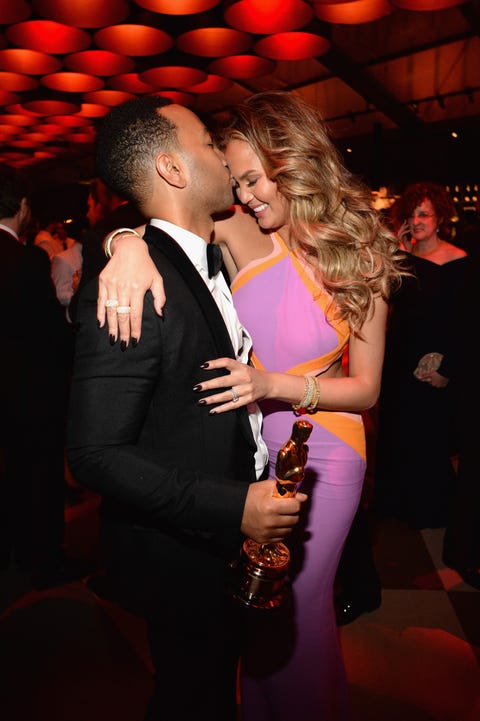 Chrissy Teigen and John Legend, 2015
Legend gave Teigen a sweet kiss on the forehead at the Oscars after-party. In 2015, he won the award for "Best Original Song" for Selma's "Glory."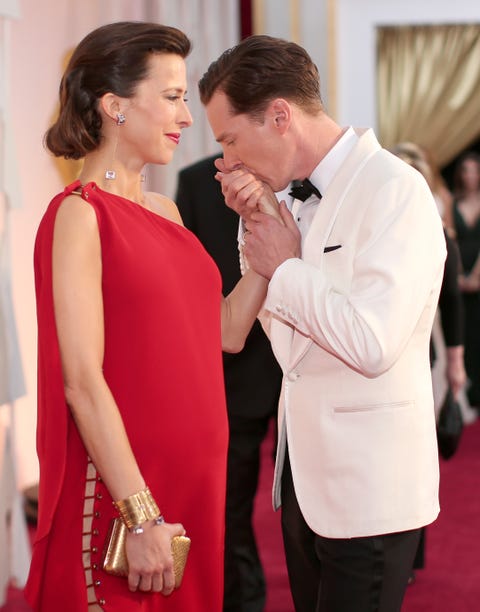 Sophie Hunter and Benedict Cumberbatch, 2015
In an intimate moment, Cumberbatch kissed his new (and newly pregnant) wife's hand on the red carpet. The two were married just a month before the Oscars.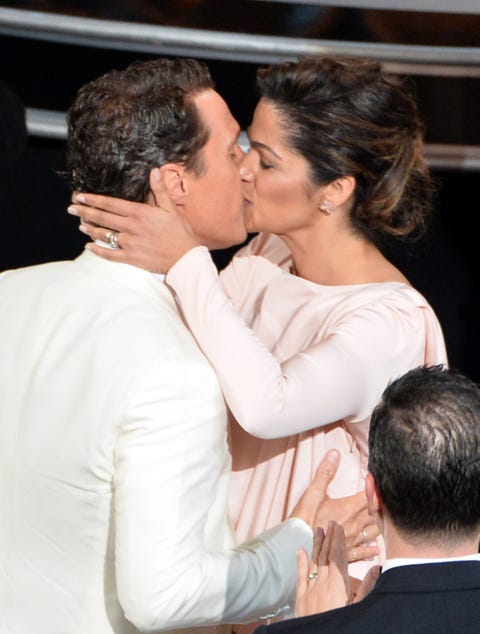 Camila Alves and Matthew McConaughey, 2014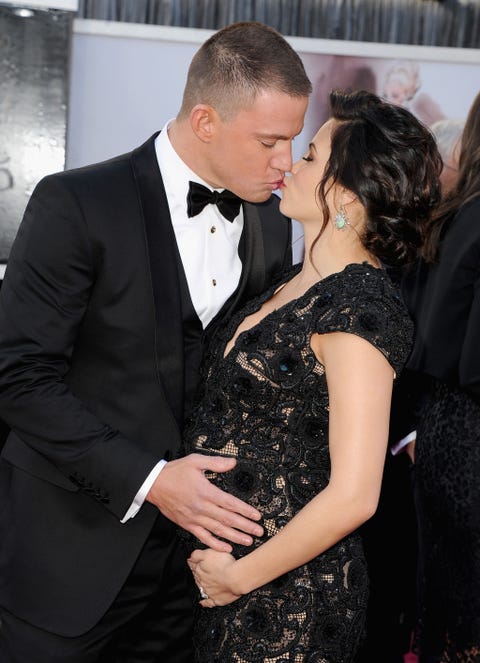 Jenna Dewan-Tatum and Channing Tatum, 2013
Channing sweetly rested his hand on Jenna's baby bump while leaning in for a quick peck during the 2013 Oscars red carpet.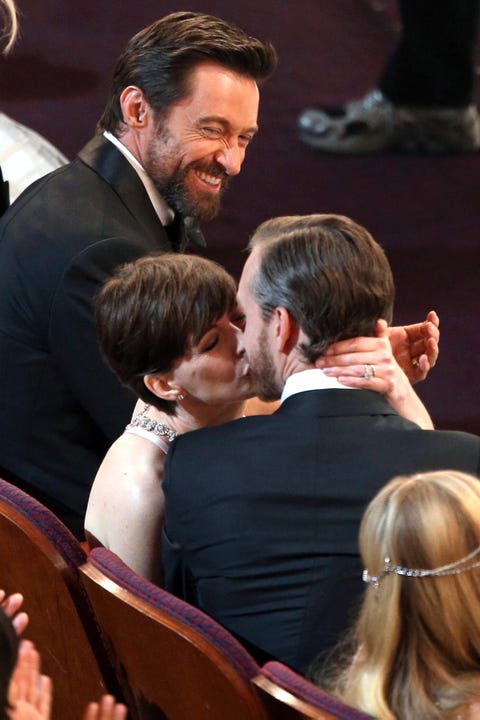 Anne Hathaway and Adam Shulman, 2013
Hathaway shared a passionate kiss with her husband before heading to the stage to accept her award for "Best Actress" in Les Misérables.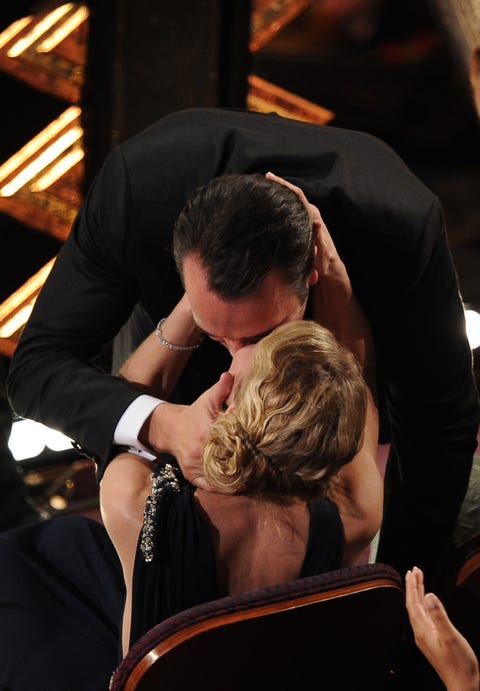 Alexandra Lamy and Jean Dujardin, 2012
After he was announced "Best Actor" for his role in The Artist, Dujardin shared an intimate kiss with his wife before accepting the award.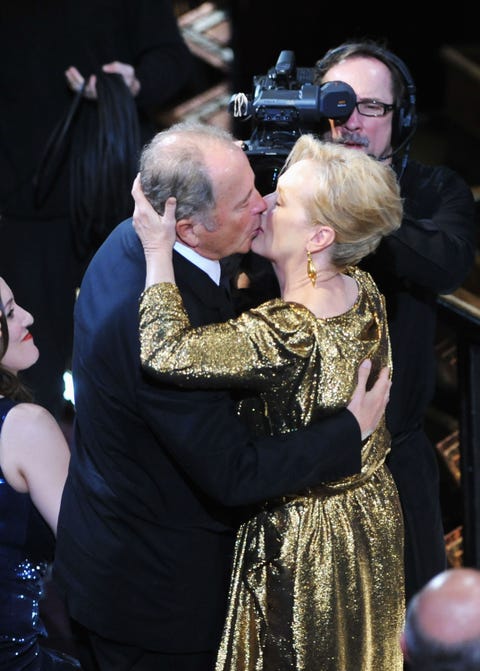 Meryl Streep and Donald Gummer, 2012
Streep took home her third Oscar in 2012, an occasion that certainly constitutes a big smooch from her longtime husband.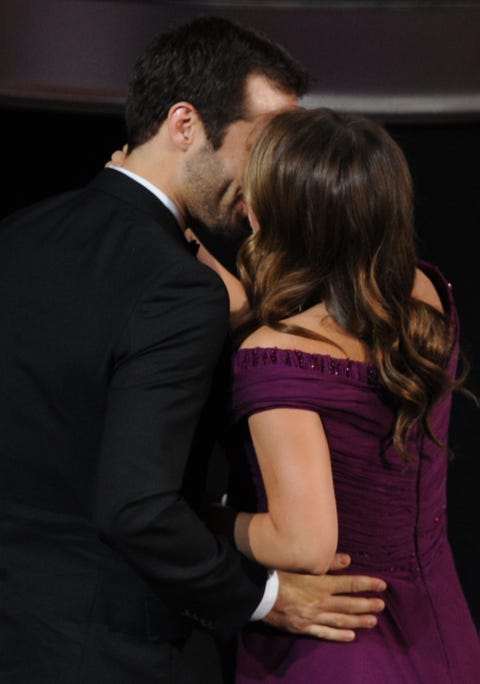 Natalie Portman and Benjamin Millepied, 2011
Portman's fiancé (now, husband) kissed her just before she went on stage to accept her Oscar for "Best Actress."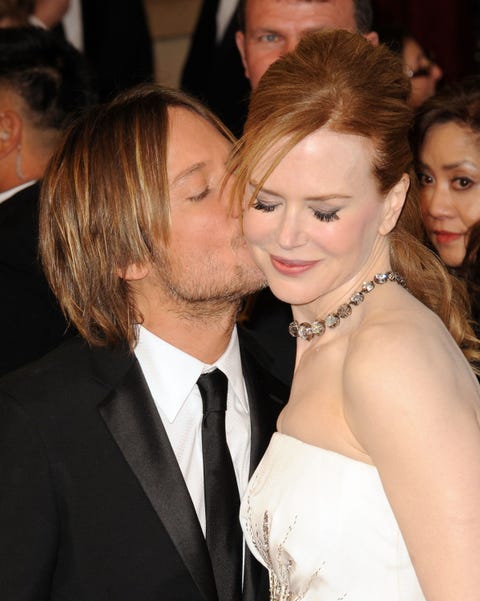 Nicole Kidman and Keith Urban, 2011
Kidman and Urban's PDA was a more dialed down back in 2011.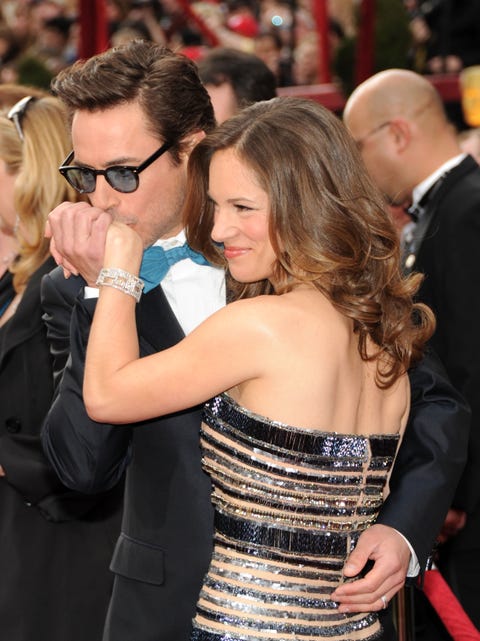 Susan Downey and Robert Downey Jr., 2010
Robert kept it G-rated with the red carpet PDA, giving his wife a quick peck on her hand.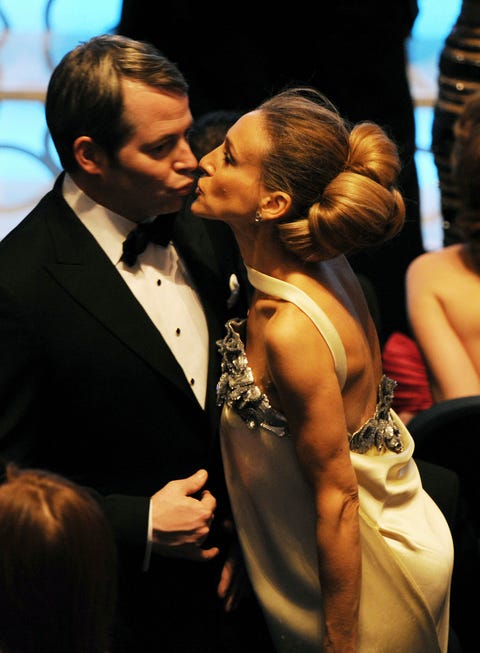 Sarah Jessica Parker and Matthew Brody, 2010
Caught kissing—well, air kissing that is. Longtime husband-and-wife Brody and Parker snuck in two quick cheek pecks inside the 2010 Oscars venue.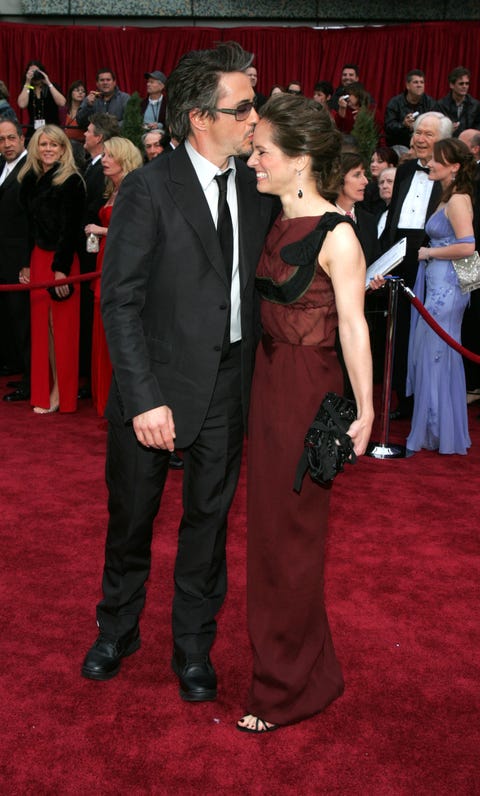 Susan Downey and Robert Downey Jr., 2007
On the 2007 Oscars red carpet, Robert and Susan stopped to share a moment together.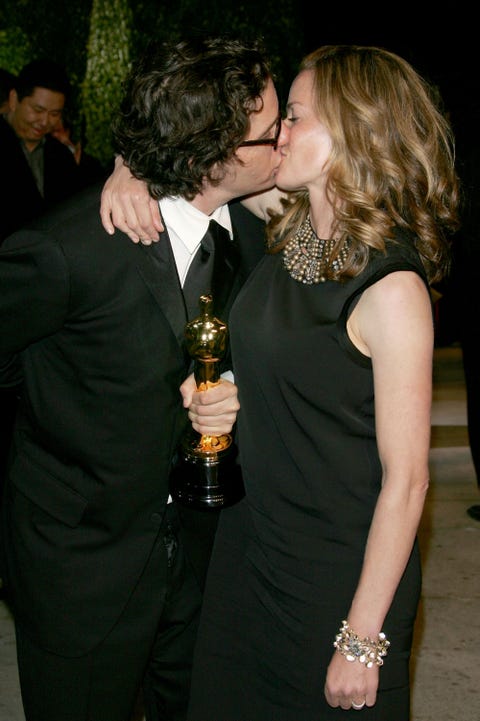 Elisabeth Shue and Davis Guggenheim, 2007
With his Oscar in hand (his film An Inconvenient Truth won Best Documentary Feature), the director kissed his actress wife.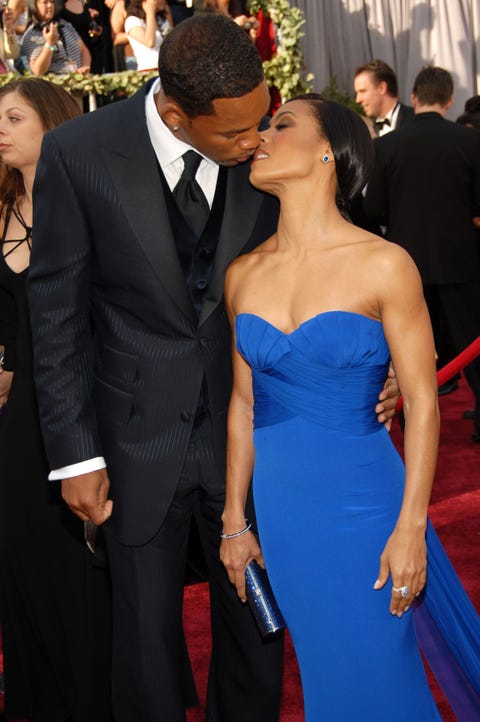 Jada Pinkett Smith and Will Smith, 2006
At the 78th Annual Academy Awards, the Pursuit of Happiness actor leaned in to kiss his wife.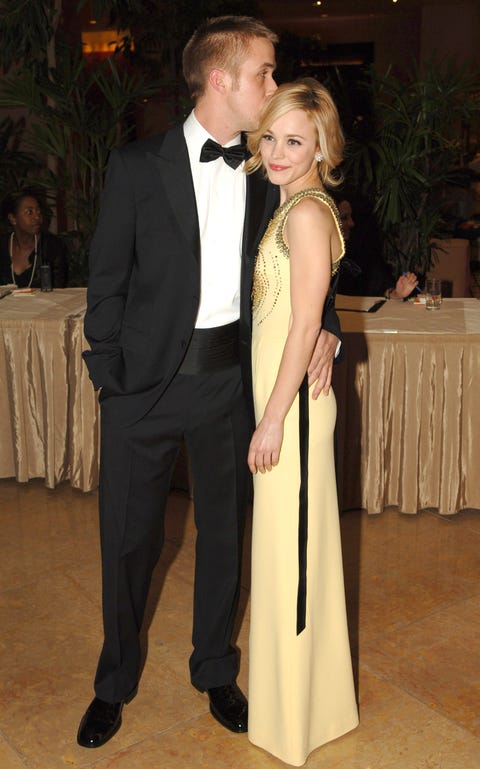 Rachel McAdams and Ryan Gosling, 2006
The Notebook stars were spotted together at the 78th Annual Academy Awards. How cute is Gosling for kissing the side of McAdams' head? Damn, we wish they were still a couple.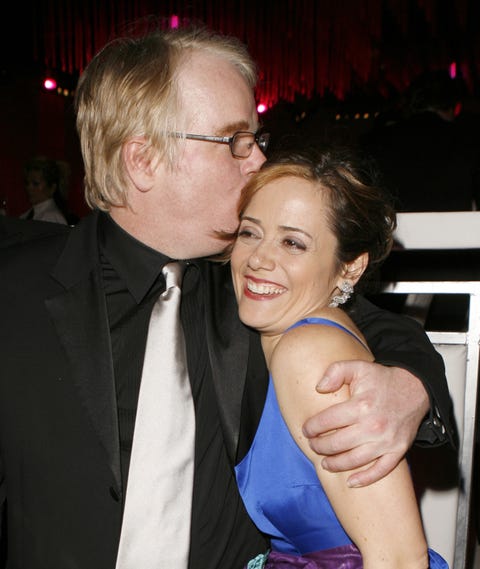 Mimi O'Donnell and Philip Seymour Hoffman, 2006
Hoffman held his wife O'Donnell close as he kissed the side of her head inside the Oscars venue. He won "Best Actor" for his leading role in Capote that year.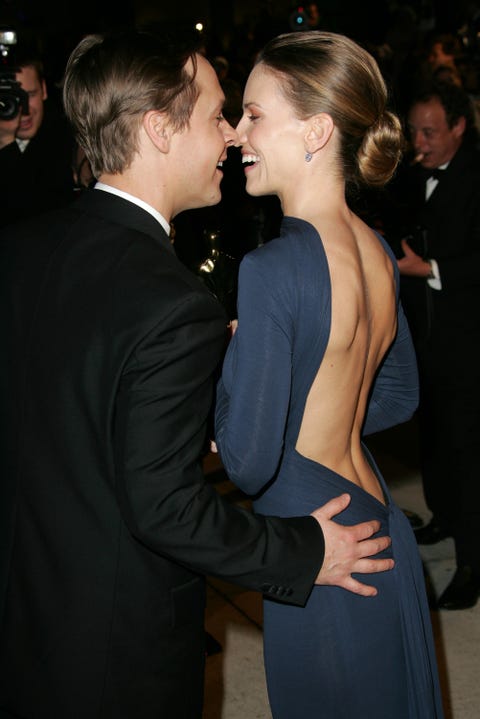 Hilary Swank and Chad Lowe, 2005
Swank and Lowe were captured laughing together just after what we think was a big kiss.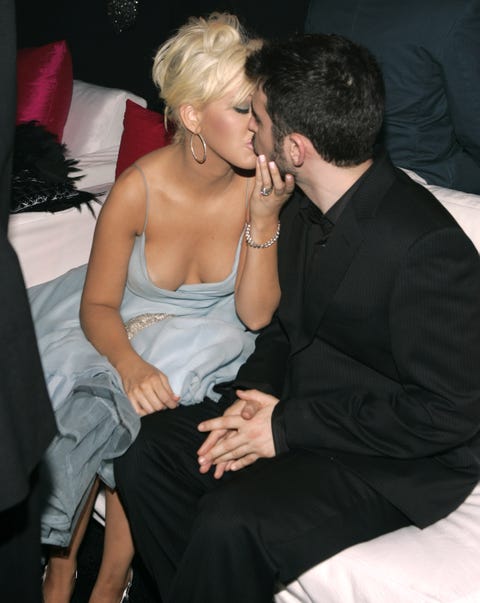 Christina Aguilera and Jordan Brateman, 2005
The couple was spotted locking lips at an Oscars pre-party in 2005.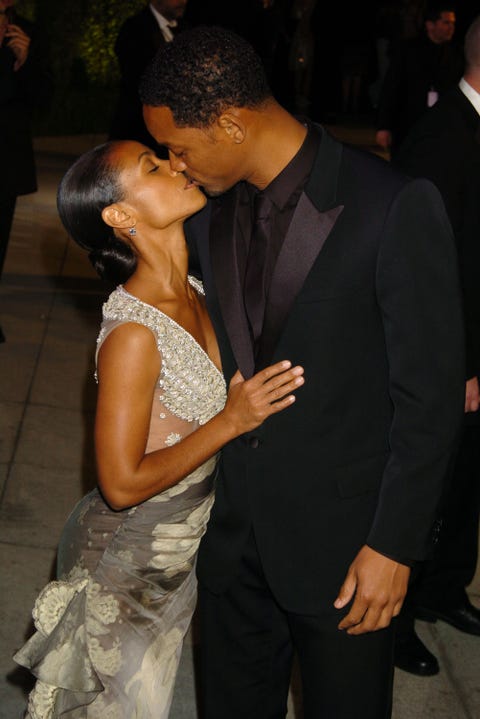 Jada Pinkett Smith and Will Smith, 2004
Just another cute moment between Mr. and Mrs. Smith at the Oscars Vanity Fair after-party in 2004.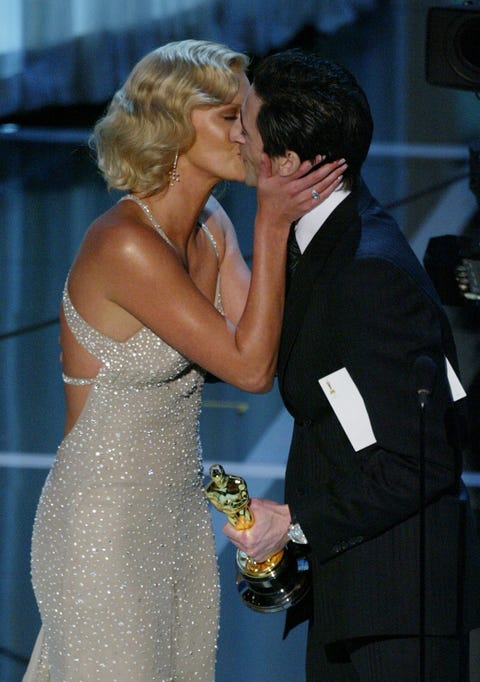 Charlize Theron and Adrien Brody, 2004
When she came up to accept her award for "Best Actress," Theron took Brody by surprise and gave him a huge kiss—which was actually meant as a joke. The year before, Brody won "Best Actor" and kissed his presenter, Halle Berry.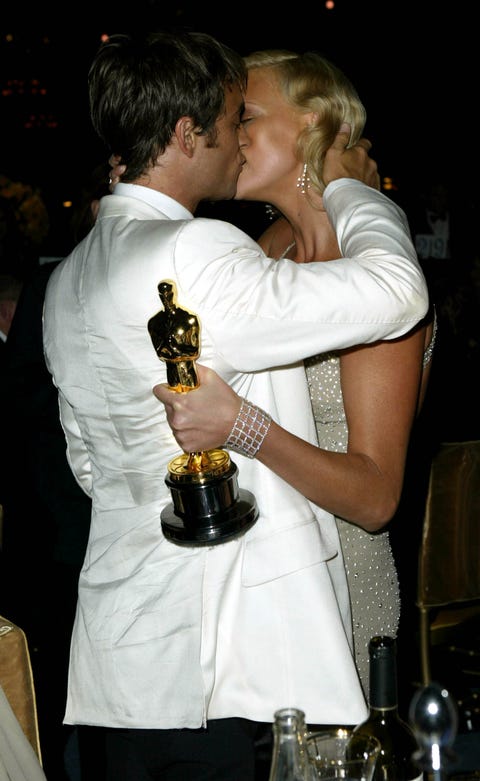 Charlize Theron and Stuart Townsend, 2004
After receiving her Oscar, Theron went back to the audience and kissed her longtime boyfriend, Townsend.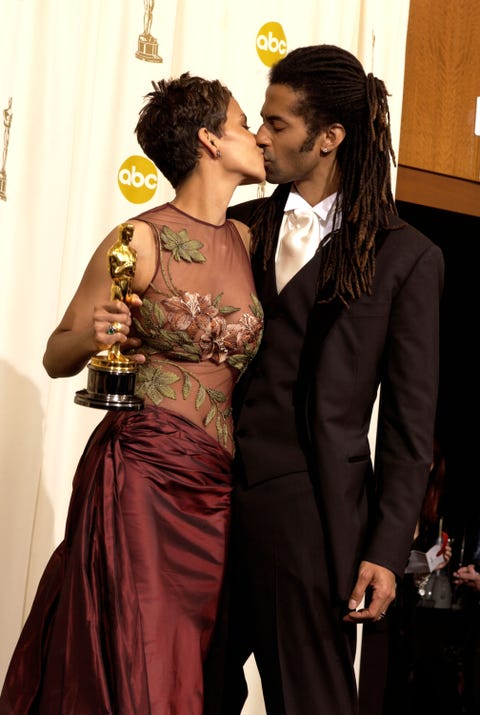 Halle Berry and Eric Benet, 2002
In 2002, Berry won "Best Actress in a Leading Role," and promptly kissed her then-husband with her award in hand.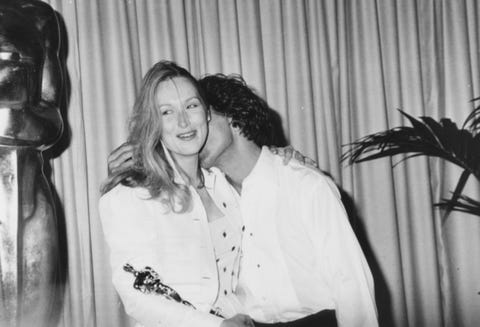 Meryl Streep and Dustin Hoffman, 1980
The two were by no means together, but Hoffman gave Streep some kind of kiss on the neck. Maybe it was congratulatory? This was her first Oscar win at the age of 29.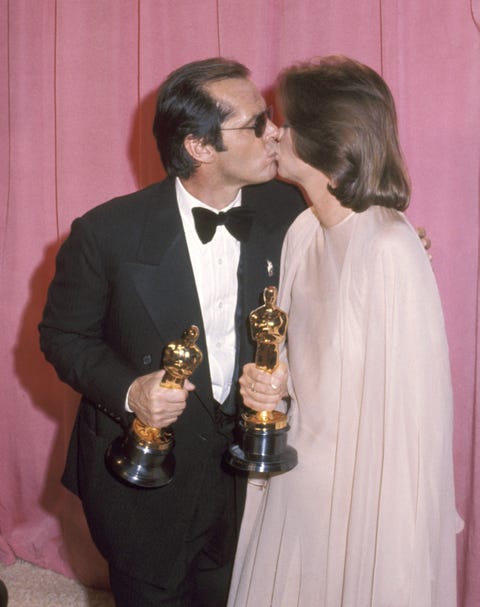 Louise Fletcher and Jack Nicholson, 1976
The co-stars shared a kiss holding their Oscars for the movie One Flew Over the Cuckoo's Nest.
This content is created and maintained by a third party, and imported onto this page to help users provide their email addresses. You may be able to find more information about this and similar content at piano.io