All the Best Celebrity Style from Music Festival Season 2017
Rockstar style guide, right here.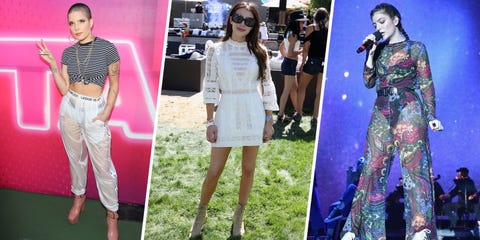 Rockstar style guide, right here.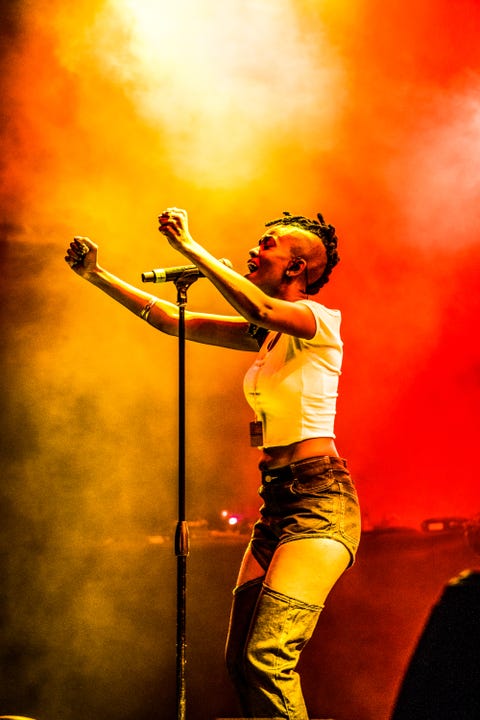 Kelela at Full Moon
Not your standard T-shirt and jeans. The R&B artist wore cutout denim to play to an equally stylish crowd at the boutique festival Saturday.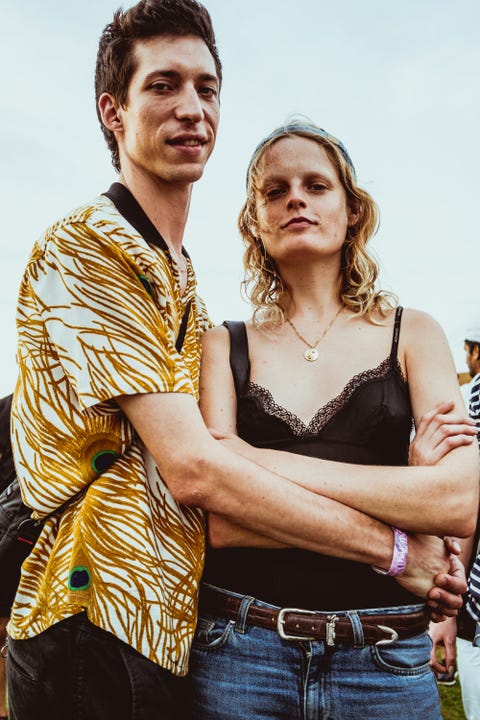 Hanne Gaby Odiele at Full Moon
You heard it here first: The boot-leg jean is its way back. At the festival on Governors Island, model Hanne Gaby Odiele was seen pulling ahead of the rest of us in flared denim paired with a black camisole, backwards cap, and her husband John Swiatek.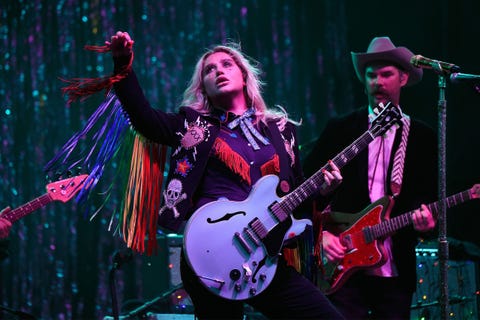 Kesha at Firefly
By performing a particularly meaningful cover (that later went viral) of Lesley Gore's "You Don't Own Me," Kesha took to the Firefly stage in a leather jacket that was a little bit country, a little bit rock 'n roll, and a whole lot of rainbow fringe. Leave it to the "Tik Tok" singer to prove that she can't—and won't—fit into any one box.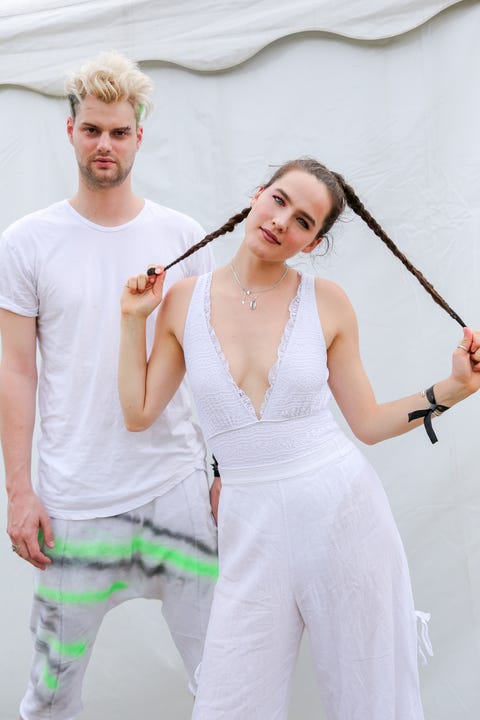 Sophie Hawley-Weld at Firefly
The Sofi Tukker musician proved that just like in her electro-pop band's experimental EP, Hawley-Weld is daring—so daring, in fact, that she wore an all-white jumpsuit to the Firefly festival. Whether you're already a fan of the Grammy-nominated band, or just learning about them now, there's one thing we can all applaud, and that's wearing head-to-toe white to a music festival.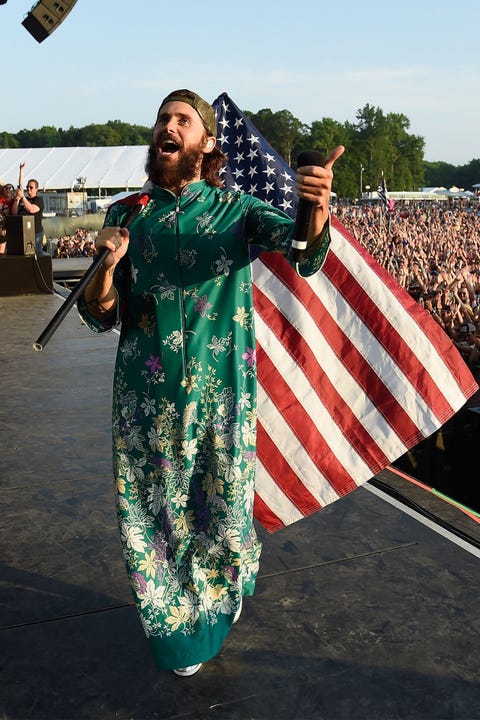 Jared Leto at Firefly
Oh, Jared Leto…Will there ever come a day where an outfit choice will suddenly halt our extreme attraction to you? (The answer to that question appears to be a resounding no.) At Firefly, the Thirty Seconds to Mars lead singer accessorized an emerald green floral silk kimono with a backwards baseball cap and American flag. Not shown: The neon-colored '80s-printed pants worn under said kimono. Our love for you (and dudes in dresses) will never die.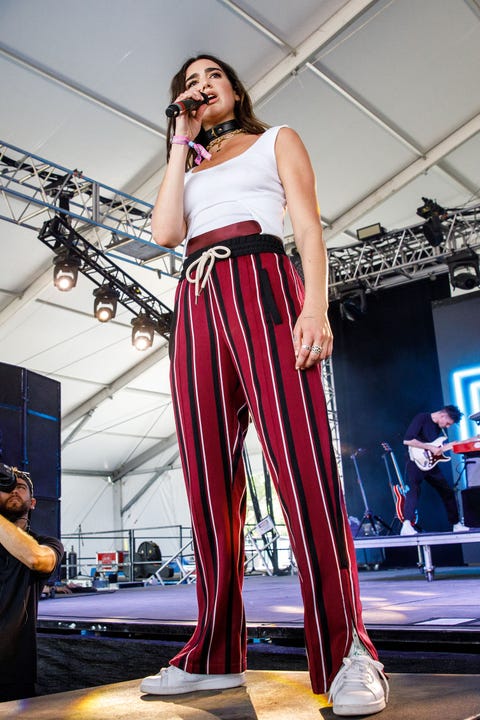 Dua Lipa at Bonnaroo
Pretty sure the singer-of-the-summer stole this look from our outfit-inspo Pinterest board. The leather detailing and drawstring take pinstripe pants from the office to, well, Bonnaroo, and remain the main attraction when paired with classic basics like a white tank and sneakers. The "Scared to Be Lonely" singer just upped the whole athleisure game.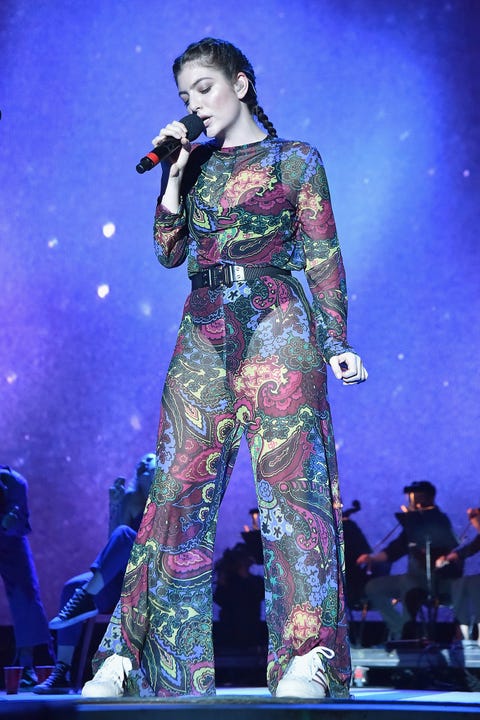 Lorde at Bonnaroo
The "Melodrama" musician dropped her standard black and mesh uniform and leaned right into the crowd at Bonnaroo, choosing a '70s-inspired psychedelic jumpsuit. The change is just different enough (Color! Prints!) to cause us to raise our eyebrows—in a good way, of course—while still sticking to the Grammy winner's go-to dark color palette.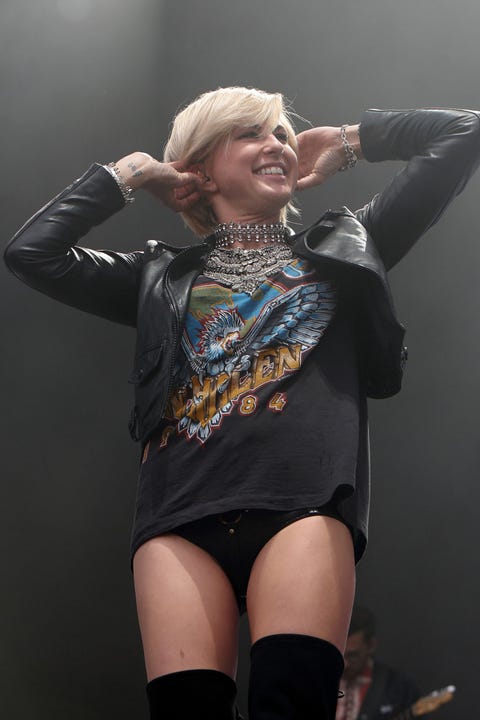 Sarah Barthell at Governor's Ball
Thigh-high boots, a leather jacket, rocker tee and heavy metals? The Phantogram singer looked and played the part exactly right. Her Governor's Ball ensemble—which even included bleached-blonde hair—could have been pulled right from the pages of the rock star manual.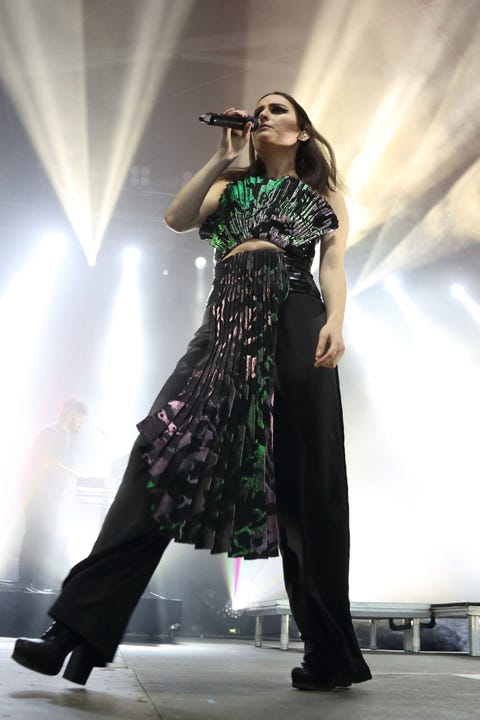 Banks at Governor's Ball
The moody R&B singer rarely veers from her signature all-black ensembles—but at Governor's Ball, she paired black trousers with a Japanese-inspired green and lilac pleated crepe top and decorative belt that shimmered and swayed under the music festival's lights.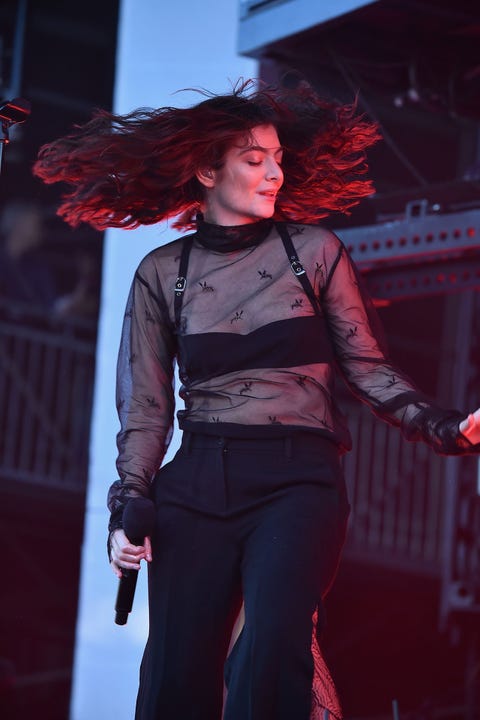 Lorde at Governor's Ball
The Grammy winning 20-year-old may have ditched her signature curls, but her dance moves are still as wild and crazy as they've been since day one. Which is why the New Zealander knows exactly how to dress smart when it comes to tours: Her Governor's Ball look—a racer-back bra layered under a sheer top, and trousers with a slit up the side—enabled extra movability for all those hair tosses. Also, can we all just take a moment to acknowledge the fact that Lorde wore a turtleneck on tour, and still looked damn sexy? Respect.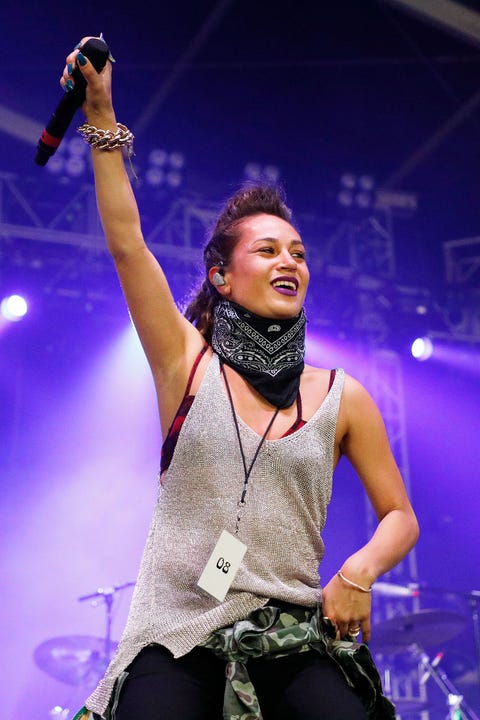 Eliza Wolfgramm at Governor's Ball
A ponytail that was teased at the crown and included delicate French braids on either side was the mane main event during Eliza Wolfgramm's Governor's Ball performance with The Avalanches. And props to Wolfgramm for really pulling off the whole I-just-rolled-out-of-bed thing to new, inspirational levels.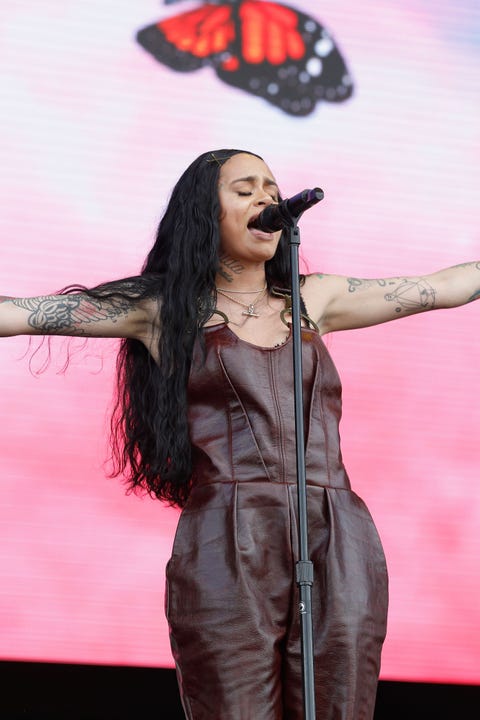 Kehlani at Governor's Ball
It's not everyday that leather overalls are appropriate, or even easy to wear. But take it from the R&B singer at Governor's Ball—when it comes to festivals, they're exactly that. And props to Kehlani for choosing a look that shows off her signature tats.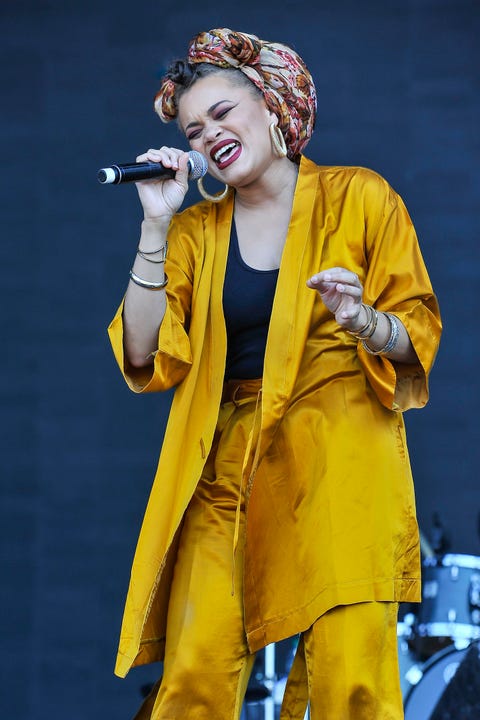 Andra Day at BottleRock
The "Rise Up" singer stood out in a buttery golden matching silk set that was lightweight enough to stand up against the BottleRock heat, but still chic enough to give the Kardashians a run for their money. We dig it.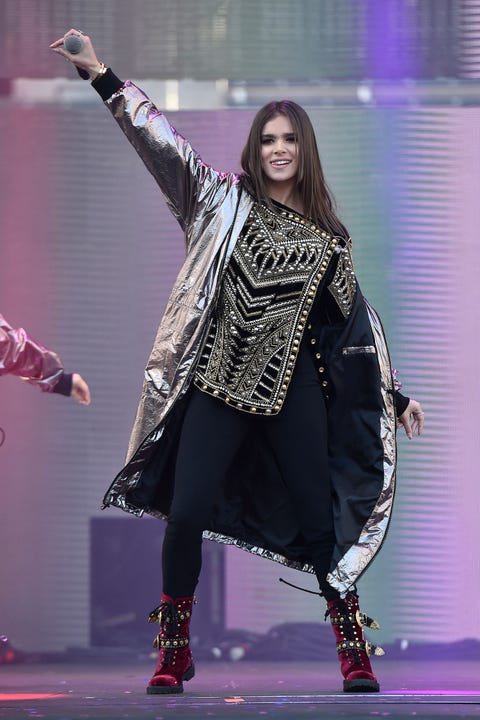 Hailee Steinfeld at Wango Tango
The whole actor/musician thing doesn't always work for everyone, but it certainly does for 20-year-old Hailee Steinfeld. The Oscar nominated actress (who just signed on to star in the next Transformers film, btw) has gone platinum with her single "Starving," and if this photo is any indication, she's having a blast juggling it all. For her Wango Tango performance, Steinfeld rocked a regal-looking studded top with leggings (the better to dance in), maroon lace-up boots, and a statement metallic jacket that screams pop star.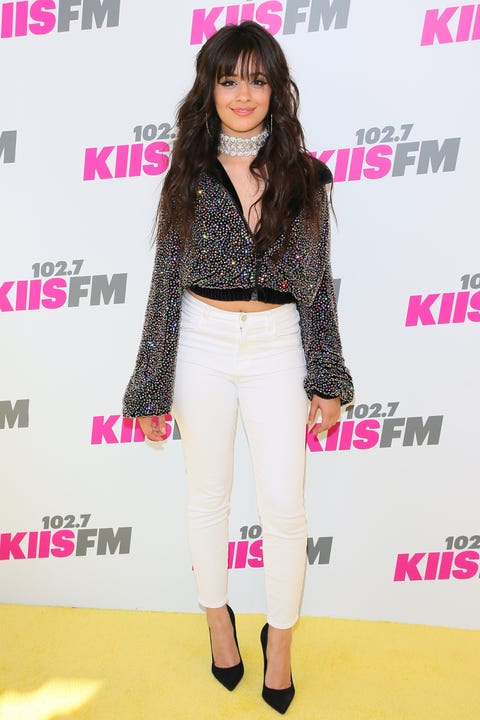 Camilla Cabello at Wango Tango
Before hitting the stage at Wango Tango, the former Fifth Harmony singer paired white jeans with a sequined black zip-up jacket, statement choker and hoop earrings, proving that while going solo, she's even more of a showstopper than ever before.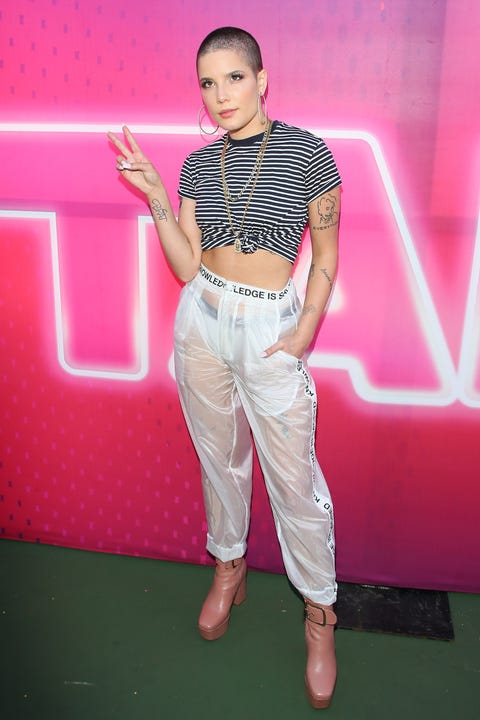 Halsey at Wango Tango
Few can pull off see-through pants with the writing "Knowledge is Power" printed along the seams, but Halsey is certainly one of those few. Props to the "Now Or Never" singer for coordinating her black and white briefs with a monochromatic striped top, too. Oh, and those bubblegum-pink platforms add just a touch of girlishness to an otherwise badass look. We approve.
Sarah Michelle Gellar at Wango Tango
Is the Buffy the Vampire Slayer star heading to Wango Tango or a dinner date with hubby (and our forever-dreamboat) Freddie Prinze Jr.? The actress, who opted for black skinny jeans, a silk cami and white leather jacket, shows us that just because you're going to a concert, doesn't mean you have to toss your personal style to the wayside. Hear that, flower crowns? There's plenty of room for us all.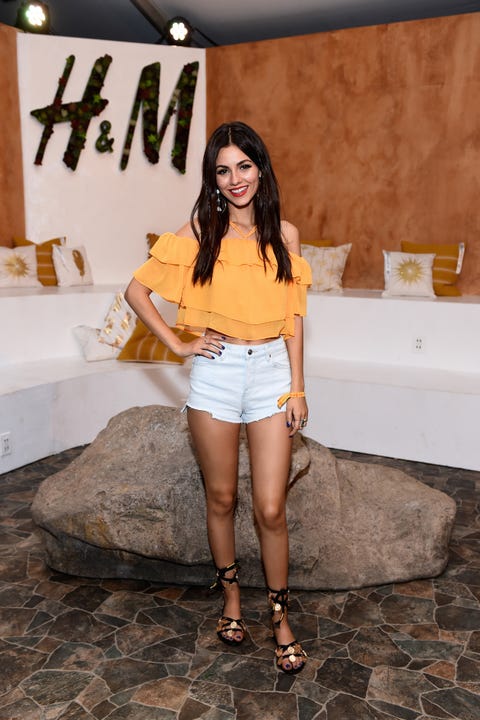 Victoria Justice at Coachella
Cute and practical, the Rocky Horror Picture Show: Let's Do the Time Warp Again star opted for an off-the-shoulder layer-cake top, jorts, and strappy flat sandals for Coachella to ensure a good—and comfortable—time. Oh, and that matching golden hair tie? We never met a conscientiously accessorized girl we didn't like.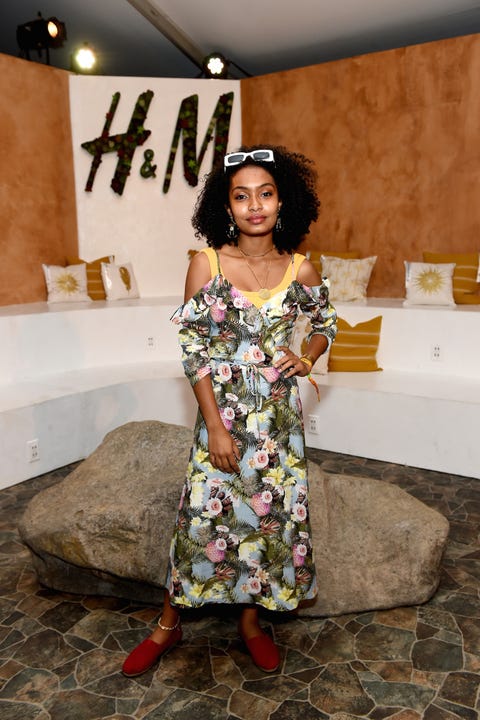 Yara Shahidi at Coachella
While the feminist activist and Black-ish star is a self-described "pants girl," the 17-year-old embraced the Coachella spirit and slipped into a tea-length shoulder-baring floral frock with red slip-ons. Throw on some strappy heels and—voila!—date night.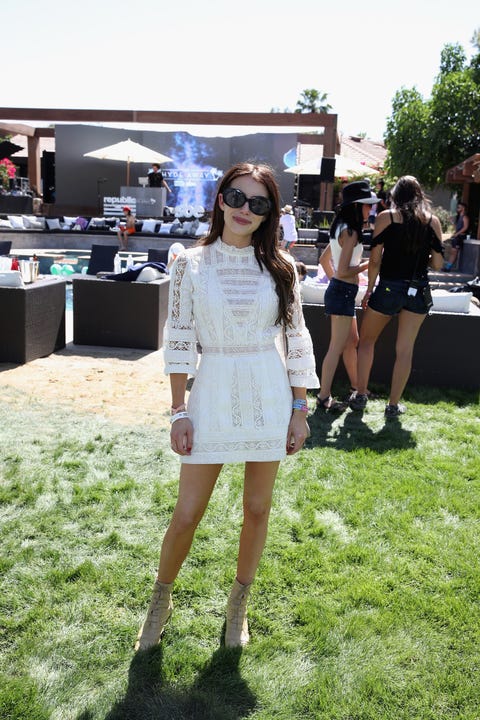 Emma Roberts at Coachella
A lineup that includes Kendrick Lamar, Lady Gaga, Radiohead and Kylie Jenner's new beau, Travis Scott, doesn't necessarily correlate with a Victorian-inspired sweet-as-can-be lace mini. Right? Wrong. Leave it to Scream Queen and festival mainstay Emma Roberts to break the rules and look damn good doing it.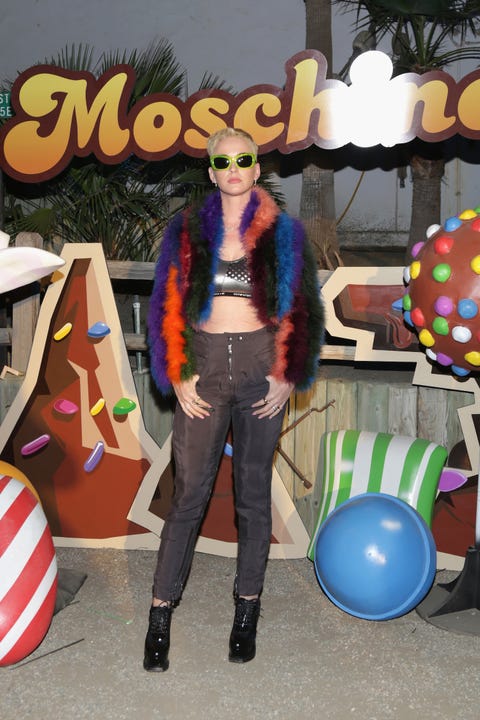 Katy Perry at Coachella
The "Bon Appétit" singer reminded festival-goers of two things this year: One, come those nighttime performances, you're gonna need layers (and if said layers just happen to come in multicolored fur, so be it). And two, don't think singing and dancing along with your favorite performers for hours on end isn't a workout. A sports bra will come in handy.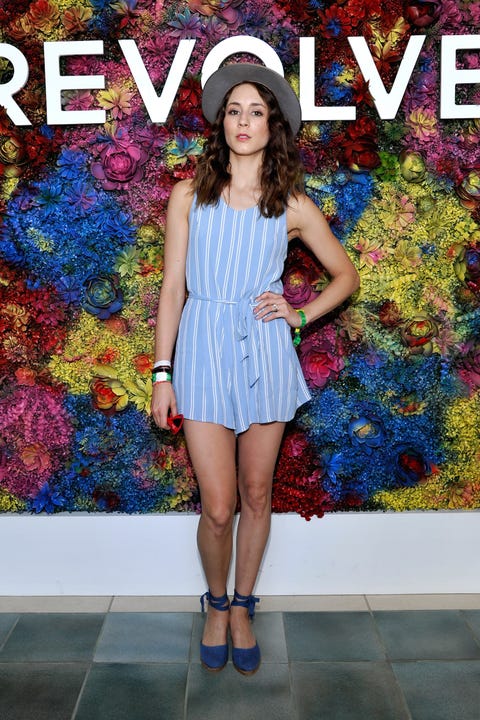 Troian Bellisario at Coachella
Here, Troian Bellisario demonstrates what it's like to be a celebrity at a music festival—a.k.a. a world in which V.I.P. bathrooms are just an arm's length away. Because there's no way any Coachella plebeian can wear a romper in a porter-potty without facing something just shy of a trauma. The Pretty Little Liars' romper and hat combo is chic simplicity at its finest.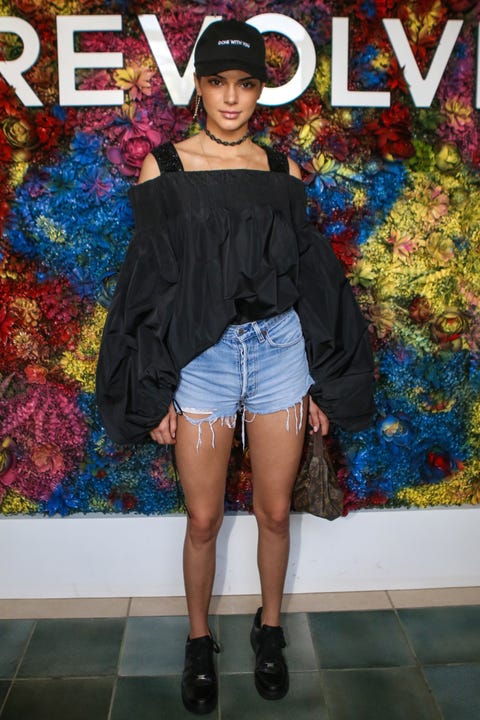 Kendall Jenner at Coachella
The supermodel known for putting her thong on full display in those standard barely-there getups, makes a rare appearance in an oversized blouse with platform sneakers at Revolve's party. While the jury's still out as to whether or not she's hiding snacks up her sleeves (even models need festival fuel), it doesn't seem like Jenner's up for sharing. Her baseball hat that reads "Done With You" pretty much says it all.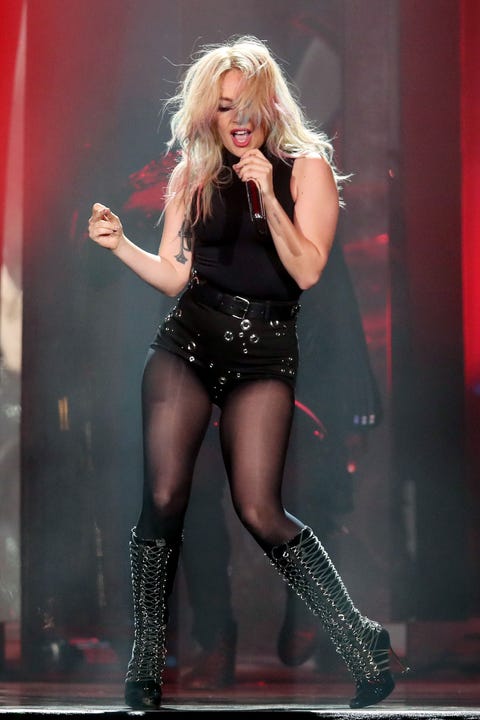 Lady Gaga at Coachella
We all know by now that Coachella brings out the crazy when it comes to style, but for meat dress-wearing Gaga, sometimes "crazy" just means paring it all the way back. The singer-actress-LGBTQ advocate-Super Bowl halftime show stopper ditched bright, structured costumes for an all black ensemble with lace-up boots that was Coachella-shocking just in its simplicity.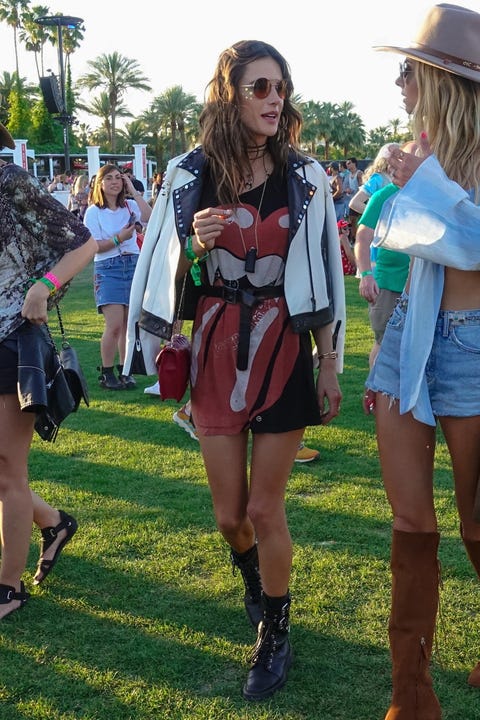 Alessandra Ambrosio at Coachella
There was no question why Alessandra Ambrosio attended Coachella this year. Simply put: Rock 'n roll. The supermodel belted an oversized Rolling Stones-printed tee with a leather jacket boasting fringe and the word "Rocks" in grommets on the back.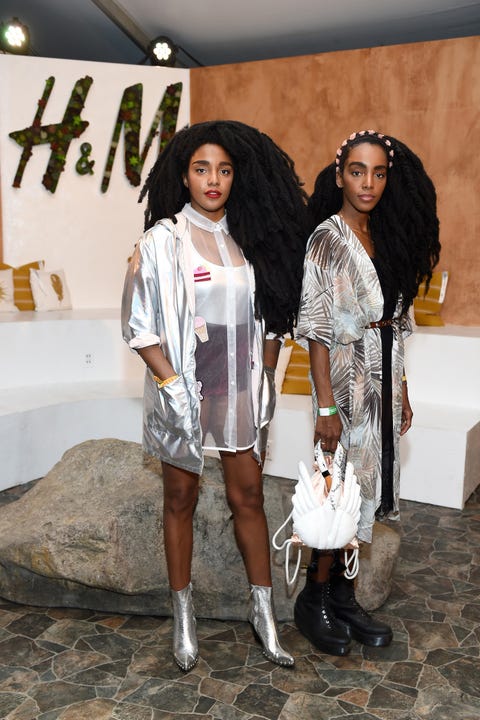 TK Wonder and Cipriana Quann at Coachella
Leave it to identical twins and It Girls TK Wonder and Cipriana Quann to rock independent styles—a little Rihanna-edge here, a dash of Kate Hudson California-ease there—that complement rather than clash.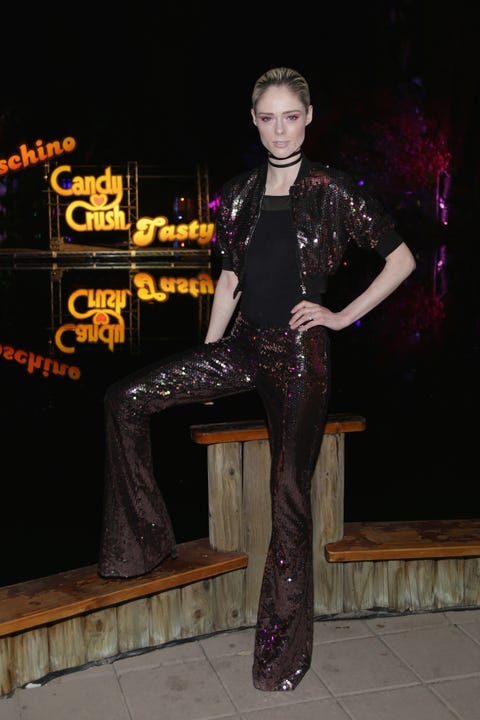 Coco Rocha at Coachella
Coco Rocha doesn't want us to forget that Coachella is basically one big party, and when in doubt, stepping out as shiny and glittering as a disco ball is always encouraged. Plus, on non-festival days, the sequined trousers and cropped jacket worn as separates make for a perfect girls' night out.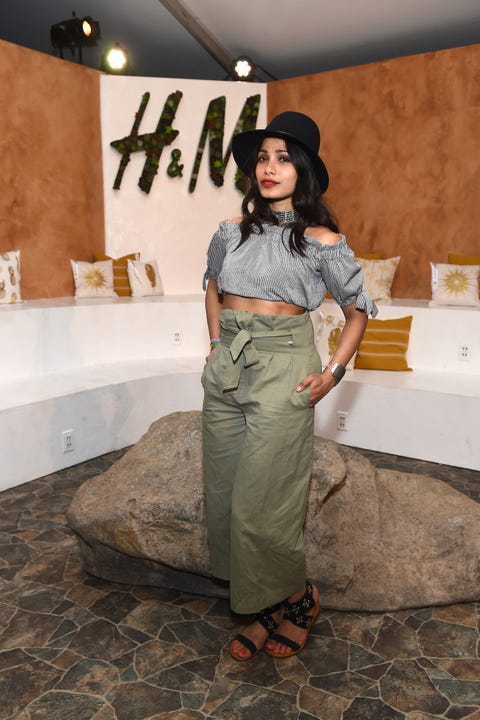 Freida Pinto at Coachella
The music festival is known for fashion statements like flower crowns and flash tattoos. But award winning actress Freida Pinto takes a festival staple—the crop top—and still manages to leave something to the imagination. By pairing the top with high-waisted trousers, the Guerrilla star brings a level of sophistication among Indio's wings and fairy dust.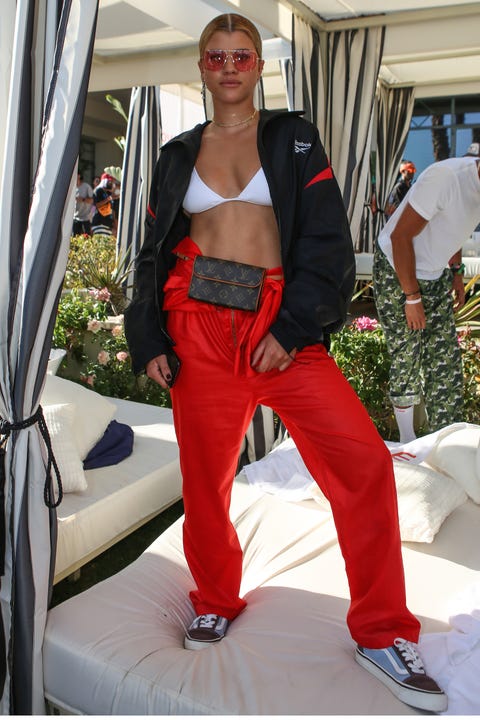 Sophia Richie at Coachella
Nicole Richie's model little sis is ready to hit the dance floor in an athleisure-inspired ensemble. Bonus: Thanks to a Louis Vuitton fanny pack, she can wave two hands in the air like she just don't care.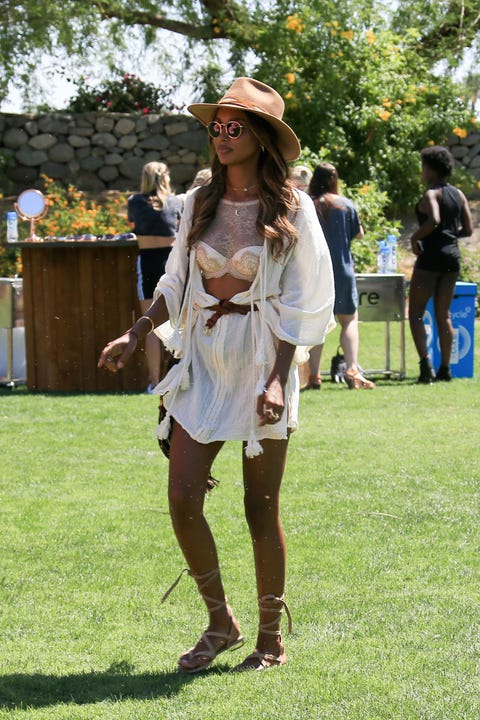 Jasmine Tookes at Coachella
The Victoria's Secret Angel ditches her wings and lands on solid ground. By pairing gauzy layers with a peekaboo bralet, the result is what we can only imagine appears when you google image "hippie-chic."
This content is created and maintained by a third party, and imported onto this page to help users provide their email addresses. You may be able to find more information about this and similar content at piano.io