Lady Gaga's Being Threatened With a "Shallow" Lawsuit Over a 7-Year-Old SoundCloud Song
Live shot of my face reading this story: 😑.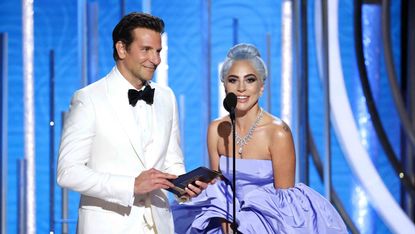 (Image credit: getty images)
Next time you need to muster up some self-confidence, remember that right now, there is a man on Earth who put up a SoundCloud song in 2012 that got ~300 streams and truly believes Lady Gaga stole her Oscar-winning song "Shallow" from it. Let that sink in.
Get nice and comfy in the shallow and listen to this rundown of what's going on: According to Page Six, Lady Gaga is being threatened with a multimillion-dollar lawsuit by a guy who says she stole the melody of her A Star Is Born hit from his 7-year-old SoundCloud song.
The guy's name is Steve Ronsen, and Page Six makes sure to point out that his song "Almost" had fewer than 300 streams when it published its report, which is delightfully shady and hilarious. The song has more streams now, but judging from the pissed-off comments left before they were disabled, those views are mostly from angry Little Monsters.
It's all slightly confusing, since the song doesn't exactly sound like a dead ringer for "Shallow" and the "Shallow" lyrics are hardly the same. Ronsen is basing his case, though, on three notes of the hook (G, A, and B, for the musically inclined). Gaga's legal team points out, via Page Six, that this note progression is extremely common and is in music dating back centuries. A source tells Cosmopolitan that Lady Gaga is "outraged" by the claims and "intends to fight it to the very end."
Even if the chords are the same, if Ronsen wants to win the "millions and millions" he's asking for, he'll need to prove Gaga was one of those 300 people who had access to his song in the first place. Orin Snyder, attorney for Lady Gaga, had this to say in a statement:
"Mr. Ronsen and his lawyer are trying to make easy money off the back of a successful artist. It is shameful and wrong. I applaud Lady Gaga for having the courage and integrity to stand up on behalf of successful artists who find themselves on the receiving end of opportunistic claims such as this. Should Mr. Shirian proceed with this case, Lady Gaga will fight it vigorously and will prevail."
And here's what Ronsen's attorney told Page Six:
"In an effort to amicably resolve this matter months ago, my office provided Lady Gaga's legal team, at their request, with an official report from a renowned and respected musicologist and professor who determined that there are significant tempo, melodic, rhythmic, and harmonic similarities between the two 'hooks' of the songs at issue. Lady Gaga's team has yet to provide my office with an opposing musicologist report, which we have requested multiple times."
Let me save you a Google search: Dictionary.com says a musicologist is an expert in the scholarly or scientific study of music. Basically, not a musician, per se, but someone who does historical or theoretical research about music.
But anyway, Lady Gaga's attorney totally refutes Ronsen's musicology accusation too:
"We provided Mr. Shirian a lengthy letter with the findings of multiple leading musicologists, each of whom found no actionable similarities between the two songs. Even Shirian's own musicologist acknowledged the generic three-note progression is present in many other songs predating his client's song."
I guess it's a court battle of the musicologists now. Who knew being this far from the shallow would lead us here?
For more stories like this, including celebrity news, beauty and fashion advice, savvy political commentary, and fascinating features, sign up for the Marie Claire newsletter.

RELATED STORIES
Marie Claire email subscribers get intel on fashion and beauty trends, hot-off-the-press celebrity news, and more. Sign up here.
Alexandra Whittaker oversees all of Cosmo's news and entertainment digital coverage—follow her on Instagram here. As the lead of two teams, Alexandra manages stellar writers and editors who deliver your daily dose of celebrity, TV, movie, book, general entertainment and pop culture news. She's known for her strategic coverage calls and celebrity interviewing skills. Awards shows are her favorite thing, and she's a proud Northwestern and Marquette alumna.