ICYMI: Hermione Granger Is a Feminist, At Least According to Emma Watson
If anything, Ron would have taken Hermione's last name, no?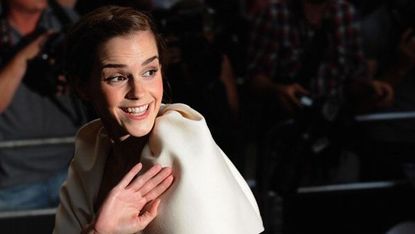 (Image credit: Marie Claire)
Just in case you didn't see Emma Watson wish her literary soul sister, Hermione Granger, a happy birthday via Twitter (opens in new tab) on Sept. 19, here's another bit of Granger news to melt your heart. When one of her followers promptly replied to Watson's aforementioned HBD tweet with "She's probably Hermione Weasley by now.," the 23-year-old actress replied with an interesting speculation (opens in new tab): "I actually reckon Hermione would have kept her maiden name."
After all, there's no one who knows Granger deeper and on a more realistic level than Watson after 10 years of portraying the sorceress. As mega-fans of Harry Potter ourselves, this observation makes more than perfect sense. Coming from the wizard who was never afraid to stand up to her (often dimwitted) male counterparts, Granger epitomized feminism — and we feel quite lucky to have grown up with such a strong-minded icon. And if anything, Mr. Ronald Bilius Weasley would have taken her last name, no?