14 Things Emma Stone Did to Get Her Billie Jean King Body
She gained 15 pounds of muscle for the role.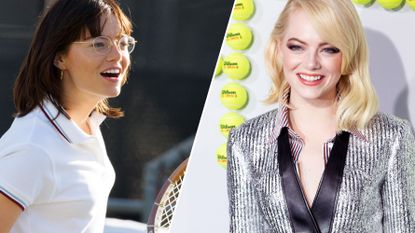 (Image credit: Fox Searchlight)
Marie Claire newsletter
Celebrity news, beauty, fashion advice, and fascinating features, delivered straight to your inbox!
Thank you for signing up to . You will receive a verification email shortly.
There was a problem. Please refresh the page and try again.
To play Billie Jean King in Battle of the Sexes, Emma Stone gained 15 pounds of muscle to transform her lithe La La Land dancer physique into a '70s tennis legend. As her trainer Jason Walsh (the man behind workout class Rise Nation (opens in new tab)) recalled, "Halfway through La La Land, she got a phone call about the Billie Jean King movie, and she told me that she thought she was going to take it. We sat down and tried to decide the game plan for the end results she needed. We were shooting for putting ten pounds on her because she needed to look and feel athletic. She needed to be resilient enough to handle the amount of tennis she was going to have to start playing and to also look the part."
Stone did more strength training and tweaked her diet—but what helped Stone accomplish both her La La Land and Battle of the Sexes body transformations were the strong foundations of her healthy diet and workout routine. Here, Walsh shares what Stone did for Battle of the Sexes and what she does day-to-day—even when she's not playing a tennis pro.
1. Stone fully committed to an intense workout plan for Battle of the Sexes for three months—and that's how she got her results. "For six weeks at the beginning, she came in five days a week. We were doing two times a day, four days a week on top of that."
2. Exercise was only one part of the equation; Stone also upped her calorie intake significantly but smartly. "It was probably 2500 or 3000 calories a day. She ate very well, and very clean, so it wasn't like she was getting garbage calories in. We added a high-calorie shake twice a day."
"[Increasing workout] volume is great," Walsh added. "But if you're not feeding the body and creating the environment for the body to grow or respond well, you'll break."
3. Stone's power shakes were protein-heavy when she was bulking up but still tasty and nutritious so it wasn't torture drinking them. "The shakes helped her get the calories she needed and also give it the exact nutrients to really recover from the stress," Walsh said. "They also had to taste good. If they don't taste good, you're not going to want to drink these shakes twice a day for three months."
"So I found a protein that is extremely good called Metabolic Way. The base was the protein, and we would add spinach and throw in three tablespoons of Udo's Oil (opens in new tab), which is where the calories came from. We would also use Ashwagandha (opens in new tab). I heard about it from a friend of mine who's a mountain climber. They use Ashwagandha to help their bodies counter the stresses on the body and recover."
4. Stone did heavy weight-lifting in the morning, which boosted her metabolism (and helped her get smaller measurements in some places when she finished bulking up). "When you stress the body with the volume and weight that we were doing, your metabolism goes up naturally," Walsh explains. "It's kind of counter-intuitive. You would think that when you're eating that many calories, that you're just to going to get big. She ended up actually up putting on 15 pounds but her measurements were better than before because her metabolism was going up."
5. Stone was more hungry when bulking up but still ate really clean to get the results she wanted. "I let her pretty much just eat what she wanted, like a regular diet…She was actually hungry just on her own. She felt insatiable. She couldn't get enough calories. The body takes care of itself as long as you're not just pounding burgers and junk food."
6. A typical strength workout for Stone looked like this when she was getting in shape for playing King:
7. Stone didn't do a lot of cardio initially because she was getting cardio from the weight training. "I don't know if you've ever lifted heavy weights but it's pretty damn taxing on the cardiovascular system as well."
8. …but she added cardio back in during the end, when she got the body weight where she wanted it. "We did stuck in a day or two of Rise Nation (opens in new tab). That's our climbing, cardio conditioning class. It's a 30-minute high intensity workout so she's not spending too much time long-distance running or anything like that. She also did some yoga. She really enjoyed it."
9. Stone treats working out like it was her job, which helps her power through when she was tired. "Of course she got tired, but that's where the calories [come in]. It's a full-time job. She took it very, very seriously."
10. Stone makes sure to take care of her body when she isn't working out so she doesn't wear herself out. "She got plenty of sleep. You get massages on the weekends to help with the soft tissue, making sure you're staying hydrated and making sure you're getting the calories you need. "
10. Stone takes break days when she needs them to avoid injury. "There were also days she would come in completely exhausted, and we just cut the workout out and say you know what, take another day. You just gotta know. Some days you gotta know when to throw in and come back and be safe and stronger the next day."
11. Post-Battle of the Sexes, Stone does a mix of strength training, yoga, and climbing now—and tries to be outdoors in good weather. "She does two to three days of strength training with me, and she'll do a couple days of yoga and she'll throw in some of the Rise Nation classes." Walsh tries to mix it up for Stone and his other clients. "Stay out of the gym especially in the spring and summer. In the fall and winter, it's obviously colder outside with the weather so it makes more sense to be inside the gym sometimes. So I want to keep it balanced. I don't want people to get burnt out. "
12. Stone can't always work out because of work, but she tries to get workouts in a couple times a week and walk when she can during the day. "Right now with the shooting schedule [for Netflix's Maniac], she's lucky if she gets a couple days of week. I think she does four. It just depends on the work load, the work schedule, and the travel schedule and whatnot, but four to five days is a pretty good amount of training. Even if she's just active. In New York, resting metabolic rate's higher because you're walking more throughout the day. Those things count, and they add up. So don't discredit that just because it's a day's worth of walking."
13. Stone eats clean—which means she can also enjoy the not-so clean stuff every once in a while with no worries. "She's a pretty good eater. She's educated and understands there's no the reason you can't enjoy good pizza every once in a while. She eats whatever she wants. For the most part, you eat very well and every once in a while, you can afford to have pizza and burgers and fries and things that we like to eat.
14. Stone has become better at yoga since adding strength training to her routine—a perk to having a balanced routine. "[Lifting] affects how good you are at yoga. There's nothing worse than having back pains and aches and pains and that happens usually from a lot of weaknesses in the body and imbalances in the body."
Alyssa Bailey is the news and strategy editor at ELLE.com, where she oversees coverage of celebrities and royals (particularly Meghan Markle and Kate Middleton). She previously held positions at InStyle and Cosmopolitan. When she's not working, she loves running around Central Park, making people take #ootd pics of her, and exploring New York City.