Whole Foods Execs Straight-Up Admit to Overcharging Customers in New Video
We *knew* it.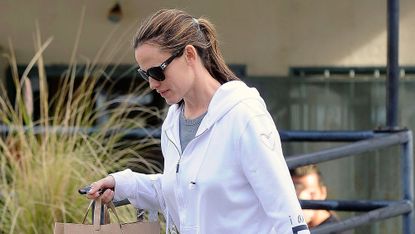 (Image credit: Archives)
Marie Claire newsletter
Celebrity news, beauty, fashion advice, and fascinating features, delivered straight to your inbox!
Thank you for signing up to . You will receive a verification email shortly.
There was a problem. Please refresh the page and try again.
Update, 7/2: After Whole Foods initially denied deliberately overcharging New York City customers for years, its co-CEOs Walter Robb and John Mackey have released a video in which they're like, "It's true, guys. But it was an accident because our food is so fresh and handled by humans!"
As they stand shifty-eyed in front of some guilt-fruit, Walter and John promise to bring in a third-party auditing system to ensure all staffers are properly weighing items and to share the reports with the public in 45 days. They are also offering full refunds on any mislabeled products.
Department of Consumer Affairs commissioner Julie Menin told the New York Daily News (opens in new tab) the DCA is pleased about this.
Original post, 6/25: Perhaps you thought it was just the way things had to be, after all, healthier food is usually more expensive than junk. But it turns out Whole Foods has actually been routinely overcharging customers since at least 2010, according to a New York Department of Consumer Affairs investigation.
For the most recent sting, investigators checked the weight marked on 80 pre-packaged products at the city's eight Whole Foods locations and found that every label was inaccurate, according to The Daily News (opens in new tab). The New York City investigation was launched after the Whole Foods settled (for $800,000) in a California investigation that found similar pricing issues.
In all, the paper reports that the chain has received more than 800 violations in New York since 2010, which has cost them $58,000 in fines. In fact, DCA Commissioner Julie Menin told the paper that the inspectors told her that "[the chain had] the worst case of overcharges that they've ever seen."
But how bad are these overcharges? According to DCA Agency Spokeswoman Abby Lootens, the charges ranged from 80 cents for a package of pecan panko to $14.84 for a container of coconut shrimp.
Whole Foods is obviously denying any wrongdoing with company spokesman Michael Sinatra telling the paper that the chain "never intentionally used deceptive practices to incorrectly charge customers," and that they are "vigorously defending" itself against the city's findings.
So while New Yorkers are safe continuing to complain about high prices—and make Whole Paycheck jokes—the rest of the country should seriously be on the lookout for these shady pricing practices. We'll just be over here waiting patiently for either the brand's line of cheaper (opens in new tab) stores, this basically free supermarket (opens in new tab), or this ROBOT grocery store (opens in new tab) to open nearby.