The Best Horror Movies on Netflix
Finally, something scarier than your Twitter feed.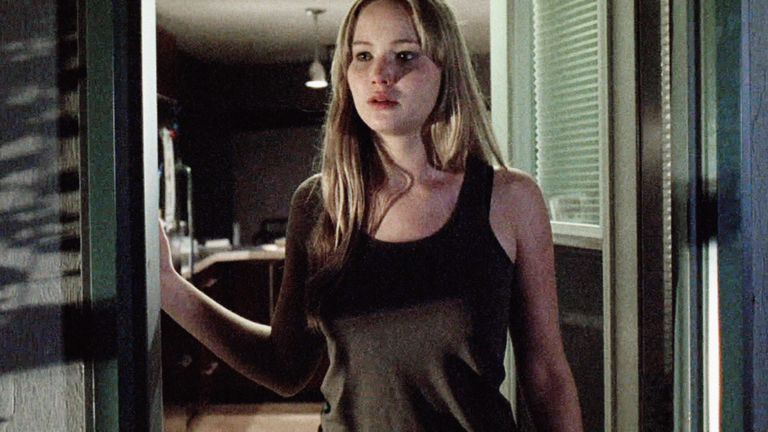 (Image credit: Alamy)
When the real world isn't cutting it, nothing feels better than throwing on your favorite sweats, grabbing a snack, plopping yourself down on your couch, and hearing the "bing" of Netflix booting up. The service is the crème de la crème of streaming giants, offering hundreds, no, thousands of movies, TV shows, documentaries, and everything else under the sun all at the touch of your handy-dandy remote. Netflix is the place to find your next scare sesh, so we scrolled the streaming platform's depths to find you the best of the best the service has to offer. From man-eating snakes and sinister houses to out-for-blood babysitter, there's something for every scary movie fanatic. There's no reason to spend precious viewing minutes searching Netflix's troves for the best horror movies to watch—at least, not anymore. Get ready to scream!
'Sinister' (2012)
Washed-up crime writer Ellison Oswalt (Ethan Hawke) makes his family move into a new home where a terrible murder took place. His family doesn't know of the home's terrible secrets, but Ellison thinks living here might get his mojo back. While researching his new book, he finds forgotten film reels containing enough information to convince anyone to move out...but he has other ideas.
'Session 9' (2001)
This psychological thriller follows an asbestos cleaning crew who wins the bid to fix up an abandoned mental hospital in Massachusetts. Untouched for 15 years, the job is supposed to be a piece of cake, but as they clean through the building's levels, things start to get a little bit weird and a whole lot creepy.
'As Above, So Below' (2014)
The city of love turns into the city of dead real quick when a group of explorers decides to venture into the catacombs that lay below Paris in the hopes of finding a hidden piece of treasure. Unbeknownst to them, they aren't the only people in the narrow tunnels. This found-footage movie was actually the first time the French government ever gave permission for someone to film in the catacombs. So consider it part history lesson, part horror film, perhaps?
'In the Tall Grass' (2019)
The idea of mowing your lawn will suddenly sound pleasant after watching a group of people struggles to find a young boy lost in a majorly tall field of grass. There's a lot of screaming, running from unknown objects, and one seriously twisted ending. So, it sounds like another Stephen King book to film adaption you'll eat right up.
'Red Dragon' (2002)
Anthony Hopkins' creepy portrayal of Hannibal Lecter has returned, and frankly, you've never be more scared. This time around, he and retired FBI agent Will Graham (Edward Norton) are on the hunt for the notorious serial killer "The Tooth Fairy," who, uh, casually steals and likes to wear people's teeth. They'll have to work together to find the killer before it's too late, but will Will be open to letting Hannibal inside his head? You're going to want to watch.
House at the End of the Street (2012)
Before she was an Oscar-winning actress, Jennifer Lawrence played Elissa, a new girl in a small town that showed up just when things started to get interesting. And when we say interesting, we mean finding out what really happened to one of the town's biggest mysteries, a family murder spree that only left one survivor. At least the boy next door seems normal (not!).
'Devil's Advocate' (1997)
When a once-in-a-lifetime opportunity knocks for Florida-based lawyer Kevin Lomax (Keanu Reeves), he answers. Soon, he and his wife (Charlize Theron) and thrown into the hustle and bustle of New York as Kevin takes on his new role at one of the world's top law firms. As he continues to move up in the ranks and gets closer to his boss (Al Pacino,) things get tenser at home, and it's not by chance.
'The Girl With All The Gifts' (2016)
Set in the dystopian future, the human race is dwindling due to a mysterious fungal disease that turns everyone into flesh-eating zombies. Mankind's only hope? A group of children crave human flesh but don't seem to feel any of the emotions that come with it. Out of all the kids, Melanie (Sennia Nanua) is the most advance of her peers and is supposed to house the cure. She should be able to, but other outside forces get in the way. Think The Walking Dead, but taken up ten notches.
'The Evil Dead' (1981)
Camping trips at a remote cabin in the woods with friends are supposed to be fun and filled with s'mores! Not accidentally releasing flesh-hungry demons out for a night of terror amongst everyone present. This cult classic went on two inspire two more films equally as funny and bloody.
'Would You Rather' (2013)
You'll never want to accept a family dinner party invitation again after watching Would You Rather. What should have been an easy money gig for Iris (Brittany Snow) to help her sick brother ends up turning into a deadly game of Would You Rather that has more losers than winners. It's more mind-bending than shut-your-eyes scary, and sometimes that's all you want out of a horror film.
'Anaconda' (1997)
Owen Wilson's big break was in a movie about a nature-loving film crew attempting to capture the world's largest and deadliest snake. Some of the gimmicks in this movie seem outdated now (like the mechanical snake, where's CGI when you need it?). Still, the cast filled with Jennifer Lopez, Ice Cube, and John Voight makes it totally worth watching.
'Don't Be Afraid Of The Dark' (2010)
Well known in the horror film universe, Guillermo del Toro, revamps the original TV movie of the same name into something that might actually give you nightmares. Katie Holmes, Guy Pearce, Bailee Madison lead the cast, but the real star of the show is what secrets their new house is hiding deep within its walls.
'The Autopsy of Jane Doe' (2016)
The slow burn of The Autopsy of Jane Doe keeps you on edge until the terrifying reveal. The always-mesmerizing Brian Cox (currently killing it on the HBO series Succession) and Emile Hirsch (Into the WIld) are father and son coroners, respectively, who receive a corpse of unknown origin. The mood in the examination room is tense, from the first fluorescent light flicker to the final realization that the terror isn't over.
'The Babysitter' (2017)
This Netflix original is as funny and campy as it is bloody. It's about a boy who stays up past his bedtime to spy on his attractive babysitter and learns that she and her friends are planning to sacrifice him as part of their satanic cult ritual. The ensemble cast has some recognizable faces including Robbie Amell (The Duff) Bella Thorne (also The Duff) Samara Weaving (Three Billboards Outside Ebbing, Missouri) and Hana Mae Lee (Pitch Perfect). It's a great option if you're looking for scares of the less-intense variety.
'The Blackcoat's Daughter' (2015)
This foreboding 2015 thriller-slash-horror stars Emma Roberts and Kiernan Shipka as students abandoned in a girls' prep school over the holidays. It's short on jump scares and big on atmosphere, with more than enough action to keep you interested. You won't see the twist coming, but you'll spend days afterwards thinking about how you could have missed it—and remembering Kiernan Shipka's hollow-eyed stare.
'Carrie' (2002)
This iconic movie based on the Stephen King novel (and the 1976 film adaption) is horror movie cannon and the most interesting adaption of the writer's work. You know the story of Carrie's telekinesis and the climactic bloody prom night but now that you can watch it endlessly on Netflix, take the time to revel in Patricia Clarkson's chilling and over-the-top performance as her religious zealot of a mother. Those black eyes will haunt your dreams.
'Insidious' (2010)
James Wan is no stranger to horror: He gave us the Saw movies, The Conjuring series, and The Insidious (as well as its sequel). Insidious explores a family who believes their son has been taken over by a demonic spirit—and it's one of those movies that you have to watch with your face partially turned away from the screen out of fear. You can sense when something terrible is about to happen and yet you have to see what it is.
'Creep' (2014)
This found-footage indie horror movie showcases the talent of Mark Duplass and it. is. disturbing. The plot follows a videographer hired by a Josef (Duplass) to make a documentary for his unborn son. It's clear as soon as they meet that Josef is a weirdo. The rest of the 77-minute run-time is a lot of Josef's bizarre behavior, which will leave you screaming at the screen, "Why are you still filming this guy?" Creep 2 is more of the same and just as crazy-fun to watch.
'Friend Request' (2016)
This so-bad-it's-good 2016 horror leans into its theme, from the tagline "Evil Is Trending" to the nonstop Facebook shots. I'm still not over the fact that someone made an entire movie based on the prospect of one college student de-friending another on Facebook, and I'm also not over how much I enjoyed it. It's ridiculous, but it knows it is—and, believe it or not, there are some sincerely chilling moments.
'Kristy' (2014)
Stuck on her college campus over the Thanksgiving holiday, you'll find yourself on your feet cheering for the Haley Bennett's final girl (surprisingly not named Kristy, but that's part of the reveal) as she crisscrosses the eerily-empty quads and buildings to outmaneuver and fight back against her hooded assailants, one of whom is played by Ashley Greene.
'The Ritual' (2017)
David Bruckner's 2017 adaptation of a 2011 novel of the same name will give you major Blair Witch Project vibes, with a light sprinkling of The Descent for good terrifying measure. A group of guys go hiking in Sweden to honor the wishes of their dead friend and end up getting a bit lost—both literally and mentally—while attempting a shortcut through the forest.
'Train to Busan' (2016)
The zombie genre is a robust one, but have you ever seen zombies on a train? This subtitled South Korean film is one of the best horror releases in recent years, about a dad trying to protect his daughter while traveling to a safe zone as a zombie outbreak spreads through the country. Even if zombies aren't usually your thing, it's just a fun, action-packed film. It also has some surprising heart, so you might want to keep a box of tissues nearby.
'Truth or Dare' (2017)
In many ways, this 2017 teen horror starring Lucy Hale is pretty standard fare, but for one thing: The legitimately horrifying facial tic that every character has as they hiss "Truth or Dare" (they're possessed at the time, because of course they are). I don't know who came up with this CGI stuff of nightmares, but the tic alone is more than enough to base an entire horror movie off—which is good, because the rest of the movie is not.
'Tucker & Dale vs. Evil' (2010)
Straight up, Tucker & Dale vs. Evil is one of the best horror comedies that has ever been made. It's the story of two guys (Tyler Labine and Alan Tudyk) who are mistaken for hillbilly murderers by a bunch of dimwitted college students on vacation. You'll laugh a lot, but there are some actual jump-scares in the mix as well. Watch if you're looking for something that will spook you in the moment but won't keep you from sleeping at night.
'The Witch' (2015)
The Witch is not your average horror movie. You might get a little antsy waiting for something big to happen. But when that moment comes, it's like being on a roller coaster when you get to that first big drop and you know sh*t's about to get crazy. The story follows a family in the 1600s that—because of the father's religious zealotry—are exiled to the woods outside of the colony, where a witch may or may not have also taken up residence. The final few scenes should go down as some of the greatest in horror history: There's definitely a couple of shots that leaving you thinking, Did I really just see that?
...
For more stories like this, including celebrity news, beauty and fashion advice, savvy political commentary, and fascinating features, sign up for theMarie Claire newsletter.
Bianca Rodriguez is the Commerce Editor/Writer at Hearst Magazines Digital Media, where she covers fashion, beauty, home, and more. She likes long walks through shopping malls, a good book, and thinks a closet without platform sneakers is a travesty.