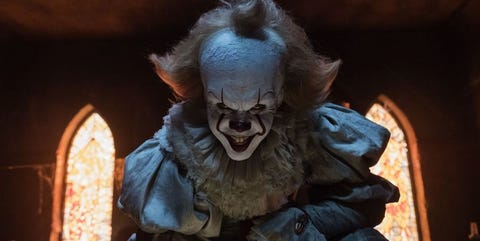 The real world is plenty terrifying all on its own. That said, if you're the type who wants to add some fictional scares into the mix, 2019 has you covered. The horror movies coming out in 2019 star maniacal clowns, demonic resurrections, and murder (so much murder!). If you're a lover of onscreen guts and gore, here's your guide to the best scary movies coming out this year.
The fourth installment in the American Grudge franchise. Watch with the lights on, if possible.
Release date: June 21
Starring: Andrea Riseborough, Demián Bichir, John Cho, Lin Shaye, and Jacki Weaver.
The Losers' Club reunites, 27 years after the events of It, to confront the demon and put an end to its terror once and for all.
Release date: September 6
Starring: James McAvoy, Jessica Chastain, Jay Ryan, Bill Hader, Isaiah Mustafa, James Ransone, Jess Weixler, and Bill Skarsgård.
Not much is known about the project, but it's a sequel to the hilarious 2009 film, so we're in.
Release date: October 11
Starring: Jesse Eisenberg, Woody Harrelson, Emma Stone, Abigail Breslin, and Zoey Deutch.