10 Ways You're Shopping Wrong
Stop buying so much crap!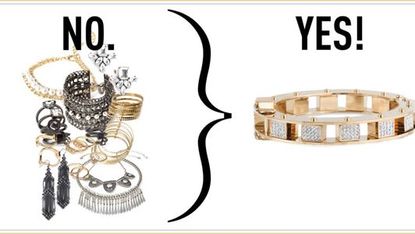 (Image credit: Archives)
1. You're shopping at way too many stores.

Stylish people always have a few go-to brands where they get the majority of their stuff. It might seem a little boring, but clothes from the same designer tend to go well together. You can mix things up more if you want to, but don't feel like you have to. The only way anyone is going to know that you are wearing head-to-toe Club Monaco is if you tell them.
From left to right:
ASOS,
Club Monaco,
Aritzia,
Ann Taylor,
H&M,

Topshop

2. You're splurging on the wrong things.

Only 1 in 1,000 people can spot the difference between a $20 black mini from Joe Fresh and one from a designer brand that costs way more. Don't get suckered into all that "classics are worth investing in" BS. That's just something people say to justify their own excessive spending.
On the right: Black Flared Mini Skirt, JOE FRESH, $20
3. You still haven't fully embraced Zara.

Zara has an uncanny way of designing clothes and accessories that look like high-end runway pieces without being straight knockoffs. Even publicists at luxury brands say they sometimes can't tell the difference between a piece from Zara and one of their own (off the record, of course), which is why Zara is every fashion insider's not-so-secret weapon — a little Prada, a little Chanel, and a whole lot of Zara.
On right: Zara
4. You buy too many different colors and prints, making it really difficult to put together outfits.

If you really think about it, you already know what colors and prints look best on you. Make sure you have neutrals in your wardrobe to stop your outfits from looking monochromatic, but otherwise, if you look best in jewel tones, stick to jewel tones. If white is really your color, wear white. Who cares what season it is? With all the shopping options available online, even if your favorite stores aren't stocking your favorite colors one month, there are bound to be other places that are. Just do a little research on Polyvore and you'll probably find what you want in no time.
On the right (clockwise): White Printed Shirtdress, BABATON (Available at Aritzia), $175;
Baby Blue and Pink Colorblock Coat, ROSWE, $35;
Light Gray Skinny Jeans, ABERCROMBIE & FITCH, $26;
Light Pink V-Neck Sweater, H&M, $40
5. You buy silhouettes that don't look good on you just because they are trendy or different from stuff you already own.

If skater skirts and A-line dresses are your jam, you can really never have too many of them. Don't go binge-shopping for poufy midi skirts just because they are trending. This is not to say that you shouldn't try new things — that's part of what makes fashion so fun — just don't let trends dictate how you shop.
On the right: Laser-Cut Black Pencil Skirt, RIVER ISLAND, $50; Tweed Miniskirt, H&M, $20; Burgundy Lace Miniskirt, H&M, $31
6. You only get your expensive stuff tailored.

When it comes to looking good in your clothes, fit is everything. But although most people have no problem with the idea of tailoring a $300 dress, they are much less likely to tailor a $20 skirt, especially if the tailoring itself will end up costing more than the actual garment. You have to get over that, though, because proper fit and tailoring can make a $20 skirt look like a $200 skirt, and make you look like a million bucks.
From left to right: Red Lace Dress, THREE FLOOR (Available at Revolve), $286; Red Cutout Dress, FASHION UNION (Available at Bank Fashion), $31
7. You are overspending on shoes and underspending on bags.

Shoes live on the ground, which means they start getting scuffed and mangled the second you wear them out of the house, so unless they are particularly fabulous or unusually comfortable, they are really not worth overspending on. Bags, on the other hand, live on your arm and rarely ever touch the ground, so they last a heck of a lot longer than shoes, making them worth the added investment for nicer ones.
On the right (from top): Watermelon Crossbody Bag, REBECCA MINKOFF, $295;
Black Ankle Boots, CHARLES & KEITH, $79
8. You keep buying cheap jewelry, instead of saving up for the good stuff.
Jewelry shines. It sparkles. It attracts the eye. The last thing you want is for the eye to be drawn to something that looks cheap. It will just drag your whole look down. This is not to say that you have to spend a lot of money to get expensive-looking jewelry — check out this post for some helpful pointers — but, if there is one area of your wardrobe where saving money may not be in your best interest style-wise, it's this one.
On the right: Crystal Cube Slider Bracelet, LELE SADOUGHI, $275
9. You think belts are there to hold up your pants and cinch in your waist.

Most people treat belts like functional pieces of clothing, when really they should be treated like jewelry — there to enhance your look, but serving no real purpose. The fact is, if your clothes are tailored and fit properly, you don't need a belt, so choosing to wear one is really like choosing to wear a bracelet or a necklace. Unfortunately, nice belts — ones with sturdy hardware, high-quality materials, and no elastic — rarely come cheap, but if you would be OK spending $100 on a necklace, you should really be OK with spending $100 on a belt, which is essentially just a necklace for your waist.
On the right: Crocodile Embossed Belt With Draping Chain, BCBGMAXAZRIA, $98
10. You've read way too many of those BS dress-for-your-body-type stories and now you're totally screwed up.

This is not to say you shouldn't dress to flatter your figure — stylish people always do that — but all this "body type" stuff is complete nonsense. Different clothes do not really look better or worse if you are "pear-shaped" or "curvy" or "skinny" or "petite" — not if they actually fit — and the vast majority of people are not just one of these particular body types, but often two or three at the same time. So before you go shopping again, forget about those stupid and limiting "body types" and take stock of yourself as you are. Dress to accentuate the parts of your body you like with tighter silhouettes, exposed skin, and more attention-grabbing colors and details, and downplay other parts with slouchier shapes, neutral and muted colors, and minimal adornment.
Via Cosmo
Related Links:

10 Ways to Make Cheap Clothes Look Expensive


10 Reasons Your Jewelry Looks Cheap

Celebrity news, beauty, fashion advice, and fascinating features, delivered straight to your inbox!
I'm 30 percent bunnies, 40 percent of the time.