I Let My Husband Dress Me for a Week
Prepare to be impressed.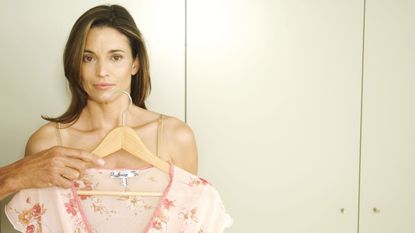 (Image credit: Getty)
My mother's favorite picture of me as a child is one in which I am four years old and wearing a white sundress and a puffy down vest. Oh, and I also had on a frilly bonnet, sunglasses, several belts, and a pair of snow boots (I think).
She told me she likes it because I didn't really care what anyone thought. I just wanted to wear all my favorite things. And while I have to admire my bravery as a kid, the message is clear: Fashion has never been my friend.
Even now, I'm not entirely sure how to dress myself. I buy clothing only to find that it doesn't quite fit or isn't my style. I might feel confident about an outfit at first, but I inevitably end up feeling self-conscious and second-guessing myself.
My husband Rand is the opposite. From the time we met, 15 years ago, he's been consistently stylish. His wardrobe is adventurous, edgy, and downright cool. Mine can best be described as messy, confusing, and what-was-I-thinking-when-I-bought-that?
After years of being in awe of his personal style, I decided to harness his talents for myself. So I asked him to pick out my clothes for a week—I figured if anyone could make sense of my wardrobe, it was him.
He was initially resistant.
"You always look great," he said. "You don't need my help."
"You're just trying to get out of this."
"Yup. It sounds impossible and terrifying."
Rand said he wasn't scared because he thought my clothing collection was bad. Just that his sense of style wasn't as great as I thought it was.
I finally convinced him to participate in my experiment, but a few days before it began, I found him standing in front of my closet, staring blankly at the contents. He poked feebly at a dress.
"I have no idea what to do with half of this stuff."
Before the week started, we agreed on some ground rules:

● Rand had to dress me for one week. He'd choose outfits, shoes, and at least one accessory.

● I could tell him if I was too hot or cold in an outfit but couldn't help him or influence his decisions.

● I had to wear whatever Rand picked out.

● Despite the fact that I work from home, I had to go out and be seen in public.

● I couldn't tell people what was going on.
Day 1
Time spent: 7 minutes

Frustration level: Low

Success: Medium
Rand dives right into my closet and pulls out a pair of skinny jeans.
"These are adorable!" he says. They are, but I'm not entirely sure they fit. When I mention this to him, he's confused.
"Why do you have clothes in your closet that don't fit?"
This is an excellent question, but not one I have to answer immediately — the jeans do still fit. He pairs them with a T-shirt that I never wear (again: Why is it in my closet if I never wear it?), and a cardigan that I like, but forgot I had.
It's pretty cute. And looks like something I would wear. Rand is excited.
"You look awesome!" he says.
Day 2
Time spent: 25 minutes

Frustration level: High — like, we've-both-made-a-terrible-mistake-agreeing-to-this high.

Success: High
Rand's confidence proves short lived. I have a speaking engagement in front of a group of writers, so I need to look professional.
"I've never seen you wear these," Rand says, pulling out a pair of black dress pants.
"I don't think I ever have," I reply.
He's baffled by this.
"Why do you own clothes that you never wear?"
I shrug. They were on sale, I say. The logic is lost on both of us.
He finally picks out a blouse printed with horse heads that I love but am too scared to wear, a pair of dangly earrings, and a blazer I've only worn once before. But by the time he reaches the shoes, he's spent. He eventually settles on a pair of simple black heels but not before gently banging his head against a tower of shoeboxes and whimpering. (See above.)
Days 3 & 4
Time spent: Less than 10 minutes

Frustration level: Low

Success: Medium-high
Rand bounces back from "the shoe meltdown" of the day before. He's leaving town for a business trip, so he picks out my clothes for the next two days. He chose a pair of boots I'd intended to throw away; I end up getting loads of compliments on them.
He also pulls out a pair of red pants I thought went with nothing and builds a pretty cute outfit around them. I am starting to think that my husband is some kind of fashion genius.
Day 5
Time spent: 15 minutes

Frustration level: Medium

Success: He gets points for trying.
I retract all previous claims of fashion genuis-ness. As Rand goes through my closet, I find myself hoping he won't pick certain items. (Which is absurd — why do I own things that I don't want to wear?) He finally selects a necklace that I haven't worn in years, a plaid shirt, and a pair of pants that I love...but not necessarily with this outfit.
"Did I do a bad job?" he asks.
I tell him I'm dressed like a lumberjack headed to a Pearl Jam Concert circa 1998. Rand argues that this was exactly the look he was going for. But even though I'm self-conscious of my outfit, no one says a thing. I see a man at the grocery store wearing a fake fur vest that looks like a stuffed animal, and smile.
He looks great, I think.
Day 6
Time spent: 10 minutes

Frustration level: Low

Success: Medium-low
Rand's choices are pretty safe—the outfit is mostly black and grey. He gets a little daring with the earrings, but misses the mark with pants—they're cropped, and I usually wear them with ballet flats. Later, when I tell Rand about this, he will be incredulous.
"Your pants have different lengths?" he says.
I realize that some of his earlier successes might have been luck.
Day 7
Time spent: 10 minutes

Frustration level: Low

Success: Is it tomorrow yet?
We've both had enough. He's tired of dressing me. I'm tired of being told what to wear (even though I'm the one who asked him to do this in the first place). He picks out a lightweight dress shirt and jeans. The shirt doesn't quite fit, and after a few minutes, I notice that the fabric is surprisingly itchy. I can't figure out why I bought it in the first place.
So now what? This experience definitely made me realize I own a lot of stuff that doesn't fit, wasn't comfy, or I just plain didn't like. The night our experiment ended, I collected a huge pile of clothing and shoes from my closet to donate to our local thrift store. And I'm following this rule going forward: If I don't love it and it isn't comfy, I don't need it.
I've spent so much time being self-conscious about my clothing, worrying what others think. But I've realized the only thing that matters is that your clothes make you feel wonderful. Four-year-old me got that. And 34-year-old me?
Well, she's starting to.
You should also check out:
This Mom Let Her Son Dress Her for a Week
Meet the Best-Dressed Pig on Instagram
T
hese Wedding Gowns Are Fit for a Princess
Geraldine DeRuiter lives with her husband, Rand, in Seattle, Washington. Read more at her blog, Everywhereist.com.
Marie Claire email subscribers get intel on fashion and beauty trends, hot-off-the-press celebrity news, and more. Sign up here.