Brooklyn Decker Wears Ethical Fashion Brand Femme d'Armes
Brooklyn Decker chose an eco-chic Femme d'Armes gown for the red carpet. Amanda Hearst reports on the ethical brand.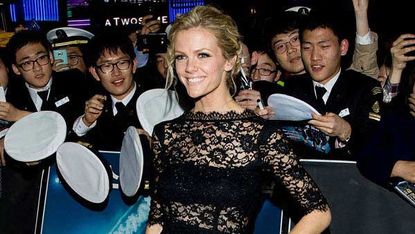 (Image credit: Archives)
Ever since Meryl Streep (opens in new tab) rocked that killer Lanvin gown made of eco-certified textiles at this year's Oscars (opens in new tab), tons of celebs have begun donning ethical fashion on the red carpet! Case in point: model-actress Brooklyn Decker recently wore an eco-number to the South Koren premiere of her new film, Battleship, flaunting her curves in a black lace gown by Femme d'Armes (opens in new tab).
This brand-to-watch designs and produces all of its pieces in New York City's garment district, and is a big supporter of Save the Garment Center (opens in new tab). Connie Majoros and Fannie Chan, the duo behind the line (who also happen to be sisters!), are committed to working with local artisans and businesses.
The designers (seen here with fan Esperanza Spalding) plan to incorporate organic textiles into future collections.
Here is a sneak peek at their FW12 collection. I'm obsessed with the red sweater dress!