How to Wear It: Men's Shirting
When worn with flirty skirts and silk pants, shirts borrowed from the boys risk never being returned. Photographs by Mark Lim. Fashion Editor: Rae Boxer. Now, help your man find his perfect shirt.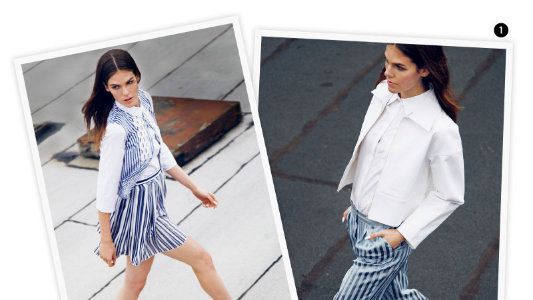 (Image credit: Archives)
1. On Balance -If you go structured on top with a boxy jacket, pair it with something loose below, like a relaxed trouser.
2. Open Call -Leave a sleeveless shirt unbuttoned as a stand-in for a vest.
3. Loosen Up -Play with the proportions of a simple polo tee. Choose onet hat isn't form-fitting to add depth to your look.
4. Arm's Length -A white button-down doesn't always have to be the main player. Try it as an accent piece underneath a shorter-sleeve dress (or top) that reveals the cuffs.
TOP LEFT: Striped top, $576, skirt, $742, Vanessa Bruno; (323) 655-5310. White shirt, $215, Theory; theory.com (opens in new tab) for stores. Shoes, price upon request, Christian Louboutin; christianlouboutin.com for information. TOP RIGHT: Jacket, price upon request, T by Alexander Wang; (212) 977-9683 for similar styles. Shirt, $360, Protagonist; theline.com. Pants, $525, Emporio Armani; armani.com (opens in new tab) for stores. BOTTOM RIGHT: Dress, $1,050, Felipe Oliveira Baptista; luisaviaroma.com (opens in new tab). Shirt, $195, Thomas Pink; thomaspink.com. Shoes, $1,015, Manolo Blahnik for Edun; (212) 582-3007 for special order. BOTTOM LEFT: Shirt, $1,195, Rosie Assoulin; modaoperandi.com (opens in new tab). White pants, $460, blue pants, $399, Hache; mnzstore.com.