Kristen Stewart Behind the Cover: Fashion
Find out how to get the look here. Interview | Behind the Cover: Beauty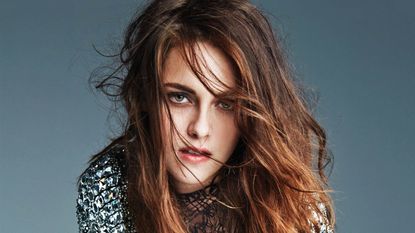 (Image credit: Tesh)
AGE: 23. CURRENT RESIDENCE: Los Angeles. TOMBOY-CHIC: The actress arrived in dark 7 For All Mankind jeans, an E.C. Star zip-up hoodie, and black Vans sneakers. GIRLS ROCK: Her playlist included tunes from indie-rock star Feist and sister act Haim. SCENE PARTNER: She was joined by her puppy Cole, named after her Camp X-Ray character. The black rescue dog felt right at home on set, even posing with the actress. SWEET GREENS: After Stewart noticed a bunny on the property, the animal lover fed it dried mango and leftover salad from the catering table.
1. JACKET $995, BLK DNM; (212) 966-6258.

2. NECKLACE price upon request, David Yurman; (212) 752-4255.

3. SHOES $69.95, 2b; 2bstores.com (opens in new tab).

4. WATCH $4,100, Rado at Hour Passion; (212) 904-1002.

5. SKIRT price upon request, No. 21; numeroventuno.com (opens in new tab) for information.

6. BOOTS $119, Zara; zara.com (opens in new tab).

7. SUNGLASSES $876, Rick Owens; ssense.com (opens in new tab) for similar styles.

8. TOP $4,790, Wes Gordon at Bergdorf Goodman; (212) 753-7300 for special order.