Alexander McQueen's Most Memorable Fashion Moments
Look back at some of the late designer's most famous runway looks and style highlights.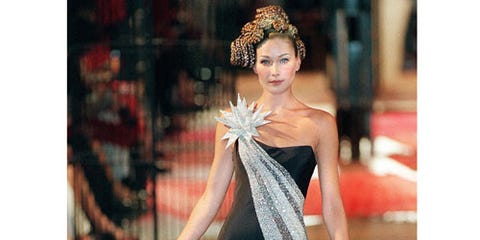 Pierre Verdy/Getty Images
Look back at some of the late designer's most famous runway looks and style highlights.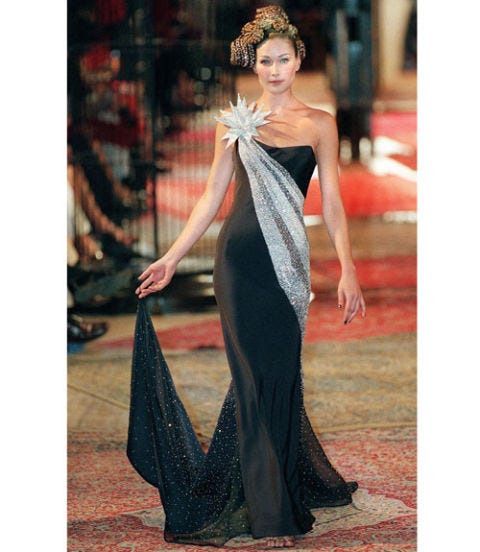 Pierre Verdy/Getty Images
Starting Out with Givenchy
Before he went solo, he had a five-year tenure as the head designer for iconic design house Givenchy. Givenchy, known for ultra-feminine clothes and for dressing the likes of Audrey Hepburn, got an infusion of edginess with McQueen, as evidenced with the Fall 1997 collection he helmed.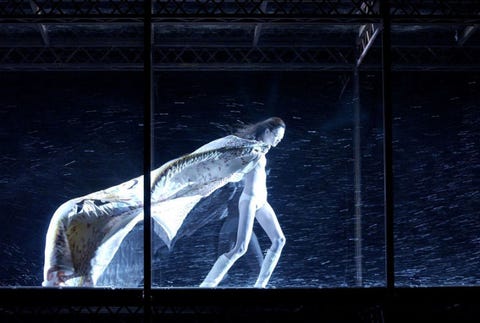 Maria Valentino/MCV Photo
Never Going Through the Motions
Never one to just send a model walking down the runway, for his Fall 2003 Paris show, McQueen — inspired by a nomad's journey into the tundra — placed them inside a torrential wind tunnel in hand-painted, billowing fabrics. "As a designer, you've always got to push yourself forward," he has said. "You've always got to keep up with the trends or make your own trends. That's what I do."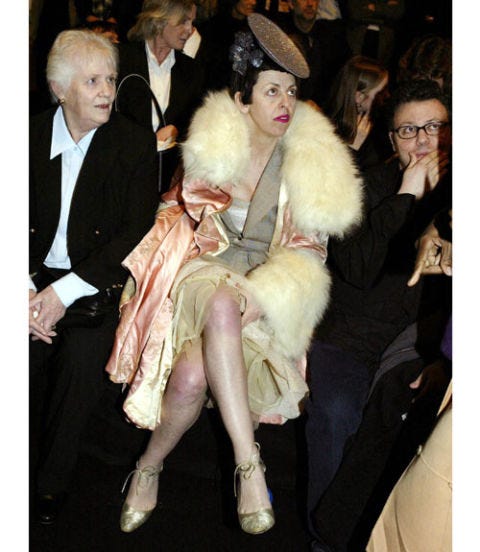 Being Discovered by His Muse
McQueen was first discovered by Isabella Blow (here, in the front row at his Fall 2004 show), an international fashion icon with a fondness for awe-inspiring hats. She championed him since his debut show in 1994 — she bought the collection in its entirety, reportedly via weekly 100-pound payments — and propelled him from a fledgling graduate to a couture house designer. She became his best friend and muse, rarely photographed in anything not designed by him.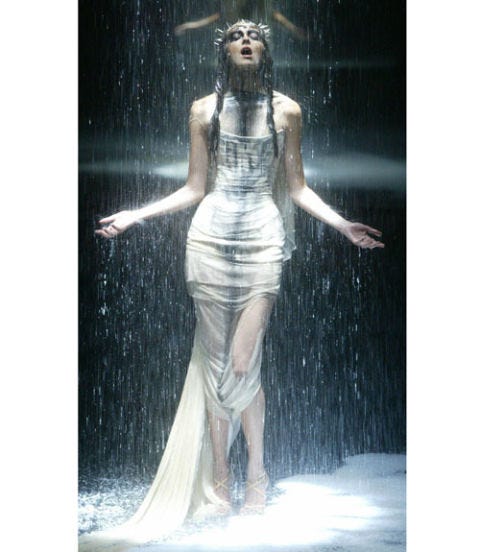 Nicolas Asfouri/AFP/Getty Images
Making it Rain
McQueen let it rain on the runway during his Fall 2004 American Express "Black" show — which also included an auction of celebrity memorabilia to aid people living with AIDS. While most designers wouldn't want their creations soaked, the designer allowed the rain to highlight his white, diaphanous ensembles.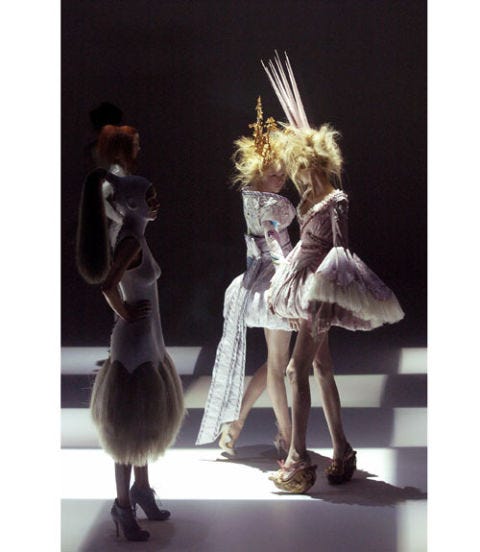 Maria Valentino/MCV Photo
Playing a Game of Chess
McQueen positioned every look of his Spring 2005 Edwardian collection on a giant chessboard, in a move many saw as a metaphor for the fashion industry. "It was a lot of McQueen, all in one big collection," the designer has said of the presentation, which showed off his experience in sharp tailoring and rich, romantic dresses.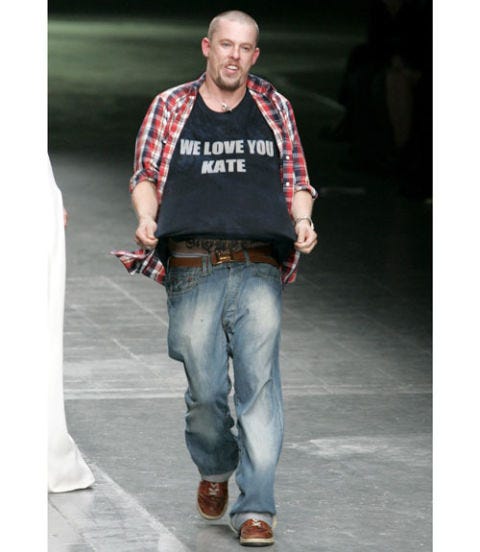 Adrianne Olivera Lacroix/WireImage
Coming to Kate's Defense
In 2005, after photos were released of supermodel Kate Moss doing cocaine, she quickly lost major contracts, including Chanel and Burberry. Her biggest supporter, however, was McQueen, who even wore a shirt that said "We Love You Kate" during his Spring 2006 runway walk.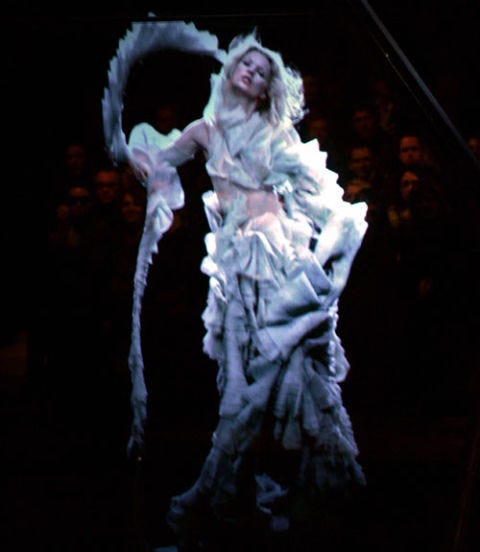 alexander mcqueen, kate moss, hologram
Going Sci-Fi on the Runway
At the end of his Fall 2006 runway show, a puff of white smoke appeared inside an empty glass pyramid and quickly twisted into the shape of one Kate Moss. The haunting, dreamlike vision — a state-of-the-art hologram that has to be seen on
video
to be believed — proved he was not only a meticulous craftsman but also a true performance artist.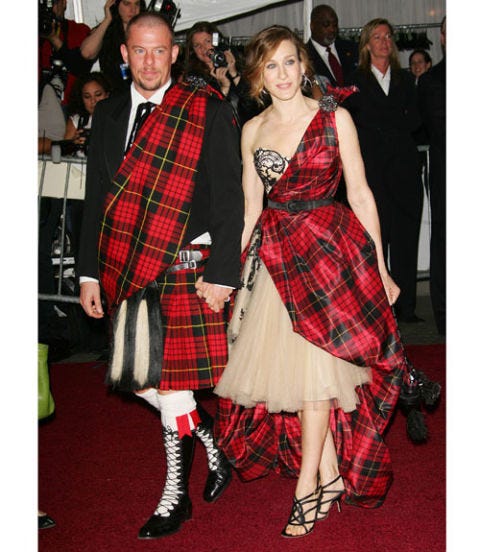 Evan Agostini/Getty Images
Escorting (and Matching) SJP
At the biggest fashion event of the year, McQueen accompanied Sarah Jessica Parker at the 2006 Metropolitan Museum Costume Institute Gala. On a night when everyone is dressed to the nines, the pair stood out, arm in arm, as visions in matching tulle and tartan.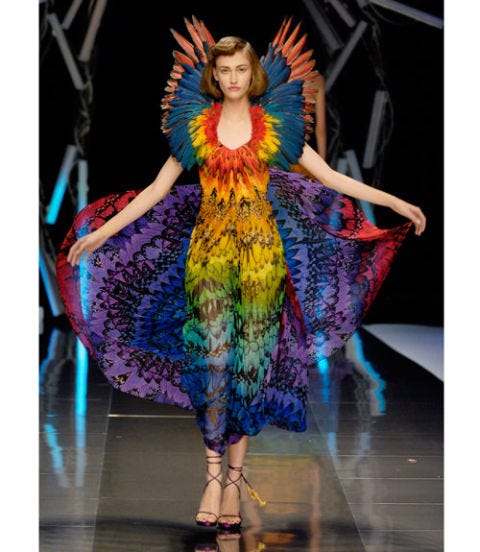 Paying Homage to Isabella
In May 2007, McQueen's muse, Isabella Blow, took her own life. Several months later, the creative mastermind paid tribute to her in his Spring 2008 collection. The vibrant bird theme, with intricate feather detailing and fanciful hats, encapsulated her perfectly.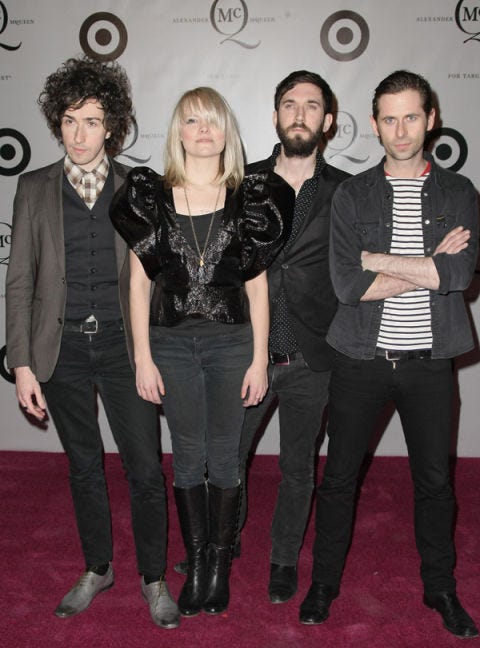 Neilson Barnard/Getty Images
Collaborating with Target
Like many forward-thinking designers, McQueen eagerly created McQ, an affordable capsule collection for Target. But he didn't stop there. He also collaborated with British rock band The Duke Spirit, who created an exclusive album to be sold in conjunction with the line. Singer Leila Moss, who served as McQueen's muse, said she's always been a fan: "I have always been fascinated by the way he brings the raw, symbolic beauty of the natural world sharply into play with a regal, noble, architectural force."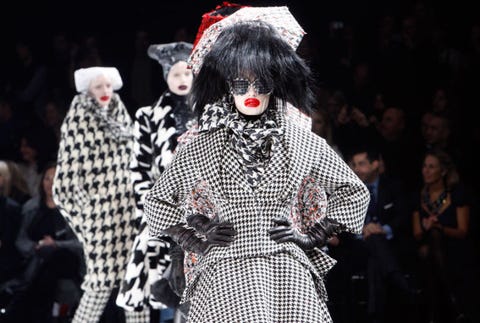 Revolutionizing Your Mother's Houndstooth
For his Fall 2009 collection, McQueen took the traditional houndstooth and turned it into an avant-garde affair. He coupled the black-and-white checks with oversized red lips and bizarre 'dos — some with soda cans. "I find beauty in the grotesque, like most artists," McQueen has said. "I have to force people to look at things."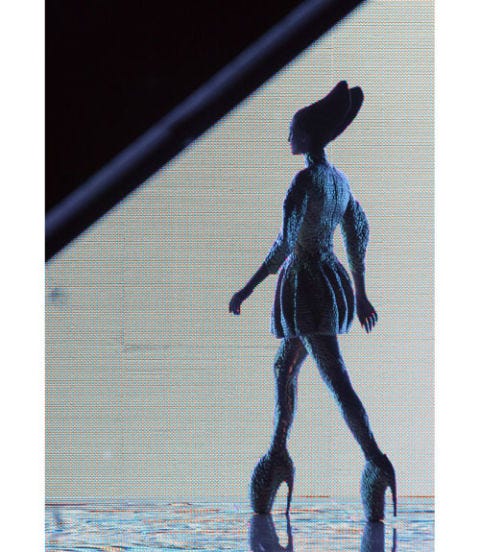 Francois Guillot/Getty Images
Redefining Reptilian Chic
In his last major show before he died, McQueen shocked audiences as he sent down the Spring 2010 runway models with gravity-defying hair wearing futuristic, reptile-patterned, digitally printed dresses and incredibly made 10-inch Armadillo heels. Upon first seeing the shoes, several catwalkers refused to take part in his show, but now the look, like most of McQueen's fashion experiments, can be found in fashion magazine spreads and worn by the likes of Lady Gaga and Demi Moore.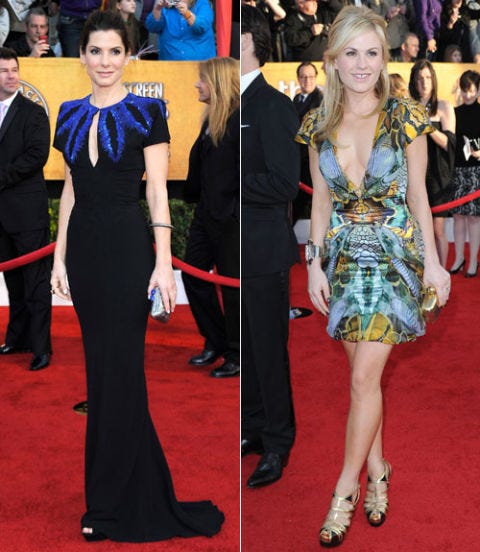 Larry Busacca/WireImage (left); Frazer Harrison/Getty Images (right)
Dressing the Red Carpet's Finest
Although he was always a favorite of A-list celebs walking red carpets, he dressed Hollywood's darling, Sandra Bullock, just weeks before his death. Bullock wore a sleek keyhole dress by the designer to the Screen Actors Guild Awards in January 2010. That same night, Anna Paquin got on many a best-dressed list with a bold frock from McQueen's spring 2010 collection.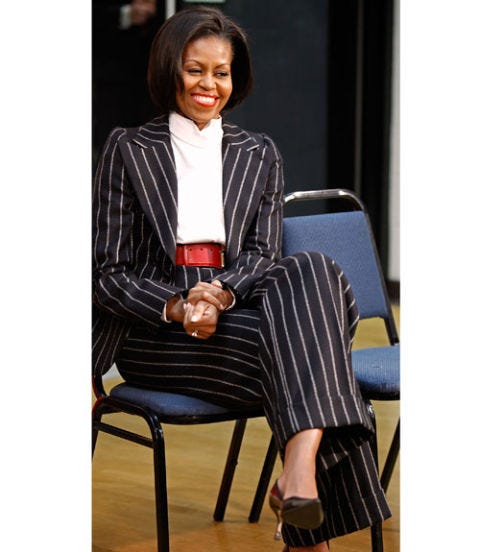 Chip Somodevilla/Getty Images
Getting into Politics
First Lady Michelle Obama even joined the ranks of the Hollywood elite as a devout fan of McQueen. Her favorite look from the designer? This conservative black pinstripe pantsuit, which she wore for several appearances over the past year, including this one at a YMCA visit in Virginia.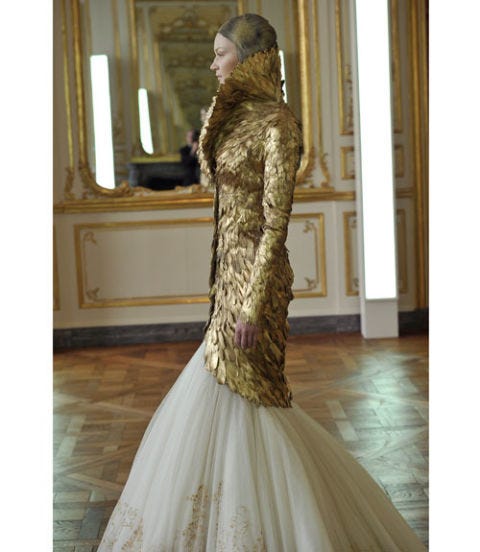 Showcasing His Final Works
A month after his February death, his last works were given final honors at Paris' Fall 2010 Fashion Week in a quiet showcase. The 16 outfits presented were 80 percent complete by the time he took his own life. Sarah Burton, now creative director of Alexander McQueen, said at the time that he wanted to get back to the craft he loved with this collection. "He was looking at the art of the Dark Ages, but finding light and beauty in it," she said. "He was coming in every day, draping and cutting pieces on the stand."
This content is created and maintained by a third party, and imported onto this page to help users provide their email addresses. You may be able to find more information about this and similar content at piano.io