V for Valletta
Supermodel turned actress turned designer Amber Valletta wears more hats now than she ever did on the runway. Sporting the season's gritty urban looks of leather and luxe, the former muse proves she's the master of her domain.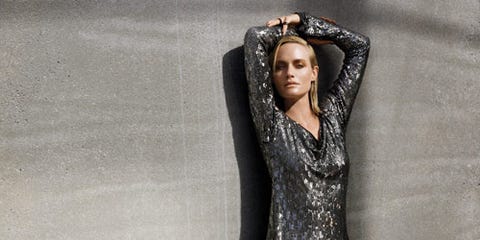 Don't let the photos fool you. Amber Valletta wants to make it clear that she's no ice queen. "People think there's this austerity to me," the top model of the '90s says, "but I'm pretty silly. I think I embarrass my son." Whether or not 9-year-old Auden (with husband Chip McCaw) would agree, "you'd have to ask him." One thing's for certain: Mom's turn in the new movie The Spy Next Door is sure to please. In it, the soon-to-be 36-year-old (Valletta's birthday is February 9) goes toe-to-toe with Jackie Chan. "What I learned most from him was this amazing ability to be funny with your body." Quite a change for the woman whose face has fronted major fashion houses, from Armani and Prada to Iceberg and Dsquared2. Not that the transition has been easy. "I was terrified to take the leap into acting," she admits. But now with a solid decade in film, spanning roles in What Lies Beneath and Hitch to 2009's Gamer, Valletta welcomes a challenge. Her latest venture: creating a clothing line for the laid-back Cali-based label Monrow. And she's not stopping there. "Sometimes I think I need to drop everything and go to a third-world country — be completely of service." Stay tuned for an Amber alert in the near future. —Katie L. Connor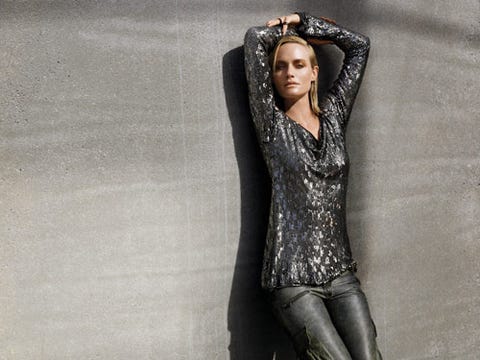 Amber Valletta
Top, pants, and belt, price upon request, Balmain; rings, $75 each, Lia Sophia.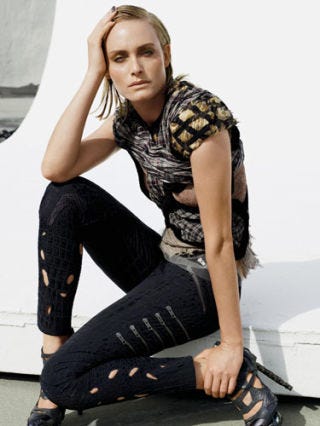 Amber Valletta
Top, $2990, pants, $2300, Rodarte; shoes, price upon request, Nicholas Kirkwood for Rodarte.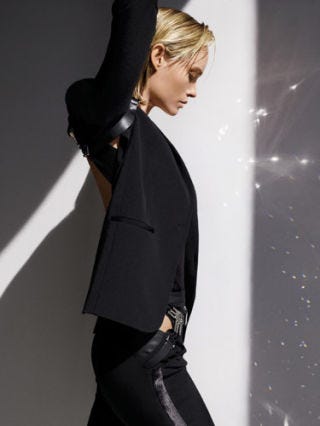 Amber Valletta
Jacket, $1950, tank, $2450, pants, $2150, Gucci.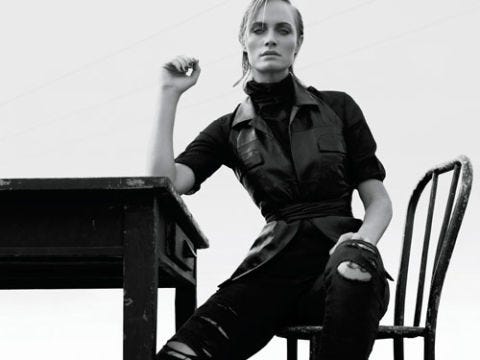 Amber Valletta
Waistcoat, $4790, top, $675, Yves Saint Laurent; jeans, $255, AG Adriano Goldschmied.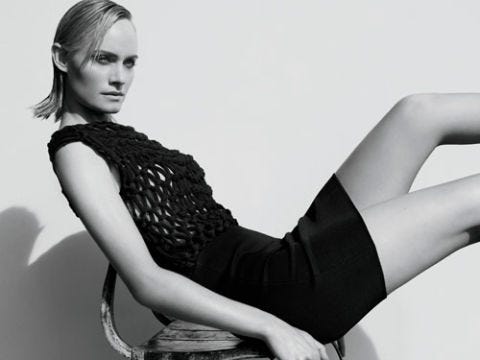 Amber Valletta
Dress, $875, Iceberg.
Amber Valletta
Jacket, $189.50, Esprit; necklace, $590, Janis by Janis Savitt; black ring, $250, Lia Sophia; silver ring, $60, Noir.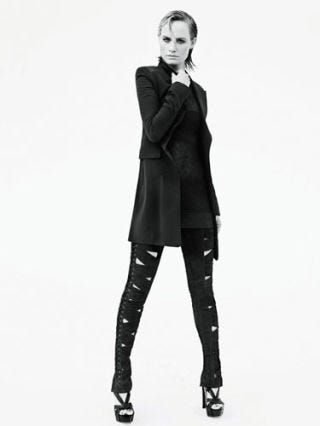 Amber Valletta
Jacket, $1795, top, $350, pants, $2495, Phi; shoes, $1150, Dior.
Amber Valletta
Jacket, $1925, Emporio Armani; bra, price upon request, Alexander McQueen.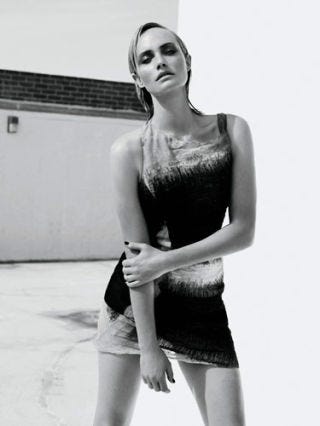 Amber Valletta
Dress, $1995, Calvin Klein Collection.
This content is created and maintained by a third party, and imported onto this page to help users provide their email addresses. You may be able to find more information about this and similar content at piano.io