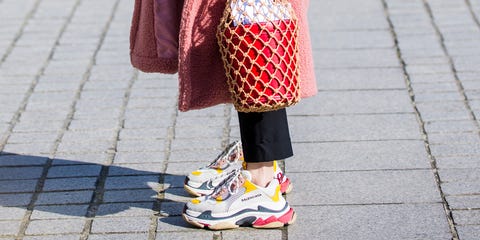 Sneakers are more of a staple in fashion girls' wardrobes than ever before. As a child I had one pair of sneakers…from Payless. Now, I have more than six different not-for-exercising styles in my closet. And it seems I'll only be collecting more: Season after season, new iterations of our favorite lace-up kicks are reimagined either in new colors or updated designs.
Take Demna Gvasalia of Balenciaga's "dad sneakers," which were released earlier this year. The shoes are reminiscent of the Skechers you, or your father, might have worn in the '90s. Its triple S design wrought a host of lookalikes by other brands and just like that, the fashion crowd embraced the chunky shoes with open arms. (It took me a few months, but now I, too, own a pair of dad sneaks.)
While this may very well be the It shoe of 2018, it's not the only sneaker on my must-have list. Think: Everything from fancy logo-embossed kicks to the everyday merino wool sneakers (thanks Allbirds). Once you've had your fill of the most stylish picks, below, check out the comfiest pairs—they're all approved by footwear experts.
Fendi, $690
If you're a sneaker fanatic, designer kicks are worth the investment. And this season make your splurge these Fendi slip-ons. The embossed logo-strap and pearl buckle design are some of the fancy features you get for that price.
Ash, $275
It took a few months, but I've finally come around to dad sneakers, especially if they're very bold design is tempered by a subtle color, like this pair by Ash. The all-white kicks look great with denim shorts or under a breezy maxi dress.
Nike, $190
Nike's VaporMax sneakers have a space-age quality to them thanks to their transparent bubble soles. The runner's shoe is designed with a comfortable cushioned fit, sturdy support, and plenty of traction. You'll find yourself slipping into these shoes even when you're not training for a race.
Allbirds, $95
Made from superfine merino wool, Allbirds' sneakers are celebrated for their all-around comfort and sustainable design. (Each pair of shoe laces is created from one old plastic bottle!) These machine-washable sneakers are the everyday shoes you'll be relieved to have in your closet.
Fenty x Puma, $130
The central cutout may seem odd, but is actually practical when you think about it: 1. It lets your feet breathe (fresh air!) so they won't get sweaty or smelly since socks are sort of a no-go in these. And 2. your feet can get some sun. Though, I do recommend wearing sunscreen in that area—no one wants patchy tan lines (or skin cancer).

Marc Jacobs, $250
Make a splashy entrance with Marc Jacobs' "love" embroidered sneakers. The red, blue, yellow, gold, and black tones are a treat for the eyes—and your wardrobe. Wear a plain outfit, so the shoes can shine on their own.

They New York, $251
Minimalists will love these two-toned sneakers' simple yet elevated design—one level up from your all-white shoes.The footwear is crafted from luxurious leather and is surprisingly lightweight, perfect for touring whatever city you're headed to for vacation.
Adidas by Alexander Wang, $180
Sock sneakers are like cozy knitted blankets for your feet. They're so comfortable, you can wear them with or without actual socks, though I prefer to wear mine with. Usually comfort isn't stylish (and vice versa), but these pair well with fully half my wardrobe.
Ganni, $245
Yes, nearly all sneakers have laces, but what separates this pair from all others is the floral crisscross ribbon-like ties. They wrap around the shoe from front to back for a one-of-a-kind look that will instantly revive your footwear game for summer. This is the most street style–worthy sneaker you can own.
Sandro, $255
Velcro sneakers aren't just for kids, they're for lazy adults like myself, too. When I'm in a rush, tangled laces are the bane of my existence, hence my full-fledge support for this velcro pair from Sandro that doesn't look child-like at all.
Off-White, $685
There's no mistaking Off-White sneakers for another brand. Virgil Abloh's creations have become a streetwear crowd pleaser, especially his shoes with the iconic orange zip ties. Now that he's the artistic director of Louis Vuitton's menswear, expect to see more sought-after pieces by the designer on the feet of fashion's most fashionable.
12
The Espadrille Sneaker
Alexander Wang, $395
This designer footwear merges the sock-sneaker with espadrilles for a unique shoe that's both casual and athletic. The slip-on-and-go style is genius if you're all about ease in the summer and can be worn with virtually any outfit in your closet. I'm thinking with this Misa dress?