The Most Unforgettable Street Style From Paris Fashion Week
Reminisce over the best looks.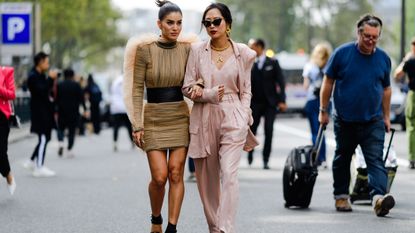 (Image credit: Tyler Joe)
That's a wrap! Paris Fashion Week had officially ended. Both celebrities and fashion influencers alike packed their very best outfits for the city, which included chic coats, sweaters, and dresses. (Prince Harry and Prince William's third cousin, Lady Amelia Windsor, even made an appearance at Dior!) Reminisce over all the unforgettable outfits, ahead.
1/207
2/207
3/207
4/207
5/207
6/207
7/207
8/207
9/207
10/207
11/207
12/207
13/207
14/207
15/207
16/207
17/207
18/207
19/207
20/207
21/207
22/207
23/207
24/207
25/207
26/207
27/207
28/207
29/207
30/207
31/207
32/207
33/207
34/207
35/207
36/207
37/207
38/207
39/207
40/207
41/207
42/207
43/207
44/207
45/207
46/207
47/207
48/207
49/207
50/207
51/207
52/207
53/207
54/207
55/207
56/207
57/207
58/207
59/207
60/207
61/207
62/207
63/207
64/207
65/207
66/207
67/207
68/207
69/207
70/207
71/207
72/207
73/207
74/207
75/207
76/207
77/207
78/207
79/207
80/207
81/207
82/207
83/207
84/207
85/207
86/207
87/207
88/207
89/207
90/207
91/207
92/207
93/207
94/207
95/207
96/207
97/207
98/207
99/207
100/207
101/207
102/207