Everlane Jeans, Sweaters, and Shoes Are Half Off at Nordstrom Rack
Here's a reason to be excited for fall.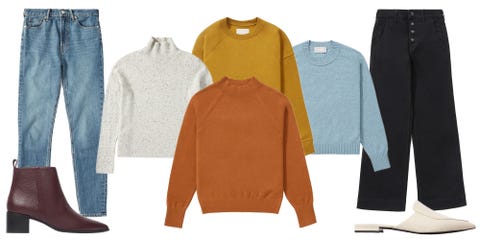 We've all been quarantining at home for—checks notes—nearly five months at this point. If you could use a well-deserved pick-me-up or a distraction right about now, you're in luck. We stumbled upon a treasure trove of steeply-discounted Everlane staples at Nordstrom Rack. Whether your WFH outfit rotation could use some comfy new pieces or you're eagerly waiting for temperatures to drop so you can wear finally sweaters again (without sweating), this sale has you covered. With jeans going for as low as $35 and cashmere sweaters up to 50 percent off, these prices rival some of the best we've ever seen the brand offer on its own site. Below, the smartest Everlane deals to shop now.
$78 $39.97 (49% off)
Everlane's wide-leg jeans have amassed a cult following since their debut. If you've been wanting to finally try the style for yourself (or if you're already a diehard fan and want another pair to add to the mix), this will likely be the most budget-friendly to do so until Cyber Monday.
2
The Modern Leather Loafer
$168 $89.97 (46% off)
A countless number of cool businesswomen in New York, as well as Angelina Jolie, own these sleek modern loafers. Don't miss your chance to have your own pair for 46 percent off.
$48 $24.97 (48% off)
Upgrade your loungewear game with a soft, cozy pullover. If mustard tones aren't your thing, this cozy sweatshirt is also on sale in black.
4
The Soft Cotton Crew Neck T-Shirt
$50 $24.97 (50% off)
There's no such thing as too many black sweaters. We're partial to this crew neck's ability to pair equally well with party pants and cozy sweats.
5
The High Rise Skinny Jeans
$68 $34.97 (49% off)
If you're a skinny jeans person, here's a pair made from premium Japanese denim with a touch of stretch. Everlane says these might be the most flattering jeans ever, and at this price with free returns, why not test them out for yourself?
7
The Boss Pebbled Block Heel Bootie
$235 $129.97 (45% off)
Everlane's boss bootie is as timelessly stylish as it gets (Selena Gomez has even wore the style in suede). We dig this burgundy color for spicing up all-black outfits.
8
The Lightweight Wide Leg Crop Chino Pants
$72 $34.97 (51% off)
These wide leg chinos are final sale, but there's no reason to not go for them at this price. If you need further convincing, check out some of the 6,000+ reviews on Everlane's site, where commenters consistently rave about their comfort.
$165 $89.97 (45% off)
Hide your chipped pedicure in a cream-colored pair of flats that are certain to become your go-to, go-everywhere errand shoes.

10
The Cashmere Blend Vintage Crew Neck Sweater
$95 $49.97 (47% off)
Per this vintage-feeling crew neck's sweater's description, this is a classic crew neck with a little more attitude. As if that wasn't enough to make us fall in love, this sweater is made from premium Italian yarn that's been recycled for 50 percent less impact.
11
The Cashmere Square Turtleneck Sweater
$165 $84.97 (49% off)
This cashmere turtleneck hits at that perfect neck height where you never have to worry about it rolling down. Be sure to keep a close eye on this sweater around younger sisters who have a tendency to raid your closet during the holidays.
12
The Cashmere Lantern Sweater
$120 $59.97 (50% off)
Feminine without being fussy, this sweater is made from certified, grade-A cashmere that gets softer with each wear.
13
The Teddy Wool Blend Crew Neck Sweater
$88 $44.97 (49% off)
Here we have the snuggly textured crew neck you might've dropped hints about wanting during the holidays. This sweater is uncomplicated and cozy, and we could all use that vibe right about now.
This content is created and maintained by a third party, and imported onto this page to help users provide their email addresses. You may be able to find more information about this and similar content at piano.io