American Apparel Debuts More Semi-Naked Ads [NSFW!]
A whole lot of skin is shown to sell some clothes.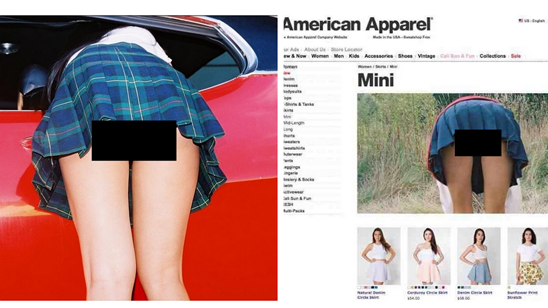 (Image credit: Courtesy of Company)
American Apparel has proven they have no problem with pushing boundaries when it comes to their visual assets, whether it's in store with pubic hair-donning mannequins or scantily-clad models on their website. In fact, their CEO was recently ousted from his top position to a new role as "paid consultant" after claims of rampant sexism. Well, the CEO may be relocated out of the head spot but the controversy-raising store is at it again, this time with a super risqué and fairly misogynistic ad that features a woman's (barely) mini-skirt clad derrière bent over a car window.
Why showing off the girl's behind is necessary to sell the skirt, we couldn't tell you. The image appeared on the company's Instagram but after some swift and heavy criticism from the Twitter-sphere (people labeled it as "misogynistic" and "horrifying"), it was soon taken down. The image is part of American Apparel's "back to school" campaign, which features images of very minimalist chic school girls wearing cropped sweaters paired with mini-skirts, as seen below. The rest of the "back to school" images don't feature any bending over, and they seem to be selling the clothes just fine.
Diana is a producer at ELLE.com. She previously wrote for MarieClaire.com. Diana is a Syracuse grad and a Chicago native, and therefore a pro at dealing with cold weather. She's also an Anglophile, which means she love all things British—especially Downton Abbey, London, and Will and Kate (and Prince George!)