Emma Stone's 25 Best Style Moments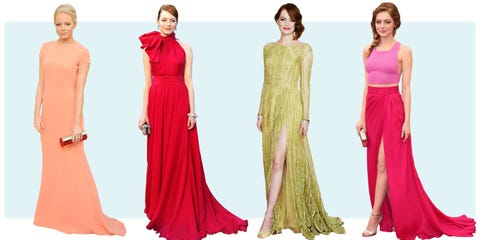 On top of being Hollywood's most down-to-earth PYT, Emma Stone is also one of the biggest risk-takers on the red carpet—much to our sartorial delight. Because every day is a day to celebrate her impossibly chic style, we're looking back at her top 25 hall-of-fame looks to date.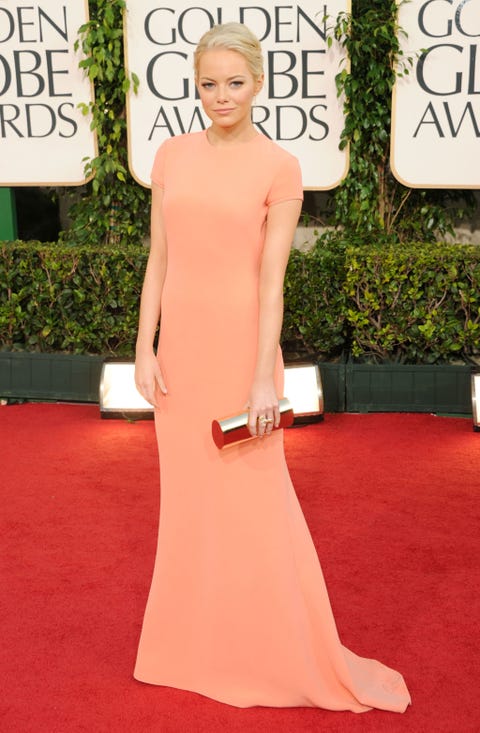 January 16, 2011
Stone complemented her platinum dye job with this peachy Calvin Klein collection column gown at the Golden Globes.
February 27, 2011
Pulling off the ever-challenging high-low silhouette, she makes a serious fashion statement in this embellished burgundy Chanel gown.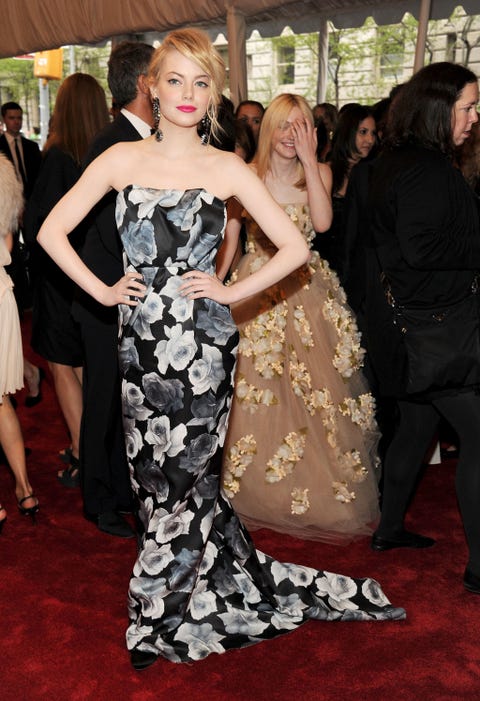 May 2, 2011
Her hot pink lips pop beautifully against this strapless floral Lanvin number at the Met Gala.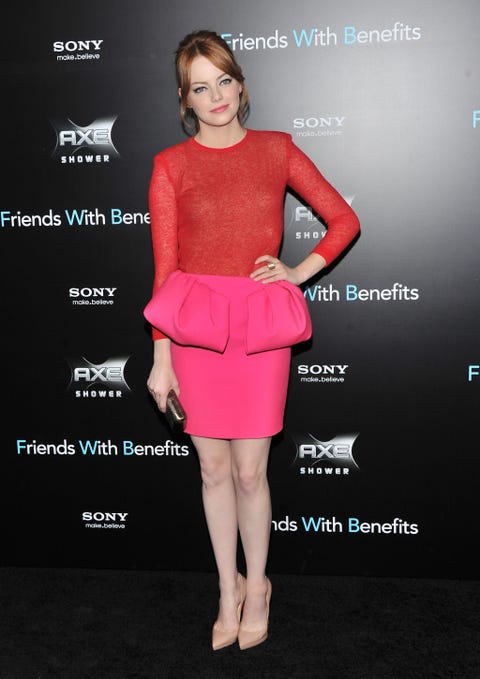 July 18, 2011
Always one for a color-blocked moment, Stone is ladylike in this red/fuchsia Giambattista Valli top and skirt at the Friends With Benefits premiere.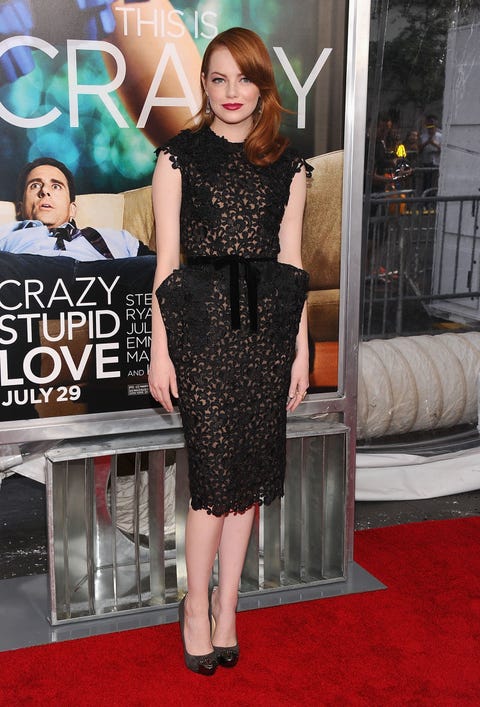 July 19, 2011
Packing on the drama by way of the hips, she seems effortlessly cool in a lacey Tom Ford cocktail dress at the Crazy, Stupid, Love premiere.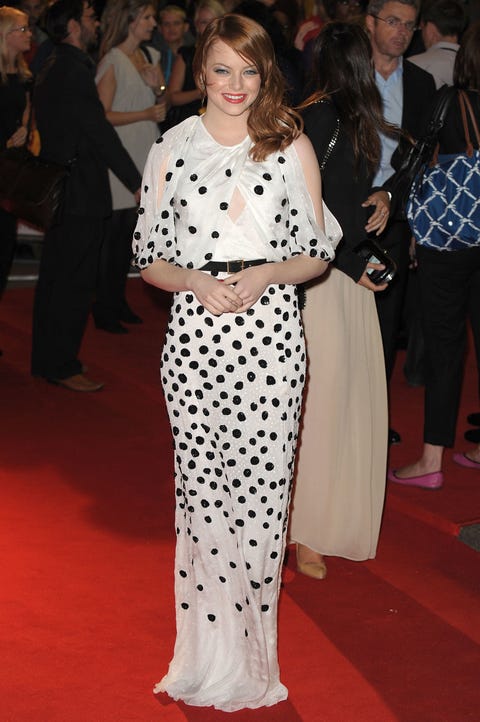 October 05, 2011
Stone is decidedly retro in this open-shouldered, polka-dot Luca Luca gown at The Help premiere.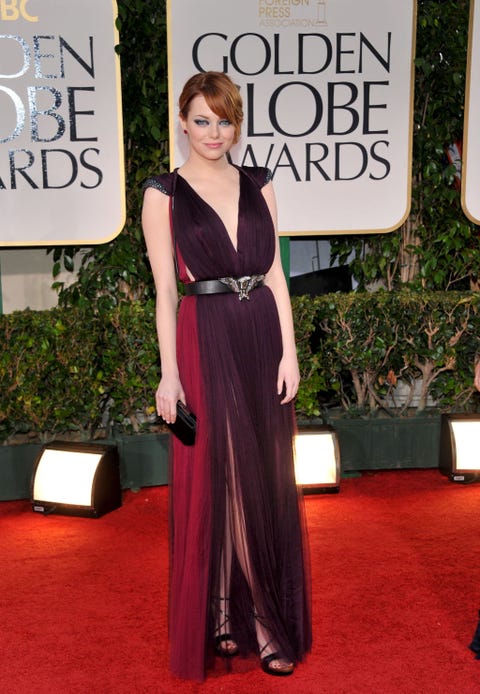 January 15, 2012
Stone's simply a standout at the Golden Globes in this plunging plum gown and belt by Lanvin.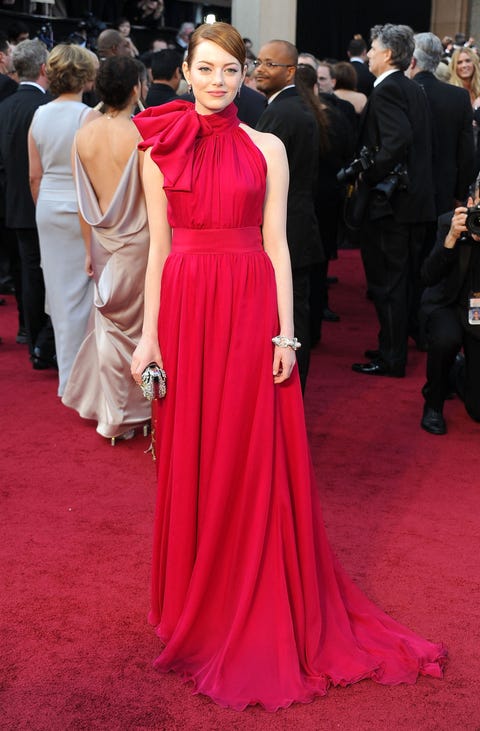 February 26, 2012
One of her most memorable looks to date, she exudes elegance at the Oscars in this vibrant Giambattista Valli Couture halter gown with bow detail at the neck.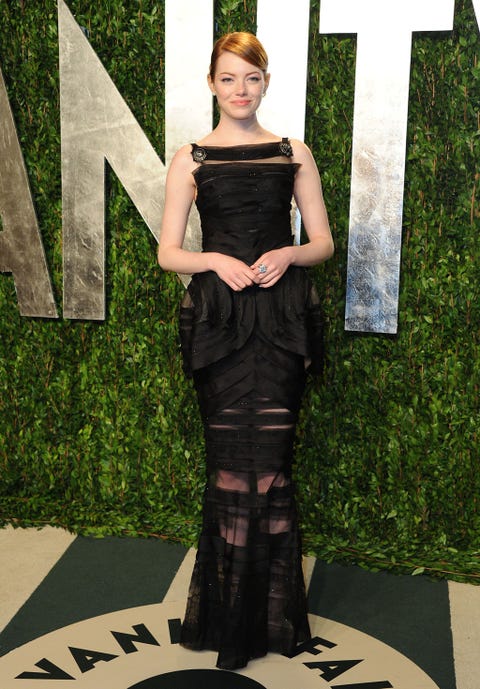 February 26, 2012
She gets dressed to the nines for the Vanity Fair Oscars after party in this black Chanel gown with ornate detail.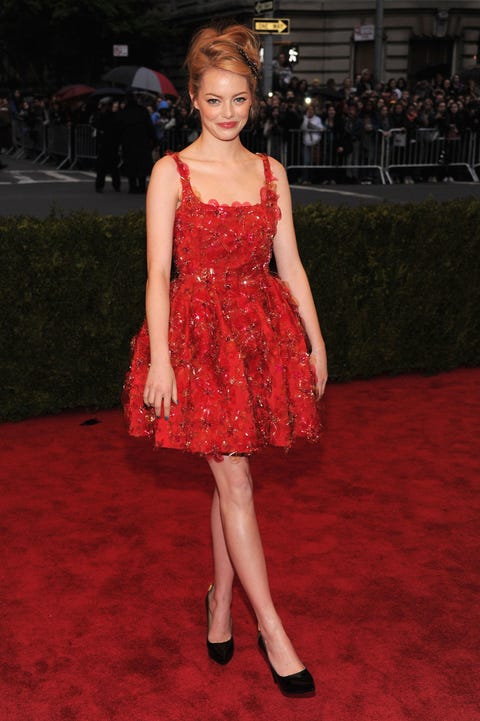 May 07, 2012
The ultimate Lady in Red, Stone achieves cute-meets-vampy in a scarlet Lanvin mini-dress at the Met Gala.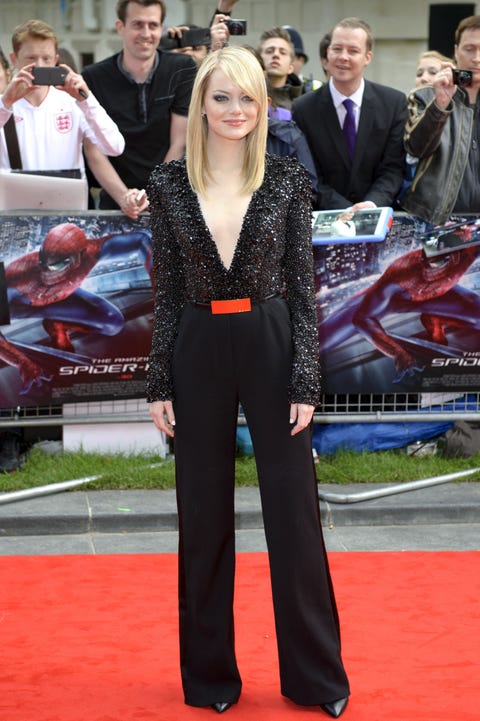 June 18, 2012
Stone proves a jumpsuit can be just as formal as a gown in this embellished, deep-V Elie Saab jumpsuit at the Amazing Spider-Man premiere.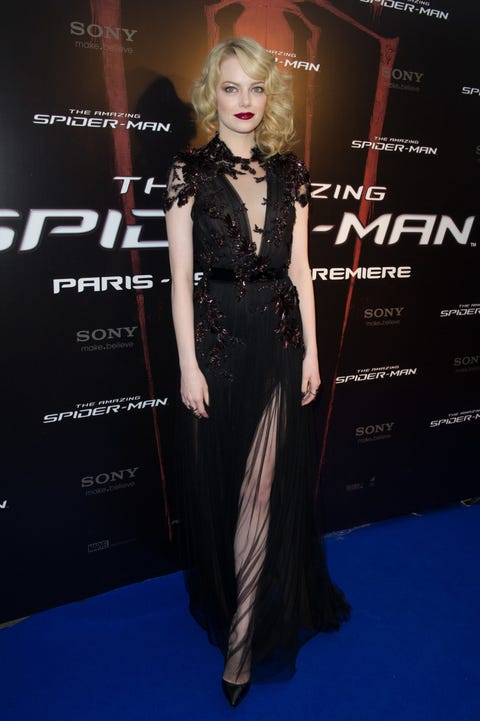 June 19, 2012
Channeling a Roaring Twenties move star, she sports a wine-hued lip and this black Gucci gown with bloom embroidery.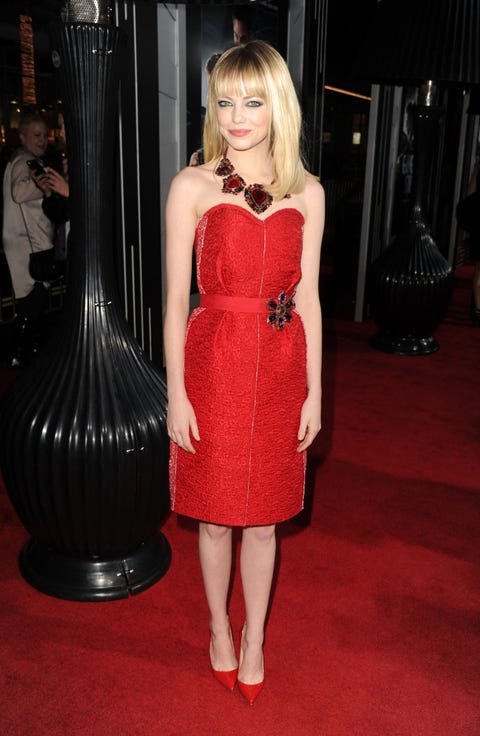 January 07, 2013
Never one to shy away from accessories, she's head-to-toe perfection in this Lanvin sweetheart dress, jeweled statement necklace, and crystal brooch belt at the Gangster Squad premiere.
February 15, 2013
For The Croods premiere, she takes another risk in this Gucci LBD with honeycomb tulle and puffy sleeves.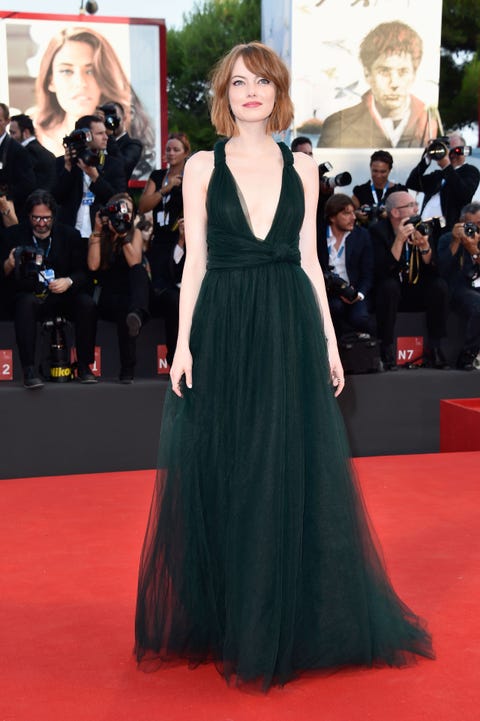 August 27, 2014
For her big night at the Birdman premiere, she's a classic beauty in this hunter green tulle gown by Valentino.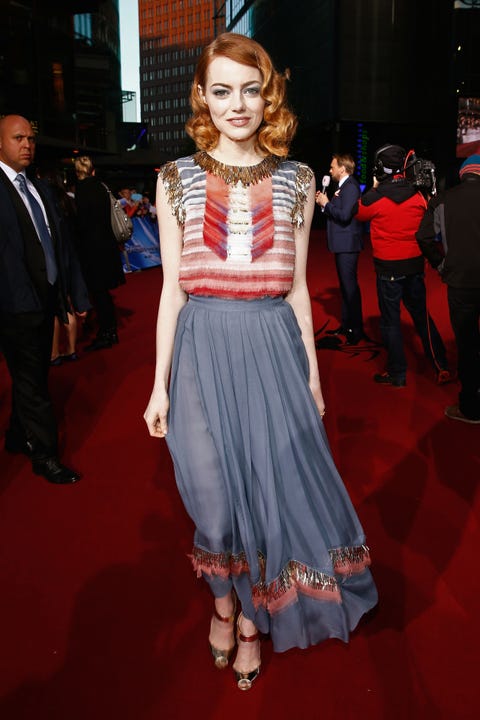 April 15, 2014
At the Berlin premiere of The Amazing Spider-Man 2, she stuns in Chanel wearing a gold-fringed print top and breezy mauve skirt.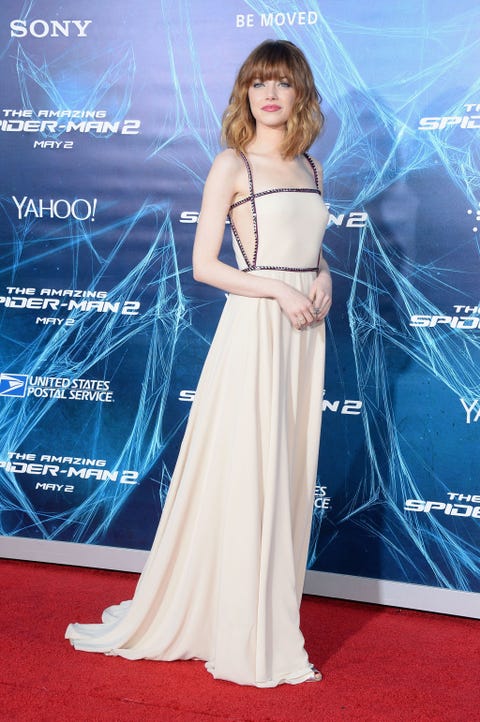 April 24, 2014
The epitome of simple elegance, this cream, chain-strap Prada gown was a perfect choice for the Amazing Spider-Man 2 premiere in NYC.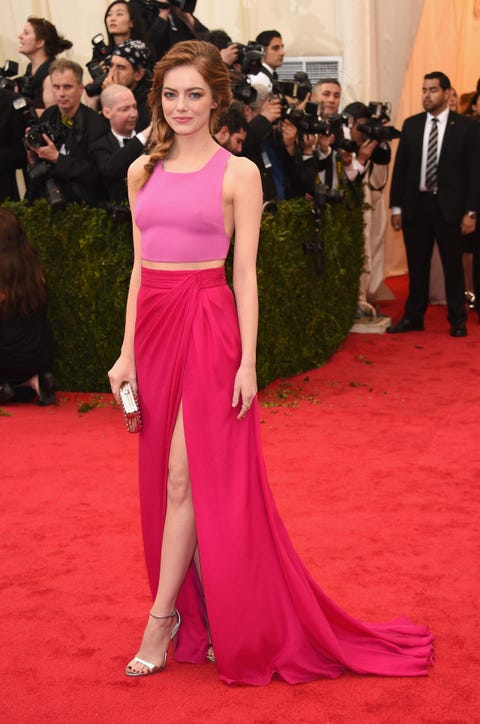 May 05, 2014
Pulling off a crop top and skirt with ease, she's striking in this saccharine Thakoon look at the Met Gala.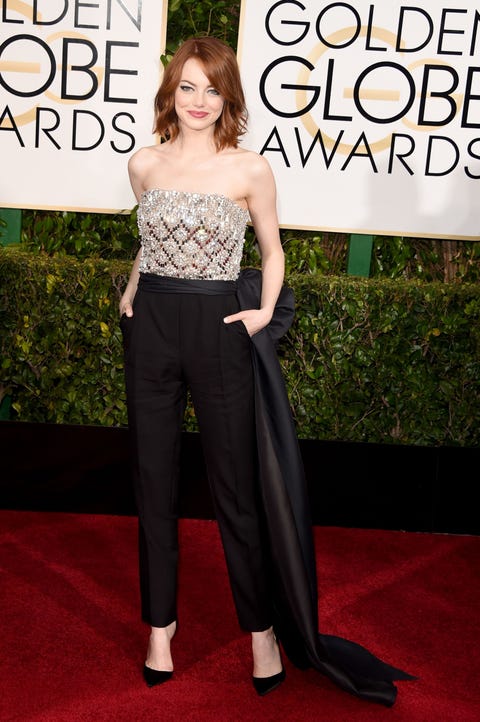 January 11, 2015
She's a best dressed shoe-in in this embellished silver and black Lanvin jumpsuit at the Golden Globes.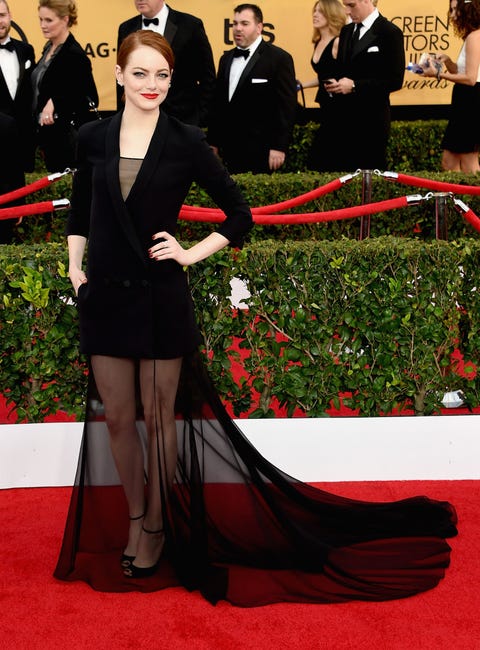 January 25, 2015
A true red carpet risk-taker, Stone killed it at the SAG Awards in a black Dior blazer and chiffon train.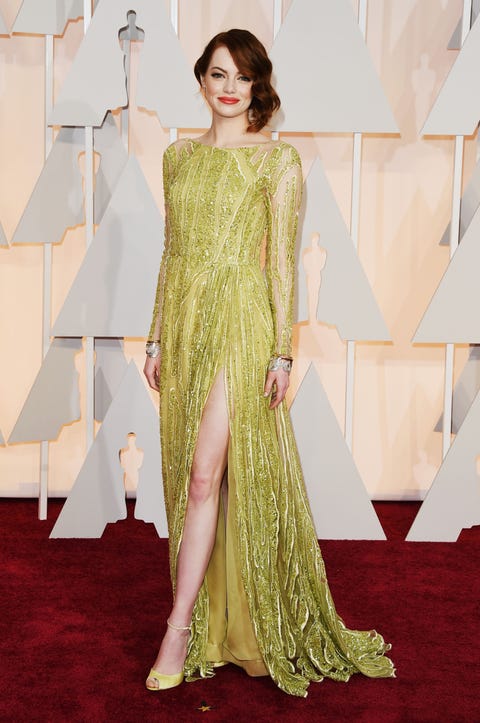 February 22, 2015
A vintage-inspired vision, she goes classic at the Oscars in this beaded yellow Elie Saab number.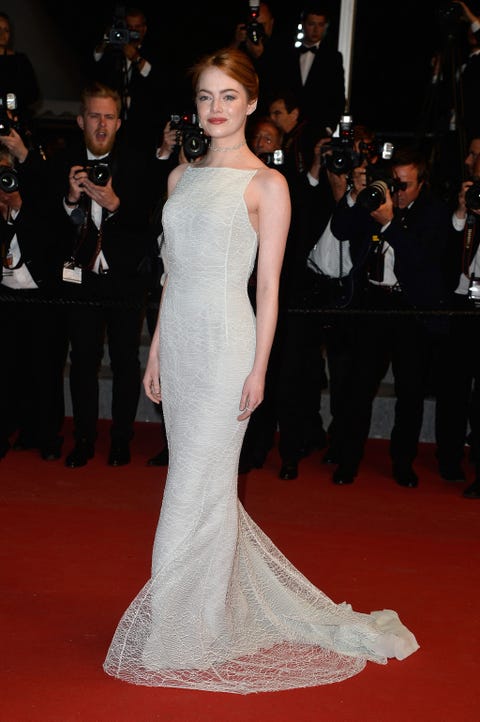 May 15, 2015
Stone brings back the glamour of the '90s in this high-neck Christian Dior gown at the Irrational Man premiere.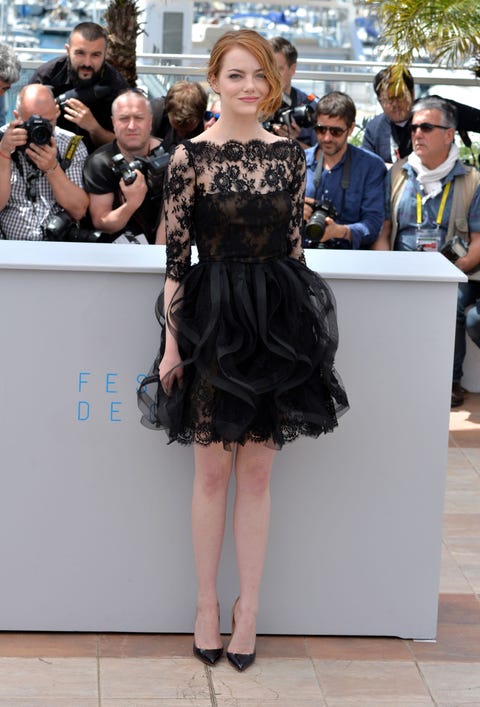 May 15, 2015
Simply breathtaking in this black lace Oscar de la Renta mini-dress at the Cannes Film Festival.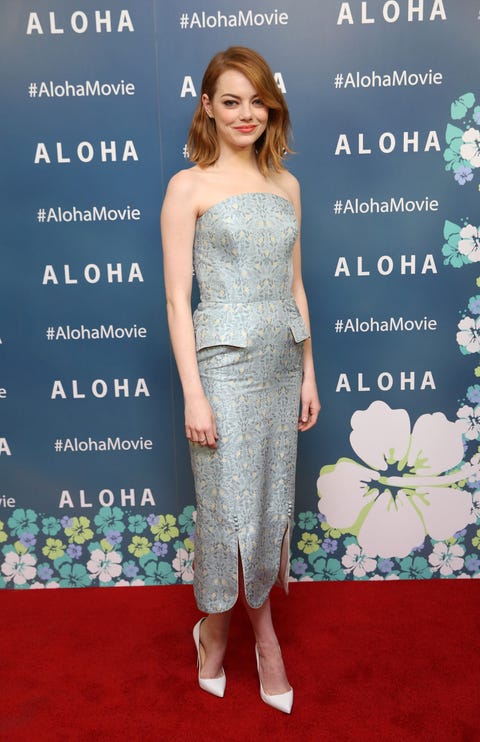 May 16, 2015
She looks ultra-sleek in this Ulyana Sergeenko Spring 2015 Couture floral print, mock peplum dress at the Aloha premiere.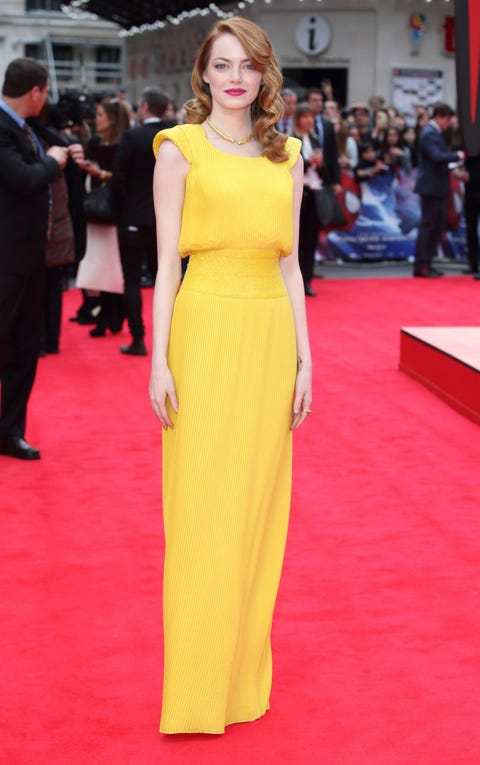 April 10, 2014
Going big for The Amazing Spider-Man 2 world premiere, she knocks it out of the park with this bright yellow Atelier Versace gown.
This content is created and maintained by a third party, and imported onto this page to help users provide their email addresses. You may be able to find more information about this and similar content at piano.io