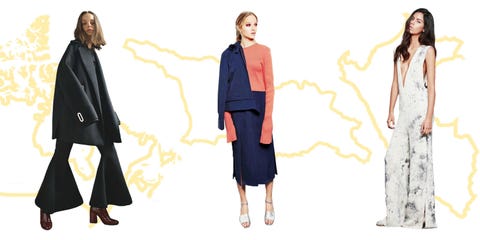 We've reached (and passed) peak French-girl mania, so why not set your style-seeking sights elsewhere? Straight ahead, we give you the rundown on five countries turning out great brands and even greater motivation to dress—and shop—better.
Right now, there's no one doing young, affordable, and cool better than the Australians. (They're also really good at choosing cute names for their brands.) Aside from everything on BNKR, there's the nighttime-sexy, Gigi Hadid-approved Misha Collection, Phoebe Philo/Chloé-sexy Acler (seen above), Coachella-sexy Bardot, and sporty-sexy Asilio. Notice a theme?
No one can stop talking about Beaufille, which made its way stateside for its inaugural NYFW presentation in February, but our friends to the north are producing *so* many more young designers of that caliber/exaggerated sleeve size. There's Kaelen (accordian-pleated sleeves!) and Markoo (not that many sleeves, actually, but still very crisp and cool).
You've probably heard that Berlin's creepy but fun creepy, right? That billing's reflected in the work of the young designers coming out of the city, like Marina Hoermanseder (pictured here), who matches subversive molded Plexiglass bodices with fairy-tale flowers and mint green knickers. Other standout brands: Louise Friedlaender and Augustin Teboul.
Pima cotton and baby alpaca, anyone? As one of the fastest growing economies in the world, Peru produces premium fabrics which its designers then cut and knit into trim, Céline-y silhouettes (AYNI). On the more nontraditional end of things, you've got Claudia Jimenez's evening caftans and El Closet de mi Hermana's sheer, lingerie-inspired separates.