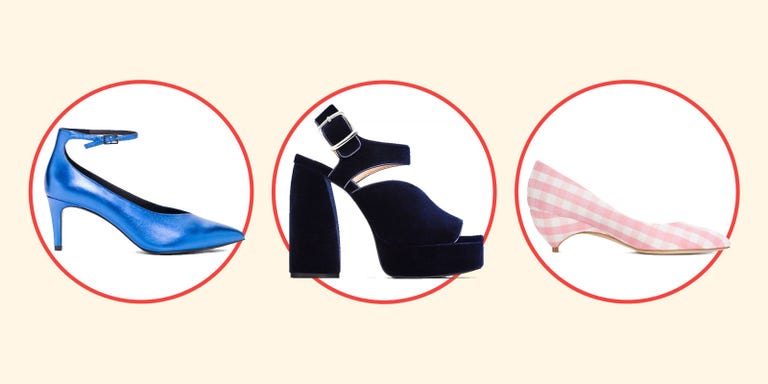 Aside from the spending loads of money and schmoozing and sifting through charger plates on registries, there's nothing worse about wedding season than when your stilettos stick into the ground like golf tees. *This* is precisely why you wear a slightly more sensible block heel or non-clompy wedge, like the 10 mega-comfortable options shown straight ahead.
Ground rules: Lower heels are good but not necessarily better. Ankle straps provide extra security. Looks matter. So this guy checks all the boxes.
Zvelle, $365
BUY IT: zvelle.com.
Looks like some vaguely threatening sculpture, probably handles like a dream, thanks to the sturdy heel and buckle closure.
Zara, $56
BUY IT: zara.com.
Crushed velvet slingbacks: a great option if your vibe for the day is "disapproving rich aunt who's the last to leave the dance floor."
Tibi, $425
BUY IT: tibi.com.
"I just want a basic nude heel, you know?" Ha, sure, Extra McExtrason.
Topshop, $48
BUY IT: topshop.com.
Your dress probably shouldn't be *that* Saint Laurent-esque—translation: very short, even tighter—but your shoes can be.
& Other Stories, $125
BUY IT: stories.com.
Upholster my couch and my coffin in this pink velvet.
Mango, $80
BUY IT: shop.mango.com.
Alternate aunt persona: the chill, arty one who goes off-register and commissions some mobile thingy from her friend in Berlin.
Maryam Nassir Zadeh, $437
BUY IT: needsupply.com.
There's something Kate Foley-ish about a satin-covered platform.
H&M, $35
BUY IT: hm.com.
If you're not going to wear the included (double) anklets, don't talk to me or my son ever again.
Liudmila, $622
BUY IT: farfetch.com.
If I gotta wear an ankle monitor, Imma make it look sexy.
Charles & Keith, $39
BUY IT: charleskeith.com.