How to Get Away with Wearing Your Swimsuit to the Office
The "and not get HR-shamed" bit is implicit.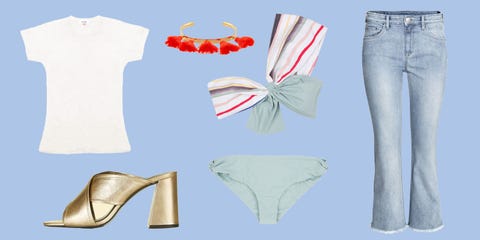 Courtesy, design by Dana Tepper
If you're going to pay $$$ for 2 square inches of fabric...might as well wear it everywhere you can and enjoy the *summer vibes.* But to the office? "Too risky," you say. But that's only because you haven't seen these three genius outfit ideas yet.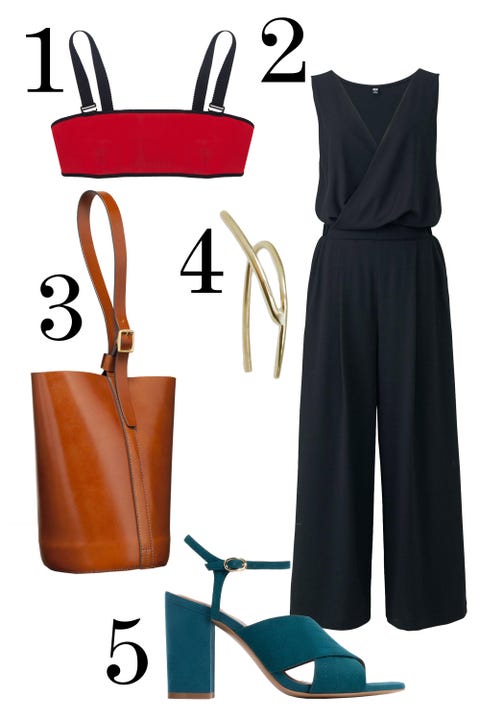 Courtesy, design by Dana Tepper
The contexts might be a bit different, but I've worn a version of this outfit to work before and emerged unscathed. You'd probably normally wear a bandeau under a low-cut-ish jumpsuit anyway, so why not replace that with your bikini top?
1. Ward Whillas convertible bandeau top, $180, wardwhillas.com.
2. Uniqlo crossover jumpsuit, $20, uniqlo.com.
3. Trademark bucket bag, $529, trade-mark.com.
4. Katkim wishbone ear hooks, $185, katkimnewyork.com.
5. Zara suede sandals, $70, zara.com.
Courtesy, design by Dana Tepper
Not even mad that our bodysuit obsession has no surpassed "full-blown." Treat a one-piece like a Didion-esque leotard, top with a skirt and robe, and tie on some heels that could be espadrilles on the weekend.
1. Flagpole Swim color-block swimsuit, $385, flagpoleswim.com.
2. Zara trench coat, $199, zara.com.
3. Aritzia wrap skirt, $150, aritzia.com.
4. J.Crew gingham sandals, $240, net-a-porter.com.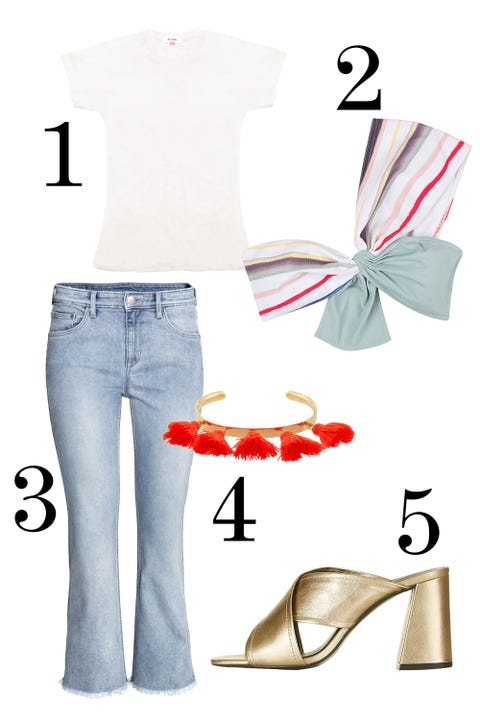 Courtesy, design by Dana Tepper
For the most casual of (summer) Fridays, arrive at the office dive-into-the-pool prepared: Layer your trophy swimsuit top over the perfect white T-shirt, and add just enough real-life accessories to keep things from getting *too* "see you in August."
1. Re/Done slim T-shirt, $78, shopredone.com.
2. Marysia one-shoulder bikini top, $136, marysiaswim.com.
3. H&M kick-flare jeans, $30, hm.com.
4. Marte Frisnes tassel bracelet, $197, matchesfashion.com.
5. Topshop metallic mules, $115, topshop.com.
This content is created and maintained by a third party, and imported onto this page to help users provide their email addresses. You may be able to find more information about this and similar content at piano.io