Marie Claire Plays Fashion Fantasy Football with the Spring Collections
What eight editors would buy if money were no object.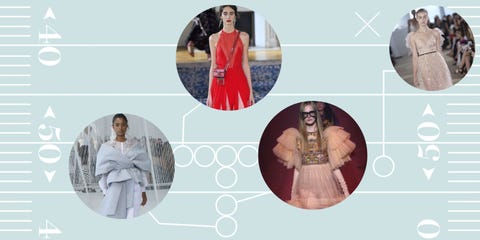 Courtesy, design by Betsy Farrell
From an outsider's POV, regular fantasy football involves picking imaginary teams of real-life players and pitting them against each other using, like, an algorithm or something? And, if you lose, you have to pose for a humiliating/hilarious calendar? IDK. But what I *do* know is that it's also the season for Fashion and that making believe is fun. Here, eight editors draft their top picks from the Spring 2017 shows.
Jessica Pels, Digital Director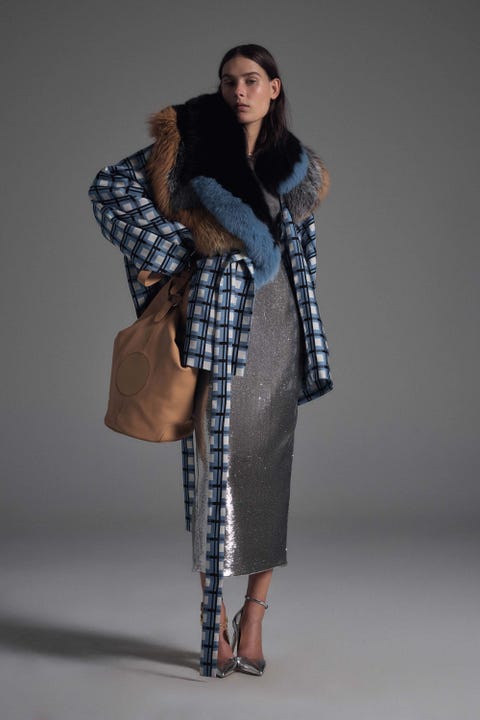 I let out an actual, audible gasp when I saw this look from Jonathan Saunders' first collection for DVF. It's just SO GLAM. Not-found-in-nature-colored fur is my jam (I have a light green mink jacket that's totally insane but I adore), and the print feels so fresh, and the sequined slip dress is so awesomely disco. It's kind of amazing to me that the vibe still comes off a little bit casual, like you might flounce into the office in this one random Tuesday. Don't put it past me…I might.
Samantha Leal, Senior Editor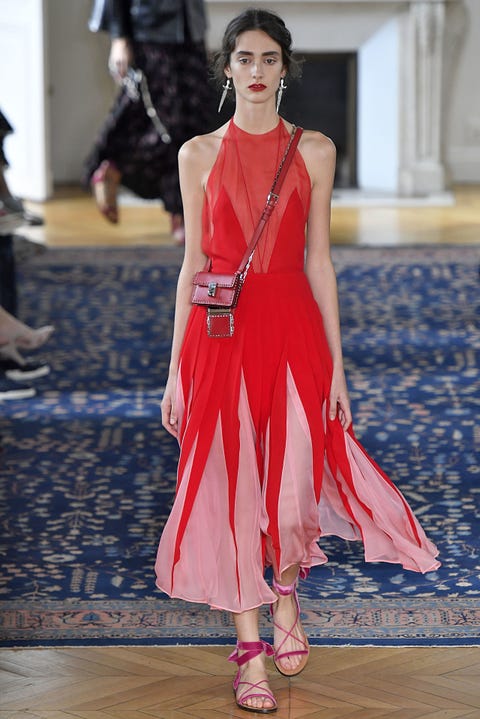 Picking Valentino might be the same as picking Tom Brady—i.e., "Seriously?/do you even know fashion/football/could you have picked something a little more exciting?"—but you'll just be sad when I clean up and look chic AF in this number.
Lauren Bernstein, Senior Editor of Branded Content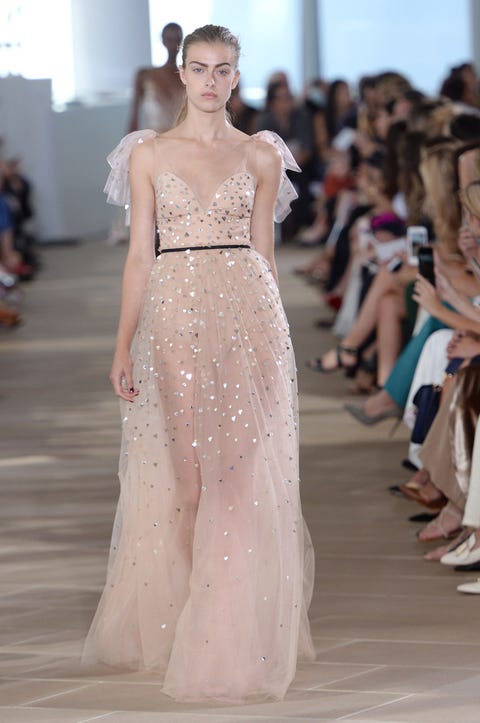 I love all these ethereal, hippie-princess dresses that are all over the place, like at Monique Lhuillier. They're just a teeny bit sexy because they're see-through, but so unbelievably elegant as well.
Lori Keong, Assistant Editor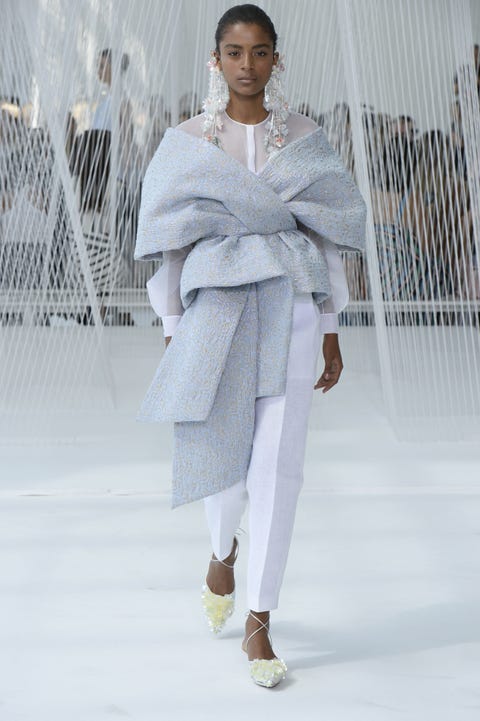 I'm kind of in love with this pants look from Delpozo. It looks so crisp and clean for spring, and an excellent blend of the over-the-top (the massive earrings, hello) and the minimal. The layering is impeccable, the shoes are to die for, and I love anything that contrasts opaque and sheer elements in a clever way.
Koa Beck, Senior Features Editor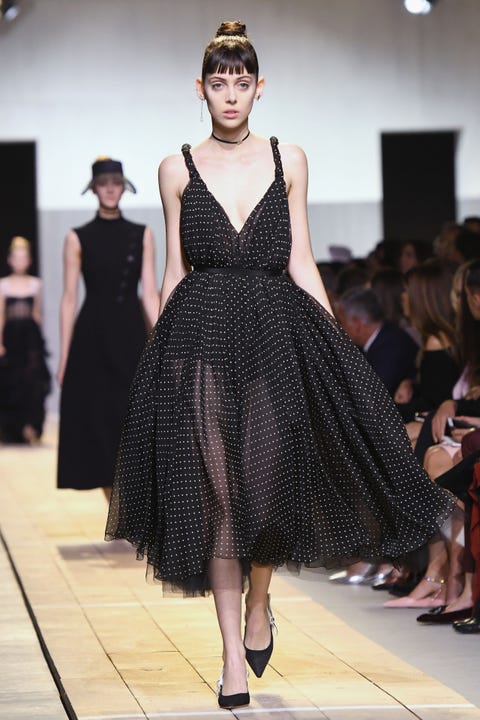 If money were no object, I would have this Dior sundress. I like classic A-line dresses, which Dior is historically known for, but also that it's flouncy, has a tasteful (read: adult) amount of tulle, and that it's modestly transparent.
Lauren Valenti, Beauty Editor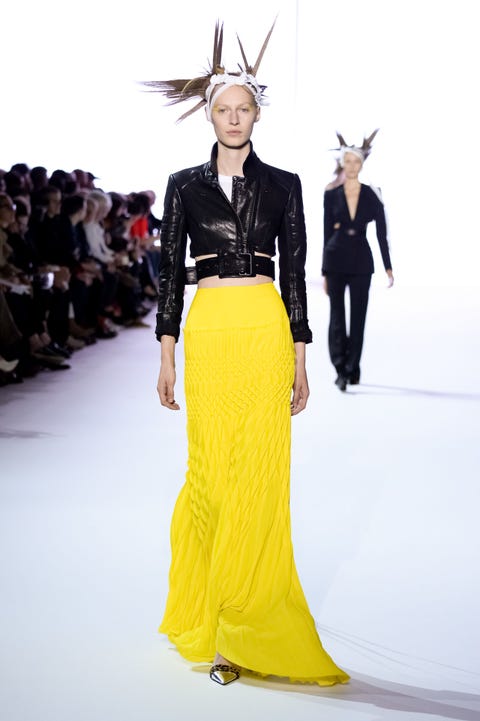 I'm obsessed with the belt-over-bare-midriff look and leather jackets (duh) at Haider Ackermann. I wish the skirt was a little less neon, but the shape more than makes up for it.
Mehera Bonner, Senior Entertainment Editor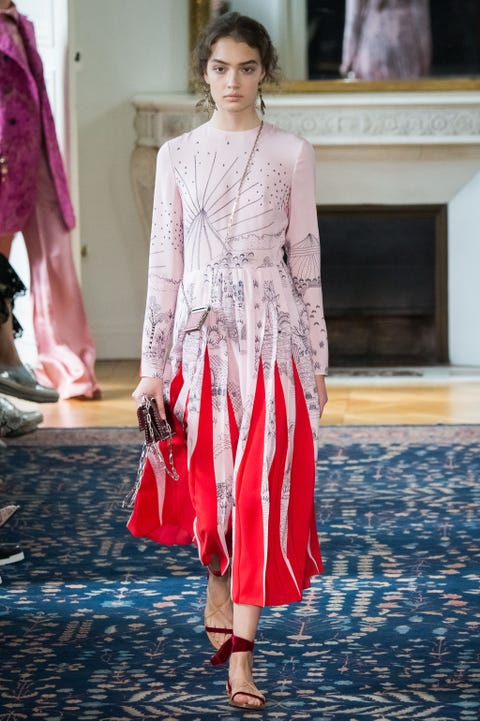 This Valentino dress is inspired by The Garden of Earthly Delights by Bosch, which is one of my favorite pieces of art. I love that Valentino incorporates the designs of great artists, and this piece is pure romance.
Chelsea Peng, Assistant Editor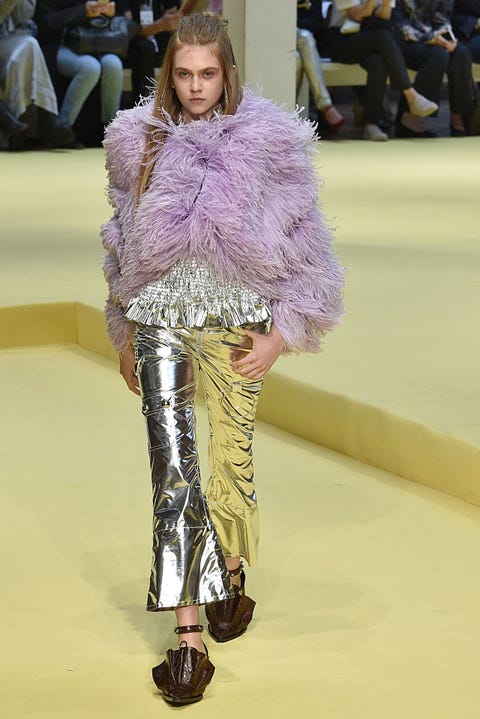 This is my show, so I get extra picks. Deal with it. First, a Marques Almeida ensemble that combines all my favorite things in life: marabou, tinfoil, and shoes they skinned Khaleesi's dragons to make. Kidding! Not.
Chelsea Peng, Assistant Editor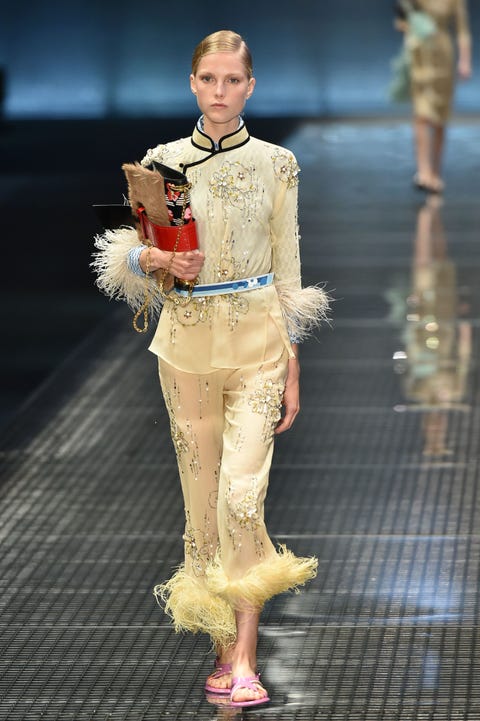 Next, Prada pyjamas (yes to the spelling, yes to more feathers) that I would wear while I lounged amongst my coromandel screens and dispensed bon mots to my much-younger suitors, minus the ones I've had my lady's maid Greta kick out because they won't stop vaping.
Chelsea Peng, Assistant Editor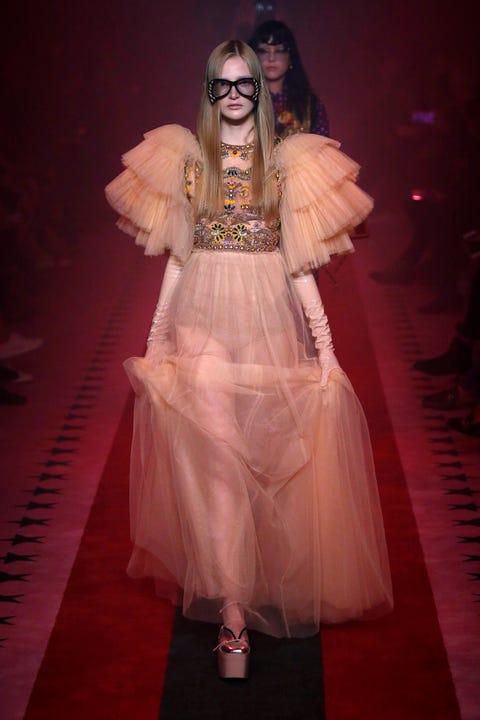 Finally, this Gucci extravaganza to wear whenever.
This content is created and maintained by a third party, and imported onto this page to help users provide their email addresses. You may be able to find more information about this and similar content at piano.io