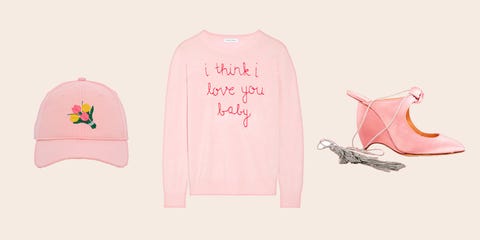 Some places have already called a time of death on millennial pink, but wait—isn't it just...a color? Whether you believe calling a rosy hue by any other name makes it any different from its non-feminist/gender-neutral form, here, shop 12 items in honor of National Pink Day (real).
Does your medicine cabinet need a "Moisturizing Sorbet Cream?" Yes. Yes, it does—and not just for the Top Shelfie.
Caudalie, $39
BUY IT: us.caudalie.com.
With marbled acetate and real gold hardware, this is an Italian villa you can wear on your face.
Krewe, $315
BUY IT: krewe.com.
Checks all the basic-but-aren't-we-all boxes: bubbles, rosé, limited-edition.
Chandon, $28
BUY IT: chandon.com.
Aprons: They're not just for hanging in your kitchen because you can't even microwave popcorn without it exploding anymore.
Rebecca Vallance, $510
BUY IT: net-a-porter.com.
Rolls like a dream, weighs itself, and won't get lost amongst all the dreary black/silver cases.
Raden, $295
BUY IT: raden.com.
On sale! On my mind for the past two years!
Liudmila, $457
BUY IT: aere-store.com.
Dreaming of living in this little linen playsuit all summer.
Sleeper, $220
BUY IT: the-sleeper.com.
Don't leave home without it. (Seriously—a silk eye mask makes tossing and turning on a plane the temperature of a meat locker so much nicer.)
Slip, $45
BUY IT: sephora.com.