Why I'm Not Serving Dinner at My Wedding
Don't judge me.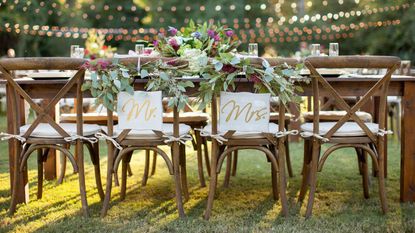 (Image credit: Getty)
Oh, planning a wedding. So much joy, so much headache. I'm only about a month into the process (venue secured—woot!) and while there are so many unknown variables at this point (sweetheart cut or sleeves? Cake or dessert table?) I know one thing for sure: I'm not serving dinner. Okay, okay, before y'all freak out on me, hear me out. I've thought long and hard about this decision.
1. Cocktail hour is the most fun part of every wedding.
So, why limit it to an hour?! I want the whole event to be one big mingle-fest! There will be seats for elderly guests and so people can put their feet up (six straight hours in heels no thank you!), but there will not be seats for every guest.
2. A long dinner is boring.
There, I said it. IM, a solid cocktail hour gets the party started, with mingling and drinking and eating, and then we all get shepherded to our seats where we sit...FOREVER. By the time you're supposed to dance, I need a double shot of espresso just to muster enough energy to get out there.
3. Don't make me pick chicken or fish.
Think back on most of the wedding food you've eaten...are you remembering the best food you've ever had? Of course not. Wedding catering is notoriously mediocre—and same 'ol. I don't want to send out another invitation with the option of chicken or fish or steak (but only if you're willing to spend the *big bucks*). I'd rather give people enough fun—and still hearty!—appetizers that they fill up without feeling bored. And no, that doesn't mean people are pecking at a cheese tray all night. Small bites that you can eat with your hands, like empanadas, lamb chops and kebabs can still satisfy as a meal.
Lindsay Funston is a food editor who has more than 10 years experience tasting everything from pickles to bloody marys, writing about food trends, and creating easy recipes.