The Best Alarm Clock Ever Brews Your Morning Coffee
Because some of us can't even get out of bed without caffeine.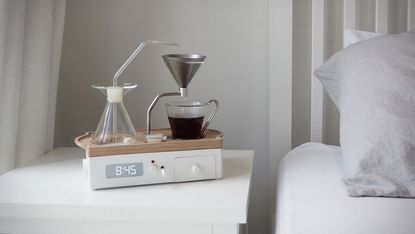 (Image credit: Archives)
Waking up to the smell of freshly brewed coffee is one of life's singular pleasures. Too bad it comes with a downside: Someone actually has to get out of bed to brew it. Enter the most amazing thing to happen to every not-a-morning-person worldwide, the alarm clock that brews your coffee.
Designed by Joshua Renouf, the Barisieur (opens in new tab) is every coffee drinker's dream come true because it'll boil the water, pour it over your grinds, keep your cream or milk cool, and corral your sugar. Though it's currently still in development for mass retail, the alarm clock is available for preorder via a waitlist on Renouf's site (opens in new tab). But this kind of convenience is going to set you back quite a bit—about $300 to $380.
The alarm clock is designed with walnut wood, stainless steel, and glass vessels. Induction heat travels to stainless steel balls inside the water carafe until it boils, then the water is transported to the pour-over stainless steel filter through a spout. Then it steeps and slowly drips into your coffee mug, where it's kept warm on a hot plate. Just add your milk or cream, and a couple spoonfuls of sugar—all conveniently located in the gadget.
The best part is that Renouf made sure the alarm and brewing can both be tailored to your morning habits. If you know you're a snoozer, you can set the coffee to begin brewing up to 30 minutes after the alarm goes off. If you want your cup immediately, set to start five minutes before your alarm. And if you're a really stubborn sleeper, you can even set the brewing to be activated only when you flip a switch on the side so your cup will be perfectly fresh when you're finally ready to get up and at 'em.
You do have to set everything up the night before—scoop the grounds, fill it up with water, and portion your milk. But Renouf hopes this will become a ritual for users, "a signal to the body and mind that it is time to unwind and relax." You know, instead of staying glued to your iPhone until you pass out. Though he has thought of that as well and added a USB outlet to charge your device.
Follow Marie Claire on Facebook (opens in new tab) for the latest celeb news, beauty tips, fascinating reads, livestream video, and more.