Please Don't Serve Cake at Your Wedding
My mouth is dry just thinking about it.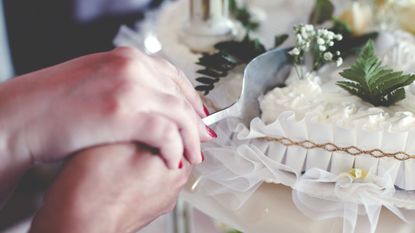 (Image credit: Archives)
It's the final hour of a wedding. The heels are off, you're dancing to "We Are a Family," the flower girl is asleep on a bench somewhere, the bride's careful hairdo is disheveled. You return to your seat to check your phone and there it is: a sad, dry slab cake. The flavor is theoretically "vanilla" but it just tastes like whiteness, a crumbly blank space. A thick gooey stripe of fake neon-bright strawberries, or melty chopped bananas, differentiate the layers, which are falling away from each other. It tastes like a stale dinner roll. You abandon the plate after a forkful and go back to the dance floor.
Ew.
Nobody likes wedding cake, because no bakery has ever produced a good wedding cake, and that is something we can amend by never serving a wedding cake again.
The death knell of the classic dessert came in the form of those popular naked cakes of recent wedding seasons, which forgo icing—a necessary feature of the recipe, as it keeps the moisture inside the cake!—in order to look good on Instagram. But they don't look good enough to justify making your guests suffer like this.
Let me level with couples who may be planning their nuptials now: Eliminating wedding cake is a great way to save a huge chunk of money. Bakeries charge thousands of dollars for something that the majority of your guests won't even touch. They won't notice if it doesn't appear, because they'll be too busy dancing and enjoying themselves. This rule also goes for favors; guests often leave those carefully chosen keychains or crafts or bags of Jordan almonds behind. Save your $$$.
Of course, you need that photo of the couple cutting into a cake, and subsequently shoving it into each other's faces. And I'd never suggest anyone forgo dessert—not in this political climate. But this photo opp can be accomplished with any dessert!
Here are some ideas: a mix-and-match selection of pies and ice creams. I attended a wedding where this happened, and I hate a whiskey-pecan slice with lavender ice cream on top. How amazing is that? You could also do cookies, passed around the room like hors d'oeuvres. There could be a chocolate fountain, where guests dip in fruits and pretzels. Yummm.
In this era of Pinterestified weddings, where every detail of invites and flowers and his-and-hers cocktails are customized for maximum Instagram love, don't you want your dessert to be memorable? You can accomplish this by serving a unique dessert. Anything but cake. Don't let them eat cake.
Follow Marie Claire on Facebook for the latest celeb news, beauty tips, fascinating reads, livestream video, and more.
Celebrity news, beauty, fashion advice, and fascinating features, delivered straight to your inbox!