The Best Peach Crumble Recipe Ever
I'm not a huge dessert fan, but when I need to satisfy my sweet tooth, I reach for something simple and homemade. This peach crumble recipe is a Thanksgiving classic in my family and offers a bit of variety between your typical apple and cherry pies. Enjoy!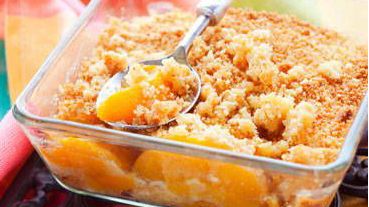 (Image credit: Getty)
Ingredients:
3-4 pounds fresh peaches, peeled with pits removed and sliced into small pieces (if fresh peaches aren't available, canned will work too)

1 cup all-purpose flour

1 cup granulated sugar

3/4 cup butter, melted

1/4 cup brown sugar

1 teaspoon ground cinnamon

1/2 teaspoon salt

1 large egg, beaten
Preparation:

Preheat oven to 375-degrees.
Combine sliced peaches and brown sugar in a bowl. Use a wooden spoon to mix together. Put the mixture into a buttered 11- x 7-inch baking dish.
Combine the flour, sugar, salt, and cinnamon, stirring to blend well. Add the egg, stirring lightly with a fork until the mixture is crumbly. Sprinkle the crumb mixture evenly over the peaches then drizzle with the melted butter. Bake at 375 degrees for 40 to 45 minutes, or until lightly browned. Serve warm, but totally divine the next day when eaten with a fork straight from the fridge.