The 13 Greatest Iced Coffee Recipes for Summer
Cool down and caffeine up with these delicious iced coffee drinks that you can make at home!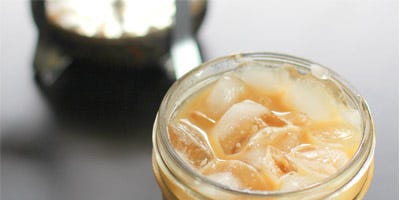 Cool down and caffeine up with these delicious iced coffee drinks that you can make at home! Via Redbook.com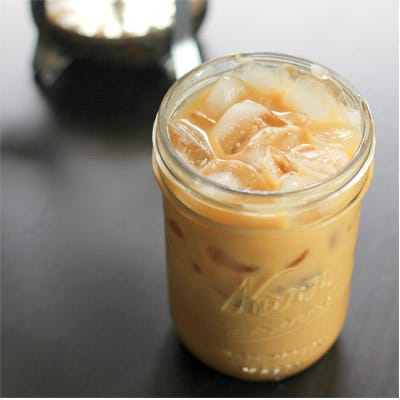 Sweet Cinnamon Iced Coffee
Ingredients:
1 1/4 cups water
1/4 cup coarsely ground dark roast coffee
2 3-inch cinnamon sticks
2-3 Tbsps sweetened condensed milk, to taste
Directions:
Using your microwave or stovetop, heat the water until it just boils, then remove it from heat and allow it to cool for one minutes. Place the ground coffee in the cylinder of a French press along with the cinnamon sticks (make sure the cinnamon lies flat so that you don't run into problems when you depress the plunger later on). Pour the hot (but not boiling) water over the grounds and stir the mixture briefly (a chopstick works very well here). Place the lid on the French press, leaving the plunger in its upper position. Allow to steep for 4 minutes. Once the brewing if complete, slowly move the plunger to its lower position and pour the coffee into a heat-safe glass or mug. Add in 2-3 Tbsps of sweetened condensed milk and stir until fully dissolved. Pour over ice.
Makes 1 16-oz glass
Recipe courtesy of Christie from pepperlynn.com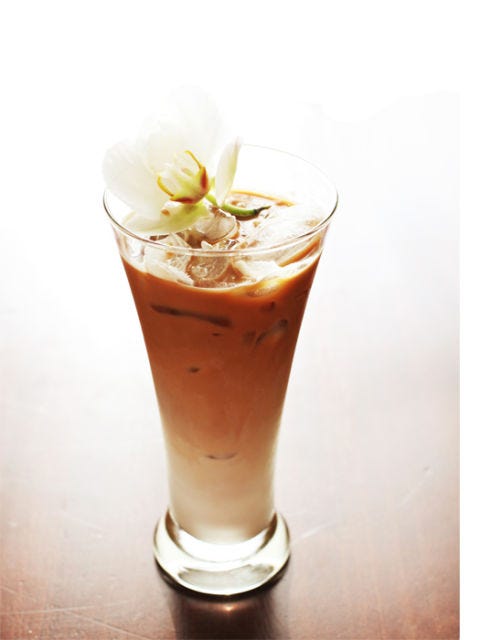 Thai Iced Latte
Ingredients:
2 shots of espresso (or 1/2 cup of super strong coffee)
2 cardamom pods (seeds only) ground to a fine powder (or 1/4 tsp of cardamom powder)
1 Tbsp of sugar
2 Tbsps of condensed milk
1 cup crushed ice
1 cup milk
Directions:
In a tall glass, add sugar, condensed milk, milk, cardamom, and espresso and stir until well combined. Then add crushed iced slowly and serve.
Recipe courtesy of Alice from savorysweetlife.com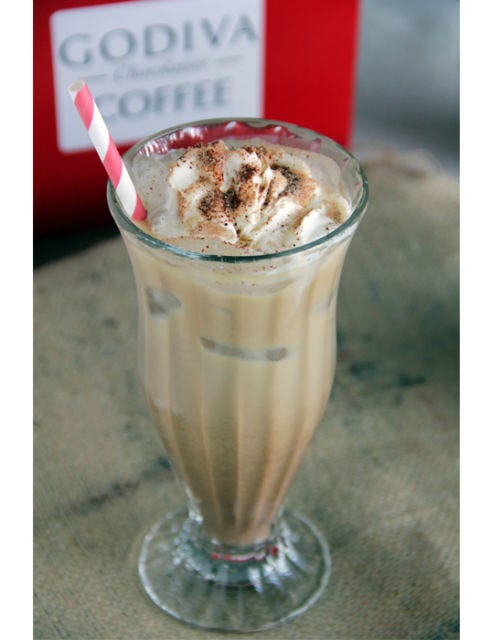 Spicy Godiva Iced Mocha
Ingredients:
Spicy Mocha Mix (makes 4+ servings):
1 Tbsp Vietnamese cinnamon
4 Tbsps unsweetened cocoa powder
2 Tbsps sugar
1/4 tsp nutmeg, freshly grated
1/2 tsp Chipotle pepper
Drink (yields 1):
8 oz Godiva Chocolate Truffle Coffee, prepared from your coffeemaker
8 oz milk
1/2 glass of ice cubes
Toppings: whipped cream, chocolate shavings, cinnamon/nutmeg/chipotle powder
Directions:
Combine the coffee and 1 heaping Tbsp of spicy mocha mix in a small pitcher, and stir to blend until the chocolate mix dissolves. Add the milk and ice cubes, stirring gently. Pour into a large glass and add the desired toppings and serve immediately.
Recipe courtesy of Krystal from mrsregueiro.com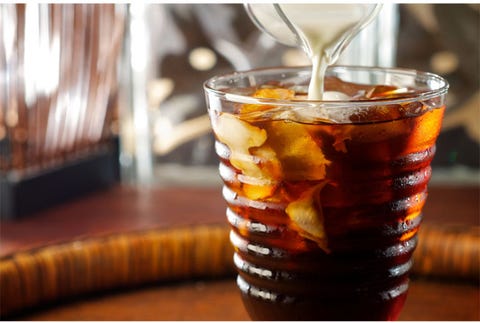 Caramel Latte Iced Coffee
Ingredients:
3/4 cup fresh brewed dark roast coffee, chilled
2 Tbsps Torani caramel syrup
4 Tbsps Half & Half
Ice, as needed
Directions:
Fill a large glass with ice. Add chilled coffee and caramel syrup and stir until blended. Add Half & Half and stir to blend. Adjust caramel syrup and Half & Half if needed.
Recipe courtesy of foodchannel.com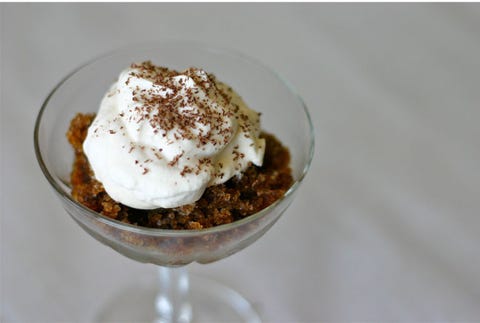 Coffee Granita
Ingredients:
2 cups of double-strength coffee or espresso
1/2 cup of sugar (try Turbinado sugar for something less processed)
1 tsp cinnamon
Toppings: whipped cream or chocolate shavings
Directions:
Brew coffee or espresso. Mix in sugar and cinnamon and let the mixture sit until it has cooled off to room temperature. Pour the mixture into an 8-inch glass baking dish, cover with plastic wrap and set in the freezer. Remove the mixture from the freezer every 30 minutes to stir, breaking up the ice crystals. Continue to remove and stir for 2-3 hours until the mixture is hard enough that you need a fork to break up the ice. Once the granita is frozen to the correct consistency, you can either serve it right away or let it sit in the freezer overnight. Top with whipped cream and chocolate shavings. Serve in a chilled glass.
Recipe courtesy of Alysa from inspiredrd.com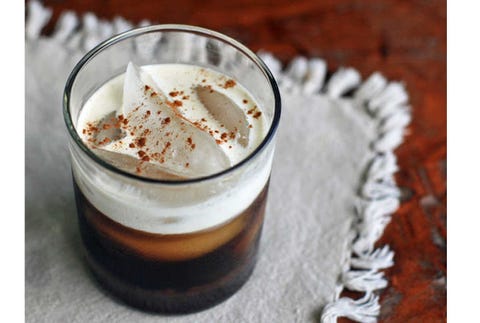 Iced Mexican Coffee with Café de Olla
Café de Olla Ingredients:
5 cups water
4 large cinnamon sticks
6 whole cloves
4 star anise
1/4 cup white sugar
1/4 cup lightly packed brown sugar
3/4 cup ground dark roast coffee beans, regular or decaf
Café de Olla Directions:
Combine water, cinnamon sticks, clove, star anise, and white and brown sugar in a medium saucepan. Stir and bring to a boil and then reduce heat to low and simmer, uncovered, for about 25-30 minutes. Remove from heat and add the ground coffee. Stir and cover, let steep for 5 minutes. Pour through a sieve lined with a coffee filter, or just use your coffee maker and pour directly over your lined coffee grinds basket.
Serves 4
Iced Mexican Coffee Ingredients:
1 Tbsp chocolate syrup
Ice cubes
1 shot coffee liquor
1/2 cup cold Café de Olla
1 Tbsp heavy cream or Half & Half
Pinch of cinnamon
Iced Mexican Coffee Directions:
Drizzle some chocolate syrup on the bottom of a glass. Add ice cubes, the shot of coffee liquor and Café de Olla. If you'd like to create a floating layer of cream, carefully pour the cream over the back of a spoon on top of the drink. Sprinkle with a pinch of cinnamon.
Recipe courtesy of Cate at girlcooksworld.com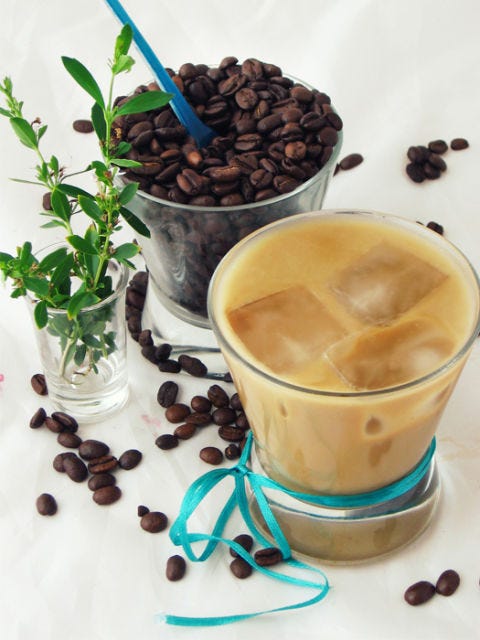 Coconut Iced Coffee
Ingredients:
2 tsps instant coffee
2 1/2 tsps sugar
2 Tbsp boiling water
1/4 tsp vanilla essence
1/4 cup coconut milk
1/4 cup ice-cold water
1/2 cup cold milk
A few ice cubes
Directions:
Add coffee granules, sugar and boiling water to a glass, stirring until the coffee and sugar has dissolved. Add coconut milk and vanilla essence, stirring to fully incorporate it into the coffee mixture. Top with cold water and cold milk, add a few ice cubes.
**Note: Do not be tempted to add the last few ingredients in any order - the coconut milk will not properly mix in if added after the cold water and milk
Serves 1
Recipe courtesy of Marisa at thecreativepot.net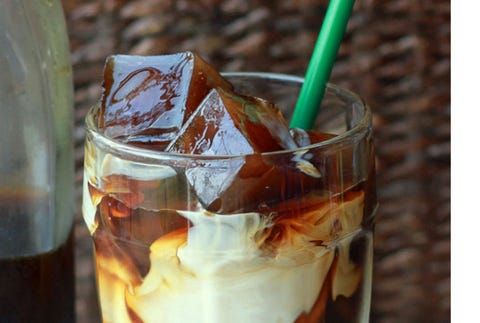 Coffee Ice Cubes
Ingredients
Brewed coffee
Ice cube tray (Try a silicone ice cube tray)
Directions
Let brewed coffee cool to room temperature. Pour coffee into ice cube trays and freeze completely. Use in place of ice cubes in your favorite cold coffee beverage.
Recipe courtesy of Kare at kitchentreaty.com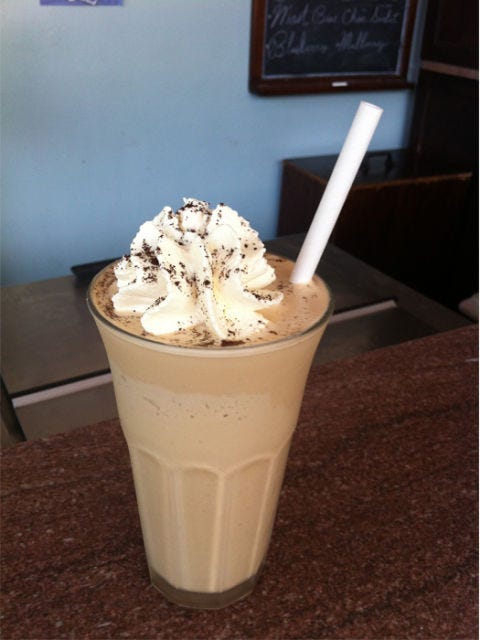 Double Espresso Shake
Ingredients
Coffee ice cream
Espresso, brewed
Whipped cream, for garnish
Directions:
In a blender, combine 3 baseball-sized scoops of coffee ice cream with 2 shots of freshly brewed espresso. Process until smooth. Pour into a glass and garnish with a dollop of whipped cream and a sprinkle of finely ground espresso.
Recipe courtesy of The Franklin Fountain in Philadelphia, Pennsylvania.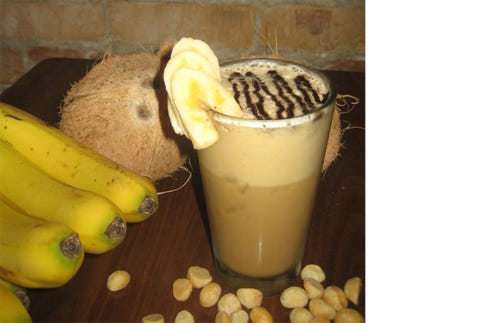 Gorilla Hug
Ingredients:
1 oz macadamia nut syrup
1 oz coconut syrup
1 oz banana syrup
3 oz espresso
7 oz milk of your choice
Directions:
Combine three syrups, milk and espresso. Pour over ice and enjoy!
Recipe courtesy of Cafe Hey in Tampa, Florida.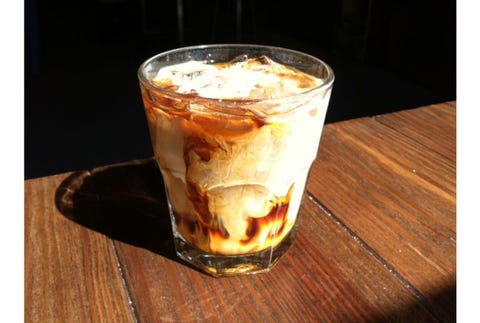 New Orleans Cold Drip Coffee
Ingredients: (Makes 8 cups coffee concentrate)
1 lb dark roast coffee and chicory, medium ground
10 cups cold water
Ice
Milk
Directions:
Put coffee in a nonreactive container, like a stainless-steel stockpot. Add 2 cups water, stirring gently to wet the grounds, and then add remaining 8 cups of water, agitating the grounds as little as possible. Cover and let steep at room temperature for 12 hours. Strain the coffee concentrate through a medium sieve, then again through a fine-mesh sieve. Fill a glass with ice, and add 1/4 cup coffee concentrate and 3/4-1 cup milk, then stir.
Recipe courtesy of Blue Bottle Coffee in Oakland, California.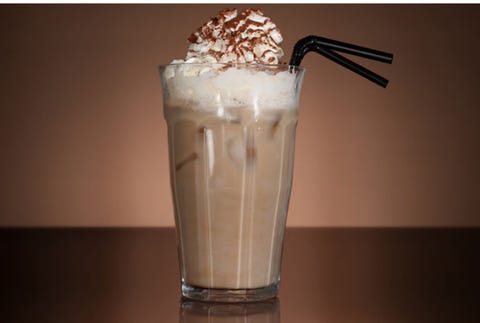 Blended Vanilla Mocha
Blended vanilla mocha
Ingredients:
1/4 cup chilled strong coffee
1/4 cup ice cubes
1/4 cup milk
1 cup vanilla ice cream
1 Tbsp chocolate syrup
Whipped cream, for garnish
Directions:
Combine coffee, ice cubes, milk, ice cream and chocolate syrup in a blender and blend until smooth. Pour into a large glass and garnish with whipped cream.
Recipe courtesy of sheknows.com
This content is created and maintained by a third party, and imported onto this page to help users provide their email addresses. You may be able to find more information about this and similar content at piano.io