10 Comfort Foods That Are Better Than Your Boyfriend
It's a food affair.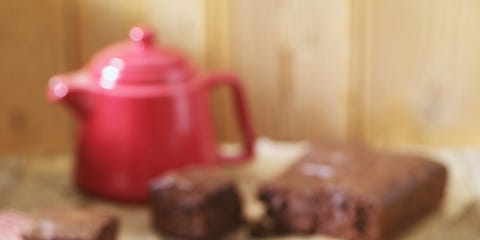 It's a food affair.
Brownies
In the mood for some afternoon delight? This quickie brownie recipe is ready for you any day, any time.
Ingredients:
Olive oil cooking spray 2/3 cup mild honey, such as clover or orange blossom 1/3 cups natural, unsweetened cocoa powder 1/2 cup white whole-wheat flour 1/4 teaspoon aluminum-free baking powder 1/4 teaspoon baking soda 1/4 teaspoon salt 1/2 cup unsweetened applesauce 2 tablespoons olive oil 1 large egg, at room temperature 3/4 teaspoon pure vanilla extract
Directions:
1. Preheat the oven to 350°F. Spray an 8-inch square pan with olive oil. Set aside. 2. Place the honey in a large glass measuring cup. Microwave on high power until the honey is runny and just bubbling, 45 to 60 seconds. Add the cocoa and stir with a fork until well combined. Let cool to room temperature. 3. Meanwhile, in a small bowl, place the flour, baking powder, baking soda, and salt. Whisk until well combined. 4. In a large bowl, combine the applesauce, oil, egg, and vanilla. Whisk together until well blended. Add the honey-cocoa mixture and whisk until smooth. Add the flour mixture to the liquid mixture and stir until no traces of flour remain. Scrape the batter into the prepared pan. 5. Bake until the surface looks dry around the edges of the pan and a toothpick inserted in the center comes out with moist crumbs clinging to it, about 25 minutes. Do not over bake. Place the pan on a cooling rack and let cool completely before slicing into 16 squares. (Store the brownies in an airtight container at room temperature for up to 3 days.)
Calories:
86.2
via Jillian Michaels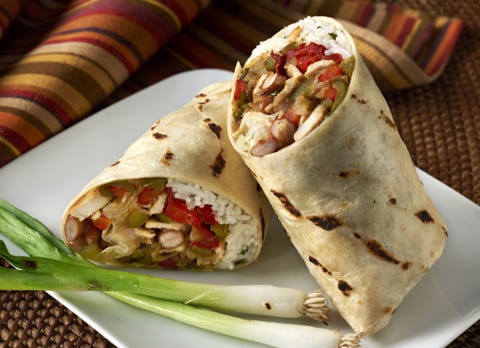 Burrito
Replace date night with your beau with a healthy bean burrito, plus no after-meal regrets!
Ingredients:
4 burrito-size whole-wheat tortillas, warmed 1 cup shredded rotisserie chicken, warmed 1 cup black beans, rinsed and warmed 1 cup cooked quinoa or brown rice 1 cup grated Monterey Jack 1 cup fresh cilantro sprigs 1/2 cup low-fat Greek yogurt 1 avocado, sliced 1 cup corn salsa
Directions:
1. Dividing evenly, top the warmed tortillas with the chicken, beans, quinoa, Monterey Jack, cilantro, yogurt, and avocado. 2. Roll into burritos and serve with the salsa.
Calories:
697
via Real Simple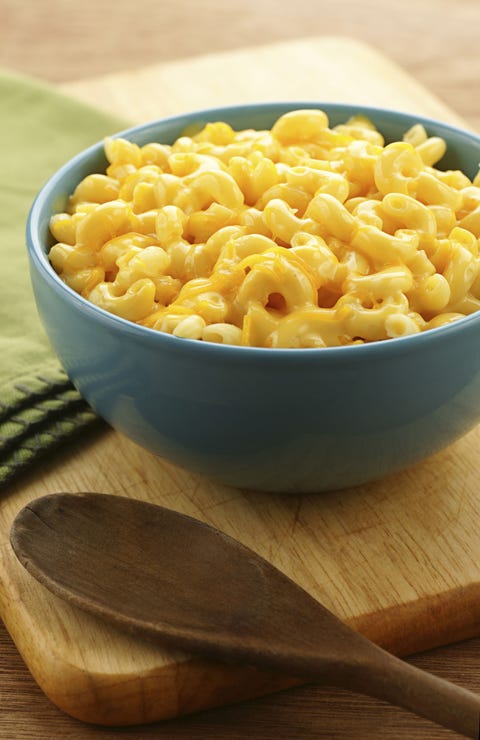 Macaroni and Cheese
The warm gooeyness of this healthy mac and cheese will melt your heart more than Drew Barrymore in a Rom-Com.
Ingredients:
2 cups uncooked elbow macaroni—whole wheat, low glycemic, gluten free—any will work. 1 tablespoon butter 1 small yellow onion 1 small butternut squash (4-5 cups cubed) 5 cups chicken or vegetable broth 3/4 cup milk 1 teaspoon salt 2/3 cup shredded cheese—I like Gruyère, but any kind will work. Parsley for topping Salt and pepper to taste
Directions:
1. Cook the macaroni according to package directions. Drain and set aside. Heat the butter in a large skillet over medium low heat. Cut the onion into thin rings and add to the butter in the pan, sautéing over low heat until fragrant and golden, about 20 minutes. 2. Meanwhile, remove the skin and the seeds from the squash. Cut the flesh into small cubes. Bring the broth to a boil and add the squash. Cook for 5 to 7 minutes or until fork tender. Drain, reserving 1/2 cup broth, and transfer squash to the blender. Add the onions, milk, salt, and reserved broth and puree until completely smooth and creamy. This should yield about 4 cups sauce. 3. Pour the pureed sauce over the cooked noodles and add the shredded cheese. Stir to melt the cheese; add water or milk to adjust consistency as needed. Serve with parsley, salt, and pepper to taste.
Calories:
369
via Pinch of Yum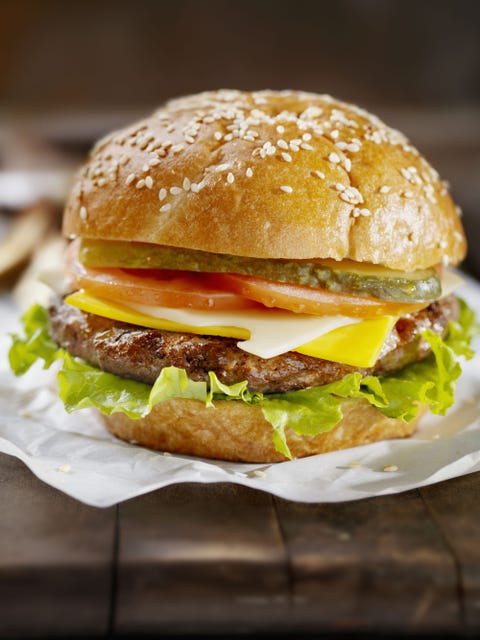 Burger
Who doesn't love a good pair of sweet buns to hold onto? This healthy burger recipe will keep your hands and mouth happy and full.
Ingredients:
1 slightly beaten egg white 2 tablespoons water 1/4 cup bread crumbs 1/4 cup finely shredded carr ot 1/4 cup finely chopped onion 1/4 cup finely chopped red bell pepper 1/4 teaspoon salt 1/8 teaspoon pepper 2 tablespoons grated Parmesan 1 pound lean ground beef 6 whole-grain buns Lettuce, tomato slices, and red-onion slices
Directions:
1. Combine egg white, water, breadcrumbs, carrot, onion, bell pepper, salt, and pepper in a large bowl. 2. Add Parmesan and beef; mix. Shape into six 1/2-inch-thick patties. 3. Grill burgers on an oiled grill rack for 7 minutes. Turn and grill 8 to 11 minutes more, or until no pink remains. 4. Serve burgers on buns with veggies.
Calories:
232
via Fitness Magazine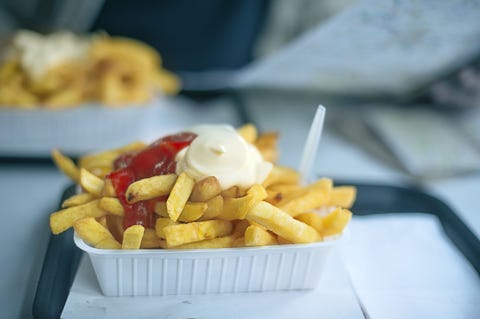 French Fries
What girl doesn't like 'em long and thick? We're talking about French fries. These guilt-free French fries will have you crawling back for more.
Ingredients:
4 teaspoons olive oil 4 medium baking potatoes (1 1/2 pounds total), scrubbed 1/2 teaspoon salt 1/8 to 1/4 teaspoon freshly ground black pepper 1/4 cup grated Parmesan
Directions:
1.Line a baking sheet with aluminum foil; brush with 2 teaspoons of the olive oil. Set aside. 2.Cut the potatoes lengthwise into 1/2-inch-thick wedges. Transfer to a large bowl. Add remaining olive oil; toss to coat. Sprinkle potato wedges with the salt and black pepper, tossing to coat. Arrange potatoes in a single layer on prepared baking sheet. 3.Bake in a 450-degree oven for 12 minutes. Turn potatoes; sprinkle with the Parmesan. Bake for 10 to 12 minutes more or until tender and golden.
Calories:
155
via Fitness Magazine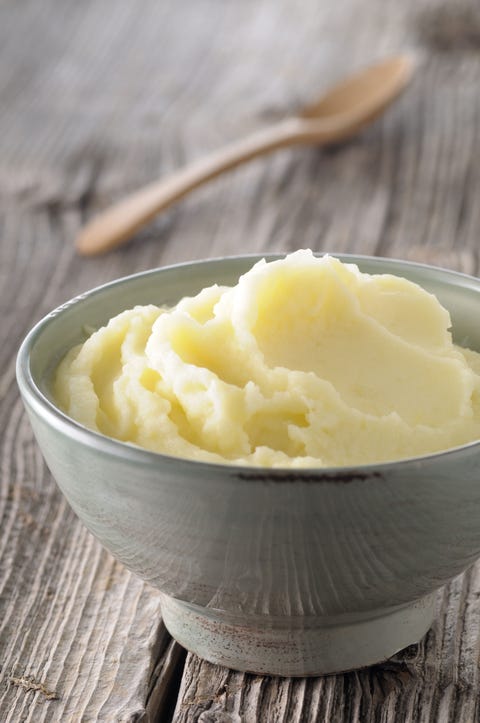 Mashed Potatoes
Every relationship gets stuck in a rut. Spice up your love affair with this cauliflower version of mashed potatoes.
Ingredients:
8 cups bite-size cauliflower florets (about 1 head) 4 cloves garlic, crushed and peeled 1/3 cup nonfat buttermilk (see Tip) 4 teaspoons extra-virgin olive oil, divided 1 teaspoon butter 1/2 teaspoon salt Freshly ground pepper to taste Snipped fresh chives for garnish
Instructions:
1. Place cauliflower florets and garlic in a steamer basket over boiling water, cover and steam until very tender, 12 to 15 minutes. (Alternatively, place florets and garlic in a microwave-safe bowl with 1/4 cup water, cover and microwave on High for 3 to 5 minutes.) 2. Place the cooked cauliflower and garlic in a food processor. Add buttermilk, 2 teaspoons oil, butter, salt and pepper; pulse several times, then process until smooth and creamy. Transfer to a serving bowl. Drizzle with the remaining 2 teaspoons oil and garnish with chives, if desired. Serve hot.
Calories:
107
via Eating Well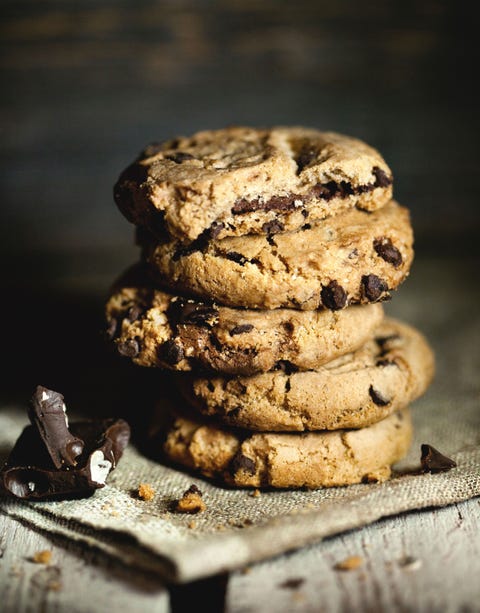 Chocolate Chip Cookies
Our most exciting and reliable lover is chocolate. These cookies are always there to pick you up when you fall. Treat them well and they'll return the favor.
Ingredients:
1/2 cup peanut butter (or Sun butter, almond butter, cashew butter) 1/2 tsp powdered ginger (or less if you only want a very-slight gingerbread flavor) 1/3 cup Sucanat (You can sub regular brown sugar and it will be just as delicious; it just won't be nearly as gingerbread-y) 1 NuNaturals stevia packet, or add 1 extra tbsp of the sucanat or sugar 3/4 tsp baking soda 3 tbsp flour (spelt, white, ww pastry, and gf all-purpose all work. I haven't tried any others in this recipe, so I can't advise on substitutions.) tiny pinch of salt if desired (I added less than 1/16 tsp, but I use Whole Foods brand peanut butter, which is salted.) 2-4 tbsp chocolate chunks, or chips, or broken-up chocolate bar 2 tbsp applesauce 1 tsp pure vanilla extract
Directions:
1. In a mixing bowl, combine all dry ingredients and stir very well. 2. Put the peanut butter in a separate bowl (and if it is from the fridge, heat it until you can more-easily stir it), then add the applesauce and vanilla to the pb bowl and stir well. 3. Combine the two bowls, and stir to form a dough, then squish into balls with your hands. 4. Chill the balls at least thirty minutes in the fridge or ten in the freezer, during which time you are preheating the oven to 350 F. 5. Then cook 8 minutes. 6. They will look quite underdone when they come out, but that's ok: let them cool and do not touch for at least another 10 minutes. 7. For soft cookies, store in a plastic container. For crispier cookies, store in a glass container. Makes 12 to 16 cookies.
Calories:
65
via Chocolate-Covered Katie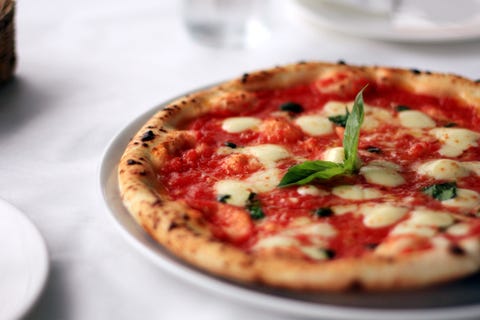 Pizza
Your love/hate relationship with pizza has come to an end. This healthy recipe is all about that low cal love.
Ingredients:
1 (14-ounce) whole-wheat refrigerated pizza crust dough All-purpose flour and cornmeal, as needed 2 large garlic cloves, sliced 1/2 cup pre-shredded part-skim mozzarella cheese (3 ounces) 1/4 cup grated Parmesan cheese 1 1/2 ounces prosciutto 3/4 pound assorted tomatoes, halved 1/2 cup fresh basil leaves 1/8 teaspoon crushed red pepper
Directions:
1. Preheat oven to 550°. Place dough on a lightly floured surface; roll into a 13-inch round. Sprinkle a baking sheet with cornmeal, and place dough on top; top with remaining ingredients. 2. Bake on bottom rack until cheese is melted and crust is crisp (about 8 minutes). Slice into 8 pieces; serve.
Calories:
318
via Health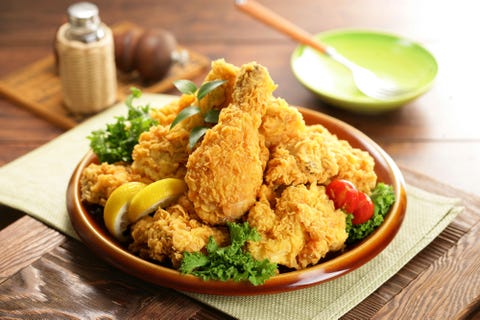 Fried Chicken
This almond-crusted chicken recipe isn't afraid to show its nutty side. Its crunchy goodness will win your heart.
Ingredients:
Canola oil cooking spray 1/2 cup sliced almonds 1/4 cup whole-wheat flour 1 1/2 teaspoons paprika 1/2 teaspoon garlic powder 1/2 teaspoon dry mustard 1/4 teaspoon salt 1/8 teaspoon freshly ground pepper 1 1/2 teaspoons extra-virgin olive oil 4 large egg whites 1 pound chicken tenders
Directions:
1. Preheat oven to 475°F. Line a baking sheet with foil. Set a wire rack on the baking sheet and coat it with cooking spray. 2. Place almonds, flour, paprika, garlic powder, dry mustard, salt and pepper in a food processor; process until the almonds are finely chopped and the paprika is mixed throughout, about 1 minute. With the motor running, drizzle in oil; process until combined. Transfer the mixture to a shallow dish. 3. Whisk egg whites in a second shallow dish. Add chicken tenders and turn to coat. Transfer each tender to the almond mixture; turn to coat evenly. (Discard any remaining egg white and almond mixture.) Place the tenders on the prepared rack and coat with cooking spray; turn and spray the other side. 4. Bake the chicken fingers until golden brown, crispy and no longer pink in the center, 20 to 25 minutes.
Calories:
174
via Eating Well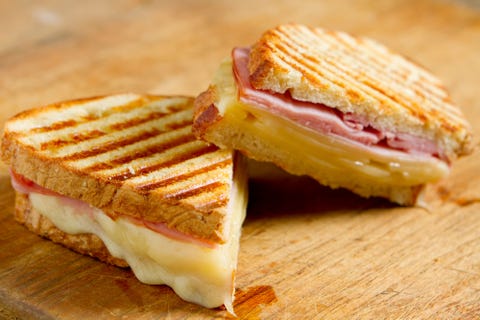 Grilled Cheese
Grilled cheese really wants to spend time with you in front of the T.V. on a rainy day, unlike someone we know…
Ingredients:
1 1/2 cups chopped spinach leaves 1 artichoke heart packed in water, drained, chopped 1 wedge The Laughing Cow Light Creamy Swiss cheese 1 tsp. reduced-fat Parmesan-style grated topping 1/8 tsp. garlic powder 2 slices light bread 2 tbsp. shredded part-skim mozzarella cheese 2 tsp. light whipped butter or light buttery spread (like Brummel & Brown)
Directions:

 1. In a medium microwave-safe bowl, microwave spinach leaves for 45 seconds, or until wilted. Blot away excess moisture. Add chopped artichoke heart, cheese wedge, Parm-style topping, and garlic powder, and mix until uniform.
 2. Lay bread slices flat. Spread one slice with spinach mixture, and top with shredded cheese. Top with the other bread slice. Spread the top of the sandwich with 1 tsp. butter. 3. Bring a skillet sprayed with nonstick spray to medium heat. Carefully place sandwich in the skillet, buttered side down. Spread the top with remaining 1 tsp. butter. 4. Cook until bread is lightly browned and cheese has melted, about 2 minutes per side, flipping carefully.
Calories:
231
via Hungry Girl
This content is created and maintained by a third party, and imported onto this page to help users provide their email addresses. You may be able to find more information about this and similar content at piano.io